Bokaro/ Ramgarh: Parents associations across all districts of the state, including Ranchi, on Wednesday organised a virtual dharna against private schools, demanding an immediate implementation of Jharkhand Education Amendment Act 2017.
Parents at the virtual event held placards with 'don't mentally harass parents', 'no school, no fees' and 'reduce online fees" messages on them.
Parents demanded that all private schools stop re-admission fees from Class XI students, upload the CBSE guidelines on their website and do not deprive children of online classes without fees.
President of Bokaro unit of Jharkhand Parents Association, Mahender Rai said "School should not take any additional charge from the students of Class 11. It is seen many schools are charging re-admission fees from Class XI students". He added that Supreme Court has also ordered 20% reduction in online fees to be implemented immediately by schools.
The National Commission for Protection of Child Rights has also asked the Jharkhand government to take appropriate action against the schools which have increased the tuition fees during the pandemic. The NCPCR has raised a concern regarding 10 private schools of Bokaro increasing their fees by 15-20 per cent in this session.
Rai said that despite the orders of the state government, the private schools are charging excessive fees either by increasing or collecting it under various heads which they was opposed.
The parents association has the following demands from the state government:
1: - All private schools should implement the Jharkhand Education Amendment Act 2017.
2: - Apply the order issued on Memorandum 13 V12-55 / 2019/1006 dated: 25/05/2020 by the Department of School Education and Literacy (Directorate of Secondary Education), Government of Jharkhand.
3: - The Vidyalaya should upload the guidelines on its website, set by the CBSE, ICSE, State Board.
4- Do not deprive children of online classes due to any school fees!
5: - Stop re-admission of students of your own school in class XI or in any class and the amount taken in the current session should be refunded to them!
(Our correspondent)
Bank employee goes for work on oxygen support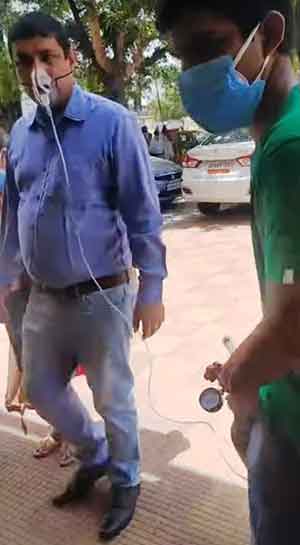 Screengrab of the video where Arvind Kumar reached the bank with an oxygen cylinder The Telegraph picture
Bokaro: A video has gone viral showing a Punjab National Bank manager turning up for work while on oxygen support.
The employee, Arvind Kumar, said "I was suffering from fever for 10 days. Doctors diagnosed it as Covid after seeing the X-Ray and symptoms. Though I recovered, but the lung infection remained and I am on oxygen support due to breathing problem. But my superiors are pressurising me to come for work. They also stopped my salary. I even resigned but they did not approve. So I have come to bank on oxygen support." He was accompanied by his family members.
Bank sources said that Kumar has taken a large loan from the bank, which he is yet to repay. His resignation was not approved due to non-payment of loan, and taking leave without any prior intimation. The bank has set up an inquiry committee to handle Kumar's issue. Senior bank officials were not avialable for comment.
(Our correspondent)
Two-year-old slips and drowns in dam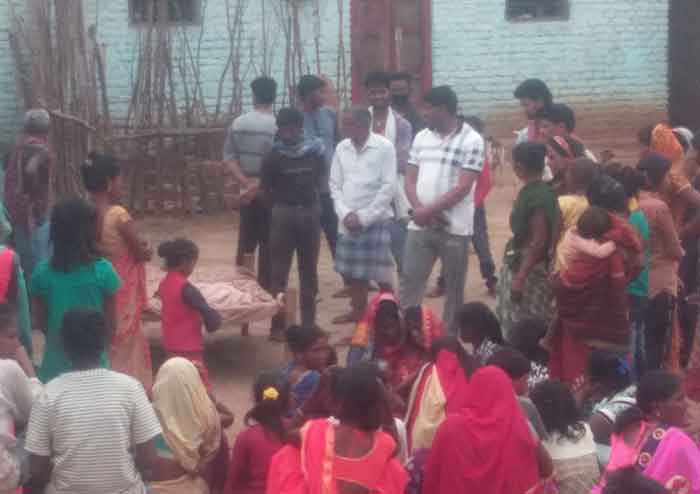 Villagers gather at the house of the boy who drowned in a dam in Hazaribagh on Tuesday. Picture by Vishvendu Jaipuriar
Hazaribagh: A two-year-old boy died after accidentally slipping into a dam in Ichak block on Tuesday afternoon.
Sources said Sahil Kumar's house is situated close to Cherwa dam in Dangi village where he was playing with his cousin Saurabh Kumar when the incident took place. Sahil's father Mantu Ram is a daily wage labourer and his mother had gone to the nearby forest to collect firewood prior to the accident.
Ichak police handed his body to family after post mortem at Hazaribagh medical college and hospital.
(Vishvendu Jaipuriar)
Woman beaten after being termed a witch
Hazaribagh: A woman was beaten up mercilesssly on Tuesday evening in Mandaikala area under Lohsigna police station after she was branded a witch by her neighbours.
Pramila Devi's son rescued and admitted her to Hazaribagh medical college and hospital from a house in the area where four people dragged and beat her.
Doctors at the hospital said she had sustained serious injuries on her face, eyes and other parts of the body.
Police officials are investigating the case.
(Vishvendu Jaipuriar)