Jharkhand news digest: BSL management launches sanitisation drive amid rise in Covid cases
Elsewhere in the state: TB ward at Chatra Sadar hospital; Opium smugglers arrested by Chatra police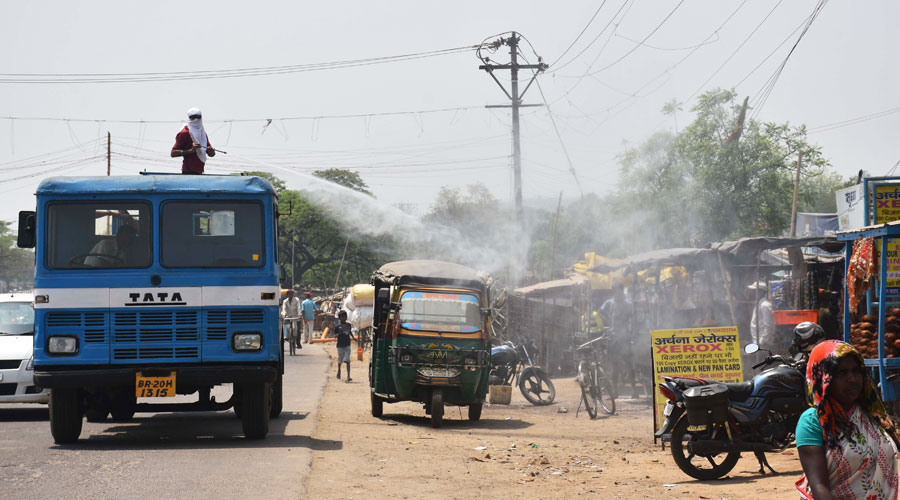 The sanitisation drive by BSL
The Telegraph picture
---
Published 07.04.21, 03:30 PM
|
---
Bokaro: The Bokaro Steel Plant management on Tuesday started a sanitisation drive in the township to control the spread of Covid-19. 
The total active cases recorded on Tuesday was 65. At present, the district has 249 active cases.
The BSL management which has put its teams in town administration and water supply department to perform the sanitation work.
Chief of communication, BSL, Manikant Dhan said, "effort is being laid to contain virus from spreading in BSL's township and plant. Sanitisation work has been started in various areas of the township and plant premises to prevent from the increasing infection of Covid-19 pandemic. There are about 20 BSL executives and non-executives who are infected with the coronavirus."
Sanitisation was done in various areas of the Bokaro Steel Township including Sector-6 Market, Sector-5 Market, Sector-4G, Ram Mandir Market, Naya Moad and Administrative Building etc. Sanitiser was being sprayed by a van in the above areas.
The sanitisation work will be done daily in different areas of the township, said Dhan.
(Our correspondent)
TB ward at Chatra Sadar hospital Hazaribagh: A state-of-the-art tuberculosis ward will be constructed at the Chatra Sadar hospital, funded by a Calcutta based company.
Deputy commissioner, Divaynshu Kumar Jha, took the initiative in negotiating the deal. The number of tuberculosis patients are on the rise and lack proper facilities for their treatment.
Jha said, "it will take a year in construction of this wing. But once completed, it will be a big facility for tuberculosis patient who will get the required treatment here in best possible way."
(Vishvendu Jaipuriar)
Opium smugglers arrested by Chatra police Hazaribagh: Chatra police on Tuesday arrested four interstate smugglers with 435gm of opium.
Subdivisional police officer of Simaria, Ashok Priyadarshi, said the gang of four came here to purchase opium when they received a tip-off resulting in their arrest.
The recovered opium costs Rs.7.5lakh.
"We are taking action against other members of this gang," said Ashok.
(Vishvendu Jaipuriar)