Hard campaign for legacy seats
Jharkhand chief minister says results of these bypolls will not affect the government to clear the doubt that the result would be a referendum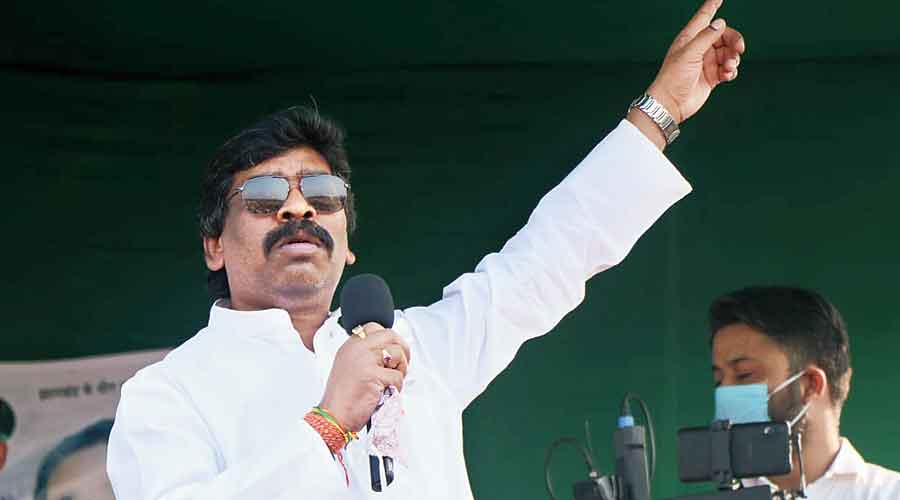 ---
|
Ranchi
|
Published 31.10.20, 12:25 AM
---
As the campaign for bypolls for Dumka and Bermo Assembly seats heading towards its end on Monday evening, the ruling dispensation tries to steer clear of an apparently non-issue.
"The results of these bypolls will not affect the government as we formed it with the support from 50 MLAs," chief minister Hemant Soren told a few election gatherings he addressed in those two constituencies since Monday, adding it would rather strengthen it.
He was replying to clear the doubt that these bypolls would be a referendum for his government, an idea that a section of the media reported, quoting some BJP sources, though the arithmetic did not support it.
Hemant had been camping in Dumka and addressing election meetings in both the constituencies since then.
Besides the chief minister, JMM supremo Shibu Soren who recently recovered from Covid-19 infection also shifted to Dumka and was joined by others from both the JMM and the Congress to campaign for the mahagathbandhan candidates — the chief minister's younger brother Basant Soren at Dumka and deceased Congress MLA Rajendra Prasad Singh's son Kumar Jaimangal at Bermo.
On the other hand, three former chief ministers — Babulal Marandi, Arjun Munda and Raghubar Das — are leading the Opposition campaign for BJP candidates, Louise Marandi at Dumka and Yogeshwar Mahto 'Batul' at Bermo.
The Opposition mainly alleged that the Soren government failed to deliver during the past 10 months and the law and order situation deteriorated during their rule.
The ruling combine, led by Hemant, defended it saying they had to fight the pandemic during seven of those ten months.
"Sar murate hi Ola pore (the hails rained immediately after shaving off the head)," Hemant reminded the saying to convince his audience at a Dumka gathering.
"Still, we brought back maximum number of migrant workers home and fed everyone though community kitchens during those months," he further reminded them, adding his government also arranged chartered flights for bringing back such migrant workers from Andaman and Leh, actually making "Hawai chappal se hawai jahaj (Hawai slippers to aeroplane)" possible.
"We didn't allow a single person to starve while there were about two dozen alleged hunger deaths during their rule," Hemant roared at some those meetings when he often switched over to Santhali to convince his fellow tribals.
Hemant also raised at different meetings the issues of auto-debit of Rs 1417.50 crore from the state's account by the Centre and cancellation of 11 lakh ration cards and attempted tweaking of tenancy laws by the previous BJP government in the state to expose the opposition.
"We are now issuing 15 lakh new ration cards and will also soon offer dhoti, saree and lungi at Rs 10 apiece," he assured.
After recent death of minority welfare minister Hazi Hussain Ansari on October 3, the strength of the 81-member state Assembly has been reduced to 78. While ruling JMM-Congress-RJD combine has 46 MLAs now, BJP-Ajsu 28 and other 4.
The results of bypolls, when declared on November 10, will the take up the strength to 80 and the majority mark will be 41.
Even if the BJP wins both the seats, the present government is unlikely to face any threat. Still, this bypolls, slated for November 3, are prestige fight for both JMM and Congress as they had won Dumka and Bermo respectively maximum times and as such those are treated as their legacy seats.