The vote doesn't matter for this family, torn school shorts do
What the auto-sector slowdown has done to workers at one of the state's big industrial hubs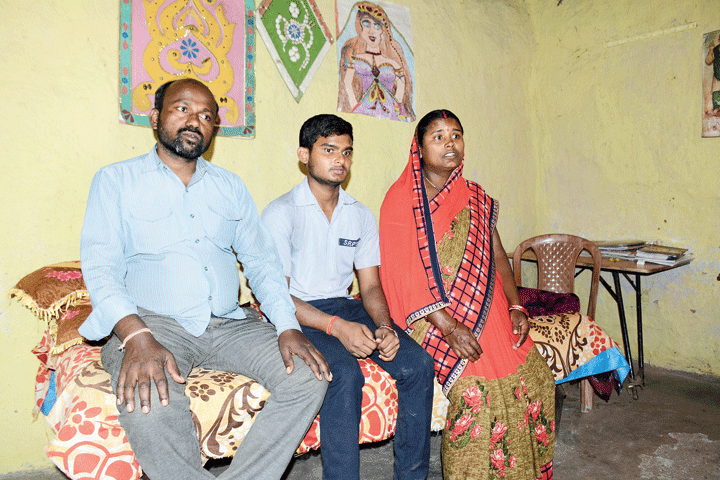 ---
---
The shorts of Shobha Devi's youngest son's school uniform are torn, but she is helpless. Her husband, Shobhnarayan Sahu, has not got his salary since September.
Sahu, 43, works in M/s Fusion Engineering Private Limited, an ancillary unit involved in manufacture of fabricated metal products and welding rods, in Adityapur — one of the biggest industrial hubs of the region.
Automobile sales sank to a 19-year low in July this year, deepening concerns that the prolonged slump in one of the key sectors points to deeper problems in a stuttering Indian economy. Since then, headlines have screamed of malaises stalking the economy and reeled off scary statistics.
Sahu and Shobha's family are two of the hundreds of thousands of auto-sector workers who have had their world turned upside down by those numbers.
"Roj ka roti ka chinta hai, Sir, elections koi maiyne nahin rakhta, agar sarkar sahi hoti to hume ye din dekhna nahin padhta (We are worried how to arrange for the daily bread, Sir, the elections hold no meaning for us. If the government would have been genuinely concerned then we would not have had to face such days)," said Sahu, 43, a resident of Sharma Basti in Adityapur, when asked about the ongoing Jharkhand Assembly elections.
Sahu had migrated from Motihari district of Bihar to Adityapur in 2002 with the hope that he would not need to stay dependent on agriculture.
"We had a small amount of land in Bihar and I decided to migrate to Adityapur near Jamshedpur with a hope to earn a decent living and support my family. The ancestral land is being looked after by my younger brother. But we are forced to seek assistance from my brother, specially in sending us food grains from Bihar, for the last few months," he said.
He used to get paid Rs 9,300 per month. It was always hard to provide for the family of six — he, Shobha, and four children, daughters Rupsi Kumari, 20, and Vandana Kumari, 18, and sons Mankesh Kumar, 13, and Lokesh Kumar, 8. Sahu always had to do extra work to keep the family afloat. But things started going from bad to worse in September.
"We started getting irregular payments since May-June. However, after September I was not paid my salary as the company was virtually shut down for few days in August and the management cited inability to pay salaries since September owing to the loss due to the slowdown in the automobile sector," said Sahu.
Shobha, 38, tried to pitch in.
"I had to open a kiosk outside my house to sell snacks and other items to supplement my husband's income which has dried up since the last few months. My husband manages to bring some money by engaging in menial labour like loading and unloading goods from heavy vehicles for the sake of supporting the family as there is no fixed payment from his company so far," she said.
According to sources in the industrial units, nearly 1,400 of the 1,800 factories in the Adityapur Industrial Area were ancillaries of Tata Motors and have been affected by the auto slowdown.
"More than 700 units have been declared NPAs (non-performing assets) while others are working only three-four days a week," said Sameer Singh, owner of Singhel Engineering in Adityapur Industrial Area Phase III and a senior functionary of Laghu Udyog Bharati, Jamshedpur and Seraikela unit.
"The functional units have to pay fixed amounts for security, electricity and bank loan interest, which is making them incur further losses. As things stand we do not see any chances of revival in the automobile segment at least in the next four-five months," Singh added.
That is another prediction that carries a grim omen for the family of Sahu.
"My older daughter is doing her graduation while my younger daughter is in Intermediate (Plus Two)," Shobha said. "My youngest son is in Class II and the older one in Class VI. We incur a monthly expense of Rs 7,500 on the education of our children. My older son is regularly being threatened of punishment in school for not clearing the fees for the last two months.
"My youngest son's school shorts are torn but I cannot buy a new one," the mother added. "I got rid of the school auto-rickshaw for my sons and they have to now ride cycles to schools. My daughter's college fees also have to be cleared for the last two months."