Jharia Congress leader receives life threat, lodges complaint with police
Other residents facing similar attacks since a month, says Dhanbad SSP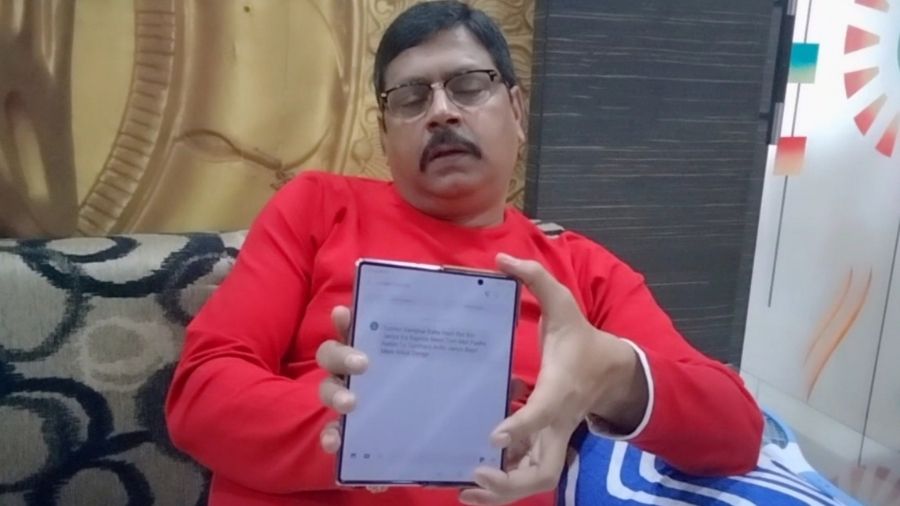 ---
Dhanbad
|
Published 12.01.21, 03:39 PM
|
---
Senior Congress leader and All India Congress Committee member Santosh Singh on Tuesday lodged a complaint with the Jharia Police against an unidentified person, who had given him death threats on Monday at around 8 pm.
Singh in his complaint letter to PK Singh, the inspector cum officer-in charge-of Jharia Police Station, demanded security in the wake of the latest threat to him as well as previous attacks he faced in 2004 and 2009.
Talking to The Telegraph Online on Tuesday noon, Singh said, "I received the threat both on message and a call made from the same mobile number on Monday night and lodged the complaint accordingly."
"I had skipped the message that threatened to take my life if I continued to be in politics. However, I immediately received a call from the same number, saying the same thing," the 51-year-old leader said.
Singh said he had told the caller that he was not afraid of such threats, as he gets plenty of them.
"I ask the police to take proper steps in this regard and conduct a detailed probe. In 2004, too,  bombs were hurled and people opened fire on us at Bartand in Dhanbad when I was travelling along with the former treasurer of the district unit of Congress, late Suresh Singh, in his car," he said.
The AICC member added that he had also faced an attack at the Jharia Bazar area in 2009.
"I have also received a threat call from UP based gangster Munna Bajrangi in 2011 and thus asking the police to ensure security for me," said Singh.
Threats not uncommon in Dhanbad
On January 8, Kailash Pandey, the general manager of a private coal excavator, Hilltop Highrise Private Limited, working on behalf of the BCCL, had filed an FIR in Saraidhela police station against unidentified people. He said that he received a message several times on his mobile number, demanding Rs 50 lakh as one time amount and Rs 7 lakh per month as extortion, otherwise he and his family members would be killed.
On January 4, a video went viral where a gun toting person, claiming to be a member of the Sujit Sinha gang, threatened Baghmara MLA Dhullu Mahto and some private coal excavators. Mahto had held a press conference following the incident and demanded a probe into the incident.
"The extortion-demand issue has been going on since a month and police have acted on the issue. We have arrested a person in this regard about two weeks ago," Dhanbad SSP Assem Vikrant Minz said.
"We are acting against the criminals and simultaneously also trying to increase the security of those who are receiving the threat or extortion calls," he added.