Inauguration of Dhanbad plasma therapy centre
STATE DIGEST: Dhanbad Chamber delegation meets SSP; Final semester exams of BBMKU; Driver electrocuted to death; Cyber criminal arrested in Ramgarh;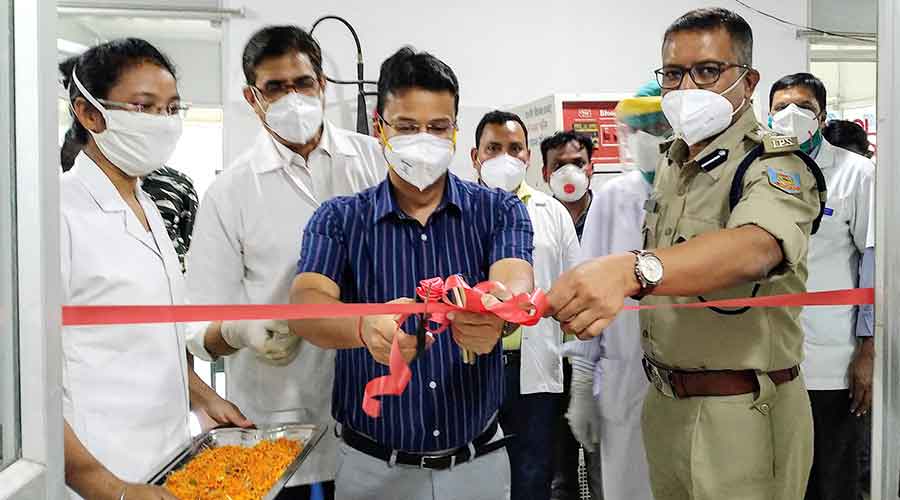 ---
---
The Plasma therapy centre and component separator facility was inaugurated on Monday at Dhanbad's PMCH by the Deputy Commissioner and Senior Superintendent of Police.
Police constable Arun Kumar Sao was the first to donate plasma.
DC Uma Shankar Singh said that the centre came up after a month-long hectic preparation, including procurement of necessary instruments, training of technicians and doctors besides obtaining license from Central Drugs Standards Control Organization and also from state drugs control directorate of Jharkhand.
SSP Aseem Vikrant Minz said that it was a matter of pride for the police department as the first person to donate plasma in the district was a Covid recovery police jawan.
Dhanbad Chamber delegation meets SSP
A delegation of traders led by the president of Federation of Dhanbad Zila Chamber of Commerce and Industry on Monday met Senior Superintendent of Police, Aseem Vikrant Minz requested him to solve the September 26 jewellery robbery case at the earliest .
Jewellery worth over Rs 15 lakh was robbed by armed assailants during broad daylight.
Minz said that Dhanbad police have taken the incident as a challenge and all efforts are on to arrest those behind the incident.
Dhanbad district board chairman inspection
Chairman of the Dhanbad district board has expressed concern at the functioning of the robbed jewellery store from the premises of a sealed market.
Rajkamal Mansion owned by the district board was sealed two years ago according to a Supreme Court order.
"Operating shop from a sealed market is illegal and also contempt of court and we have apprised the Dhanbad Deputy Commissioner, Uma Shankar Singh about the illegal operation of shop from the market," said Robin Gorai, chairman of the board.
Final semester exams of Binod Bihari Mahto Koylanchal University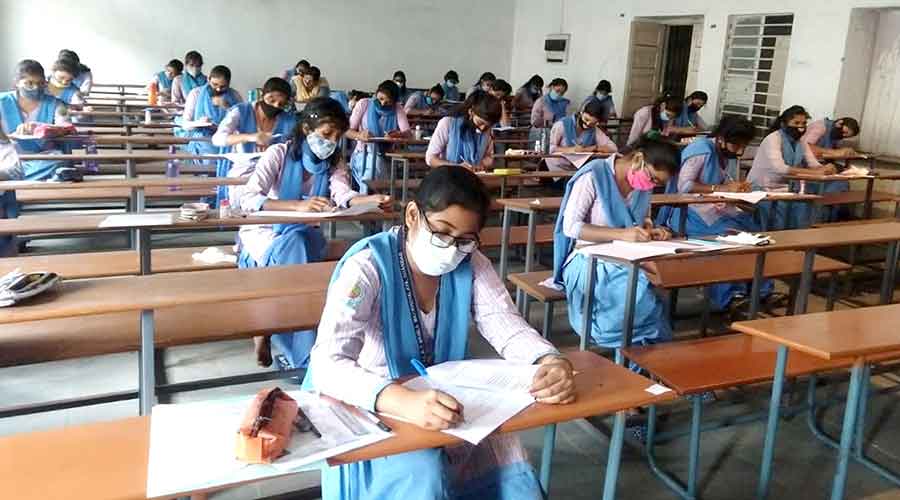 The final semester exams for undergraduate courses at Binod Bihari Mahto Koylanchal University started from Monday at 33 centres across Dhanbad and Bokaro.
More than 20,000 students appeared for their exams adhering to all the Covid norms including wearing masks and maintaining a six meter distance while writing.
"Though the total duration of examination was of two hours instead of previous examinations of three hours duration but the questions required lengthy answers and thus the allotted time of two hours was not commensurate to answer them in the right perspective and thus we raised the issue with the Centre superintendent and later wrote a complaint to the controller of examination," said one of the students at SSLNT Women's College.
The post graduate final semester exams are scheduled to begin from October 10 and will conclude along with the undergraduate examination on October 21.
The exams for professional courses like B Ed, M Ed, MBBS and LLB commenced from September 25.
Driver electrocuted to death
The driver of a container truck was electrocuted to death by a live overhead wire on Monday.
The truck containing almost 50 bikes also caught fire from the wire damaging most of the vehicles.
The incident took place on GT road in Kesath. The identity of the driver is yet to be ascertained.
The body was sent for post mortem to Hazaribagh medical college and hospital.
Cyber criminal arrested in Ramgarh
A cyber criminal running a cyber gang in Ramgarh was arrested by police from Chatti Bazar main market.
Ishaan Kumar Giri conned shopkeepers by buying products, conducting faulty app based transactions and making them believe that money was being credited to their bank accounts.
Raids are being conducted to arrest other gang members.