In Jharkhand, a sudden spike in black fungus cases
Eight confirmed cases of mucormycosis surface in 48 hours, but no fatalties as yet this month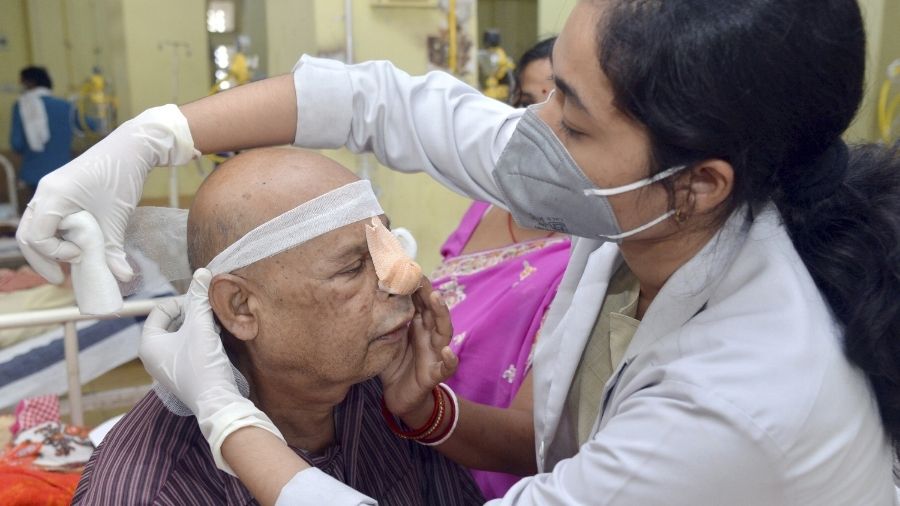 By Saturday, the count of confirmed cases jumped to 94, while suspected cases dropped to 58 in Jharkhand.
File picture
---
Ranchi
|
Published 10.07.21, 06:38 PM
|
---
At least eight confirmed cases of Covid-induced mucormycosis have surfaced in Jharkhand in the past 48 hours after a significant drop in cases since the end of June, figures released by the health department on Saturday highlighted.
On Thursday, there were 86 confirmed and 66 suspected cases of black fungus in the state. By Saturday, the count of confirmed cases jumped to 94, while suspected cases dropped to 58, revealed data compiled by the Integrated Disease Surveillance Programme (IDSP), the body that monitors cases of mucormycosis since it was listed as a notifiable disease by the government.
"The patients who were already getting treated for suspected mucormycosis have added up to the list of confirmed cases as their test reports arrived," said Ranchi civil surgeon Dr Vinod Kumar.  
Even though cases of infection have increased, the fatality rate was gradually dropping, which according to doctors, was a positive trend. The fatality rate for mucormycosis in Jharkhand was 27.65 per cent, which was lower than the average fatality rate of 50 per cent for this disease in general.
No fresh casualties caused by the fungal infection occurred in the state this month. The state reported two confirmed cases of mucormycosis on June 30, and no fresh cases were reported until Friday.  
As per data with the IDSP, two confirmed cases were reported in Ranchi and one each in East SInghbhum, Garhwa, Giridih, Godda, Gumla and Palamu in the past 48 hours. So far, at least 26 people have died of mucormycosis in the state and the last fatality was reported in June, IDSP data further highlighted. As per IDSP, at least 75 patients have recovered from the fungal infection in Jharkhand so far.
The fungal infection, as per government data, has affected people in at least 18 of the 24 districts in the state. Of the 152 suspected and confirmed cases of mucormycosis in Jharkhand, at least 55 have been reported in Ranchi and 23 in East Singhbhum. The remaining 16 affected districts have reported less than 10 cases.
Mucormycosis is a rare infection caused by exposure to mucor mould found in soil, plants, manure and decaying fruits and vegetables. The line of treatment includes surgery and administering anti-fungal drugs, mostly Amphotericin B. Several thousand cases of Covid-induced Mucormycosis were reported in India in the past couple of months and doctors claimed that use of high dosage steroids for treatment of severely-ill Covid patients was one of the reasons for the spike.