Hundreds stage protest at Bokaro Steel Plant
Land losers demand jobs, other benefits from management
The agitators near BSL's Ispat Bhavan.
Telegraph picture
---
Bokaro
|
Published 24.09.20, 10:44 PM
|
---
More than 200 disgruntled land losers on Thursday staged a demonstration before Ispat Bhavan at Bokaro Steel Plant (BSL) to demand jobs and other benefits.
The agitators, who are calling their agitation "Mahkukur Kundoli Janakroash Talabandi (lockout)", have vowed to continue their demonstration for 72 hours. They will also lock the main gate of BSL if their demands are not met in this period. 
There were minor scuffles between the protesters and Home Guard jawans when they tried to stop the demonstrators from reaching Ispat Bhavan.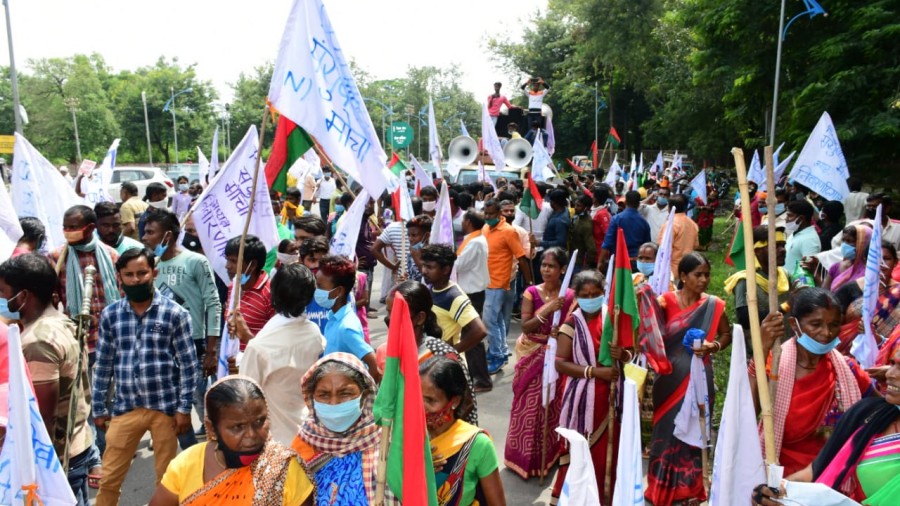 Interim CEO comes to Bokaro
Harinand Rai, director (technical) of SAIL, who has been in charge of BSL as the interim CEO for the past 10 months, has reached Bokaro from Delhi. This is his second visit to Bokaro after the Covid-19 lockdown was imposed. 
The protesters feel that this time, the management and the district administration will take their demands seriously and respond positively. Else, they will intensify their protests. 
A large number of CISF and police personnel have been deployed at the protest site. The flow of traffic was affected for two hours between City Centre and Nayamoad under the City police station. 
Nirmal Digar, who is leading the agitation, said: "We gave our land so that BSL could be set up, but the management cheated many of us by not providing jobs and compensation against our land. This time, we have vowed to fight till the end. We have begun our agitation and will continue it for 72 hours staying at the spot. And if our demands are not fulfilled, we will lock the BSL main gate and intensify the stir."
Digar also said that "the displaced people of BSL are the worst sufferers". 
"Our villages lack basic facilities like roads, electricity and water. Our children suffer due to a lack of good education. We are not provided healthcare services. We are forced to fight for our rights. We have given a letter detailing our 14 demands, including jobs, rehabilitation and basic facilities, to the BSL management," Digar said.
March to demand resolution
The land losers, who are residents of villages near the plant, in the afternoon assembled at Birsa Chowk. There they garlanded the statue of Birsa Munda and marched towards BSL's Ispat Bhavan, which is about 1km away. Home Guards and BSL's security personnel tried to stop them, but they resisted and moved ahead. They held flags and placards and raised slogans against the BSL management.
In front of Ispat Bhavan, the security personnel had already put barricades and stopped them. Police officers and magistrates were also present. City deputy superintendent of police Gyan Ranjan said they will be keeping strict vigil to avert any untoward incident. "We are here to handle the situation if any law-and-order issue arises," he added.
This is not the first time that agitators have demanded jobs and other benefits at Ispat Bhavan. Earlier, several agitations have taken place. 
Chief of communication, BSL, Manikant Dhan said: "Efforts for talks with the agitators are on. However, there has been no disruption of work at Ispat Bhavan."