Hemant quarantines himself after minister, MLA tests positive
CM's officers told to stay at home, massive sanitisation drive on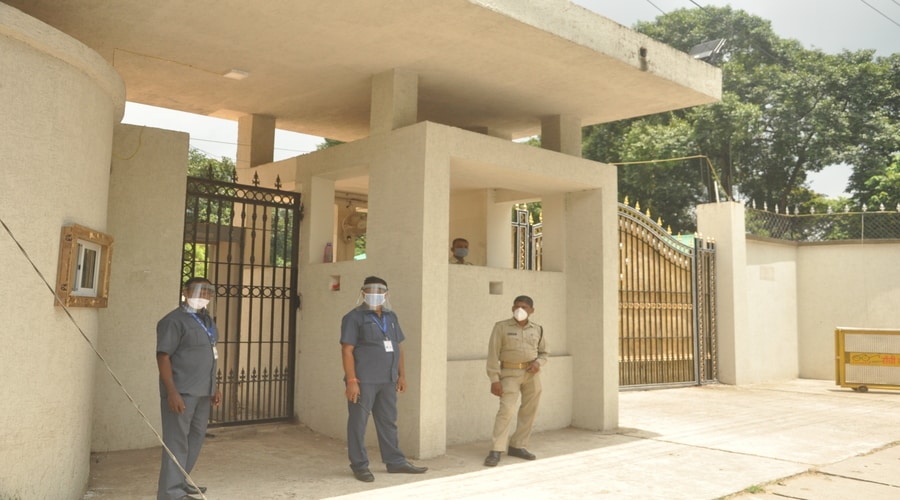 ---
|
Ranchi
|
Published 08.07.20, 04:33 PM
---
Chief minister Hemant Soren home quarantined himself and entry of visitors to his house was banned on Wednesday, a day after a state minister and a party MLA tested positive for Covid-19, officials said.
Drinking water and sanitation minister Mithilesh Thakur was among the 141 people who tested positive for Covid-19 on Tuesday. Besides Thakur, JMM MLA from Tundi Mathura Mahto and 18 journalists from Dhanbad also tested positive on Tuesday.
While speculation was rife that chief secretary Sukhdeo Singh had also home quarantined himself as a precautionary measure, Singh told The Telegraph Online that he had neither met Mithilesh Kumar nor Mathura Mahto in the past one month. "I have not met any of the infected MLAs in the past one month, so there is no need for me to quarantine myself," he said.
Tweeting from his official handle on Wednesday, Hemant wrote, "My cabinet colleague Mithilesh Thakur and party MLA Mathura Mahto have tested positive for covid-19. Both are currently under treatment at government hospital. As a precaution, from today I am self-isolating myself for few days but will continue to deal with all important works."
जोहार साथियों,

जैसा कि आपको मालूम है सरकार में मेरे साथी मंत्री तथा झामुमो विधायक कोरोना संक्रमित हुए है। इनसे मेरी मुलाकात कुछ दिनों पहले हुई थी।

इसलिए एहतिहात के तौर पर कुछ दिनों के लिए मैं सेल्फ-क्वारंटाइन में हूँ। कुछ दिनों तक मैं आप से मुलाकात नहीं कर पाऊँगा। + pic.twitter.com/2BkKicudhW

— Hemant Soren (घर में रहें - सुरक्षित रहें) (@HemantSorenJMM) July 8, 2020
Appealing public to be more cautious than ever before, he added, "Once again, I appeal everyone to avoid visiting crowded places as much as possible and make use of mask or face-cover without fail and maintain physical distance."
On Tuesday night, JMM's Tundi MLA Mathura Mahto had first tested positive in Dhanbad. An hour later, his party colleague and minister Mithilesh Thakur was rushed to RIMS in Ranchi after his infection was confirmed.
Both Mahto and Thakur are doing fine, said officials.
Notably, Thakur and Mahto had both met the chief minister two days ago in Ranchi. The chief minister's officials also attended a grihapravesh (house warming) function hosted by Thakur on July 2.
Over half a dozen officials in the state water resources, drinking water and road construction department have also gone into isolation as many were with Thakur on Monday evening during his inspection of Hatia dam.
A senior official in the district administration said, "The CM, his cabinet colleagues and his key officials will all be tested soon as a precautionary measure."
There was a sense of worry, panic even, within the government, among politicians and bureaucrats after news spread of the minister and MLA's infection.
From midnight, officials of Ranchi Municipal Corporation (RMC) began sanitising the chief minister's office, residence and all areas frequented by him every day. According to an official statement issued on Wednesday morning, all those in the chief minister's office had been sent on home quarantine.
Entry to the chief minister's residence has also been banned till further notice.
Sources said state labour minister Satyanand Bhokta had also isolated himself as someone he had apparently met two days back in his constituency of Chatra is learnt to have tested positive. State health minister Banna Gupta also got himself admitted to RIMS in the morning for a hernia operation. Hospital sources said he too would undergo Covid testing as per protocol.