Hemant Soren: Govt unleashing agencies on tribal leaders
CM was addressing a rally in Ranchi on Monday while campaigning for Congress candidate Shilpi Neha Tirkey for bypoll scheduled on June 23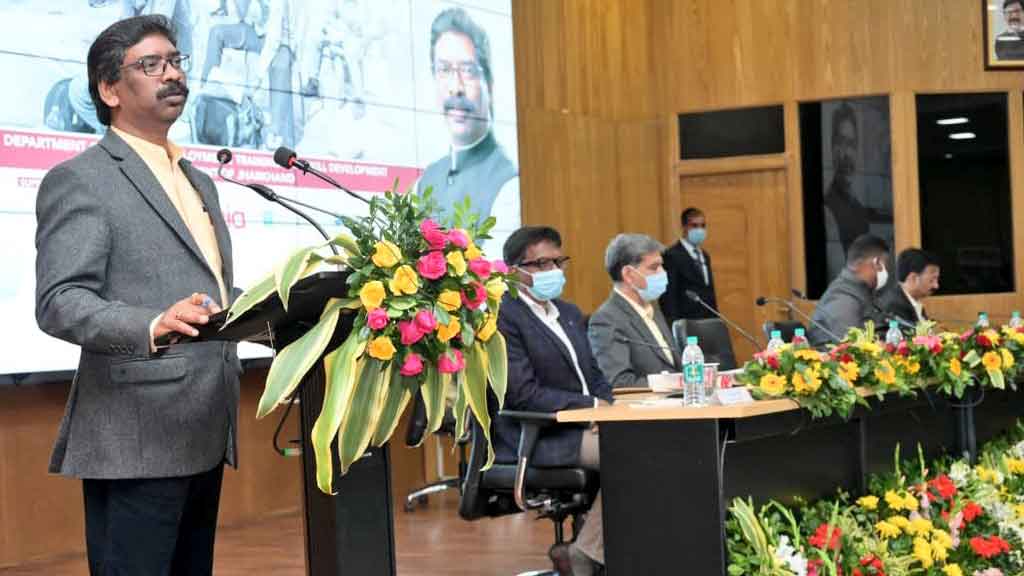 ---
Jamshedpur
|
Published 21.06.22, 01:07 AM
|
---
Jharkhand chief minister Hemant Soren has accused the BJP-led central government of using federal agencies to target Opposition tribal leaders and cited the instance of "bechare (helpless)" Bandhu Tirkey as one of the victims.
Hemant was addressing a rally at Lapung College ground in Mandar Assembly constituency of Ranchi district on Monday evening while campaigning for Congress candidate Shilpi Neha Tirkey for the bypoll scheduled on June 23. Shilpi is the daughter of ex-MLA Bandhu Tirkey, who had won the seat in 2019 but was disqualified following his conviction in a disproportionate assets case earlier this year by a CBI court in Ranchi, necessitating the bypoll.
Shilpi is pitted in a triangular fight with the BJP's Gangotri Kujur and AIMIM's Dev Kumar Dhan.
Bandhu Tirkey has been winning all elections in Mandar constituency since the formation of the state, except in 2014 when Gangotri Kujur won on a  BJP ticket.
Hemant, who is himself facing a threat of disqualification over office-of-profit allegation and has been showcaused by the Election Commission of India, alleged that the BJP was still not able to digest its defeat in the 2019 Assembly elections.
"The double-engine Sarkar (a term used by erstwhile chief minister Raghubar Das for BJP government at Centre and state) created such havoc and took the state to such a low level that people taught them a lesson in the 2019. We have faced three bypolls since then at Bermo, Dumka and Madhupur and have come out victorious polls and have now come to Mandar. The BJP is not able to digest the defeats and is using the central agencies to target popular tribal leaders and bechare Bandhu Tirkey ji who was elected with your vote in 2019 is also a victim of such targets. It is now up to you to foil the design of the BJP by making his daughter victorious," said Hemant, who also addressed rallies at Silagai and Madarsa Chowk, both in Chanho block of the same Assembly constituency, later in the day.
Taking a dig at BJP tribal leader Gangotri Kujur, Hemant cautioned the tribals to be aware of the design of the saffron party.
"They realised that they cannot come to power without tribal support and now they are luring tribal leaders in tribal areas to split our votes. Be aware of their game plan. They only want to loot the mineral resources and fill the coffers of the capitalist. They have sold almost all public sector units to private hands and the day is not far when they will sell the country too," Hemant said.
Hemant also listed the over two-and-a-half year-old government's achievements despite impediments posed by the pandemic.
"Ever since we came to power in 2019 December, we faced challenge of a global pandemic but managed to beat it comparatively better than the bigger and developed states and initiated several popular schemes like Universal Pension and dhoti-saree at Rs 10 for the poor. We reached out with government schemes at the panchayat level through the government at your doorstep programme. But when the BJP central leadership saw our welfare measures, they started using harassing us more using central agencies. But do not worry, we tribals have shown our fighting spirit and resilience against the British and we will show it before them, too," Hemant said.
Criticising the Centre's Agnipath scheme for army aspirants, Hemant said: "They want to play with the career of youths and are making plans to recruit in defence service on contract. The same BJP government harassed para-teachers in Jharkhand for two decades. It was our government, which solved their demands and they are now teaching peacefully."