Gallons go down the drain in Mango
A capital housing complex shows the way while a govt department presides over criminal waste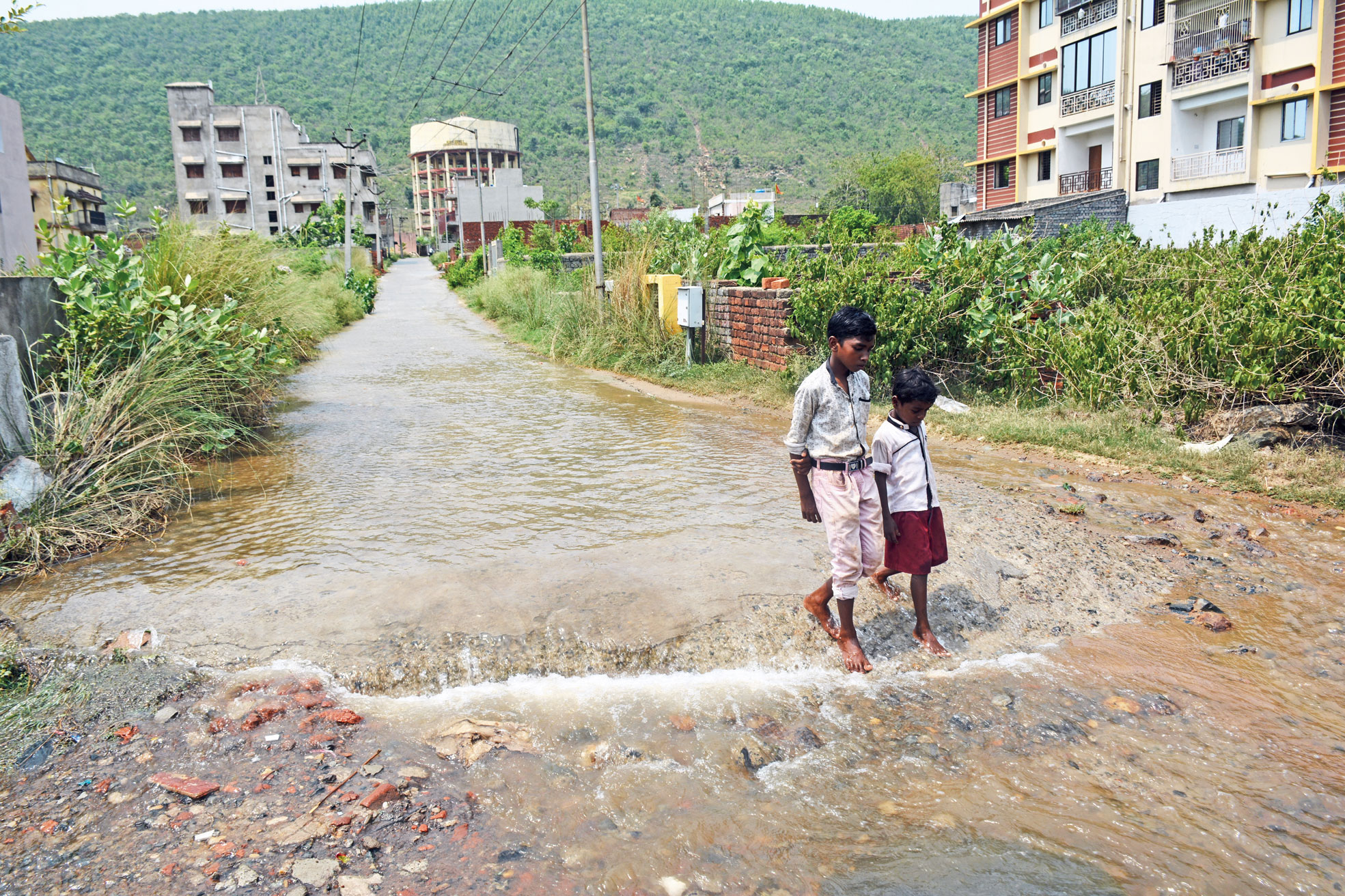 ---
---
An elevated storage tank in Mango has been spewing hundreds of gallons of water since 3pm on Wednesday, the discharge, apparently to facilitate repairs, flooding Pardih and its neighbouring areas at a time when most parts of the state are suffering from acute water scarcity.
"Do dino se ghar main paani nahi mil raha aur yahan pine ka pani road main bah raha hai. Pata nahi adhikari log kya kar rahe hain (We have not been getting water for the last two days and here, drinking water is flowing on roads and drains. Don't know what the authorities are trying to achieve)," said Suresh Das (62), a retired government employee and resident of Nilgiri Colony under MGM police station area.
The tower has a capacity to store 25,000 lakh litre of water that is meant to be supplied to residents of Dimna Basti, Pardih, Repit Colony, Chandravati nagar and Kumrum Basti.
Mango Notified Area Committee (MNAC) special officer Rajendra Prasad Gupta blamed the drinking water and sanitation department for the mess.
"Water supply is looked after by the drinking water and sanitation department whose officials told me that water was being drained out for repairing a supply valve of the tower," he said, adding that the department could have ensured there was no wastage.
"They could have used suction machines to empty the tower and fill tankers. These tankers could have then been used to supply the water in residential areas instead of wasting the water," he added.
State food and civil supplies minister Saryu Roy was livid when told of the criminal waste of water by the very department that is meant to conserve it and ensure it is evenly distributed to all.
"It is a matter of shame that while there is talk all around of water conservation and recharge of ground water, a government department is wasting potable water," the Jamshedpur West MLA told The Telegraph from Dhanbad.
"I will take up the issue with the deputy commissioner and the drinking water and sanitation department which looks after maintenance of the Mango drinking water project," he added.