From filth to flowers in four hours
During the beautification drive, the volunteers also whitewashed a boundary wall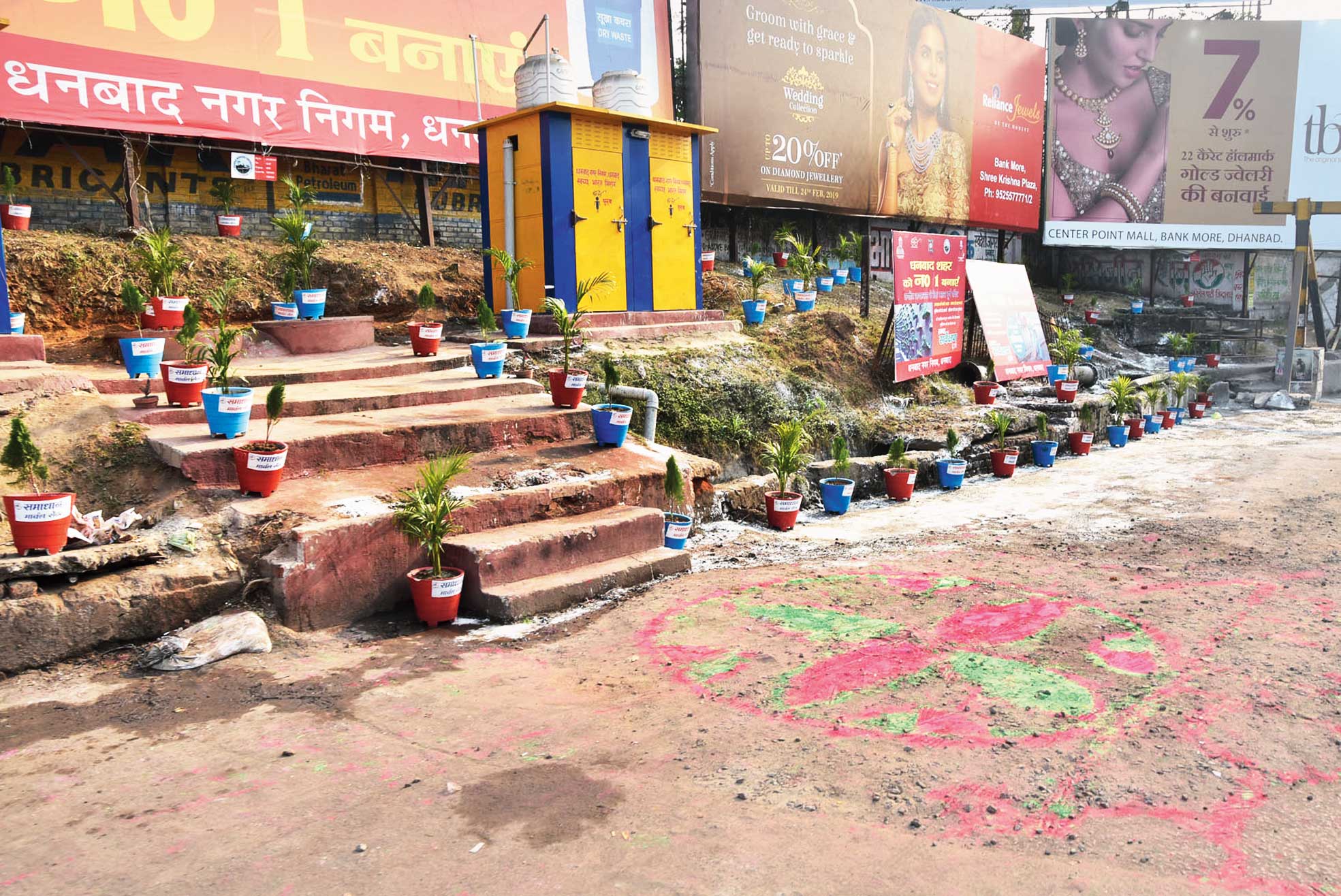 The beautified garbage dump near Gaya bridge in Dhanbad on Sunday.
Picture by Gautam Dey
---
Dhanbad
|
Published 13.01.19, 06:46 PM
|
---
An unauthorised garbage dump near Gaya bridge at Rangatand Chowk, barely 50 metres from the railway station here, has turned into a garden overnight.
The magic lies not in the flick of a wand, but the efforts put in by members of Samadhan, a social outfit.
Chandan Singh, the founder, and his team of volunteers have not only cleaned up the area, but also placed potted plants to beautify it in a four-hour drive on Sunday morning.
Ravijit Singh Dang, who runs two hospitals in Dhanbad and has to cross the stretch daily, couldn't believe his eyes when he noticed the transformation on his way to work around 11 in the morning.
"It used to be a stink zone. Till last night, I had to cover my nose while driving through the stretch. But today, I was stunned to spot beautiful flowers instead of the trash mound. There was also a sweet fragrance in the air," Dang said.
Singh, whose organisation also imparts free education to over 2,000 children, said the clean-up act was long overdue. "Shopkeepers and fruit vendors have been dumping waste in the area. People urinating made matters worse," he said.
Singh approached municipal commissioner Chandramohan Kashyap and discussed the idea of developing a garden. Kashyap promised to help clean trash and sprinkle bleaching powder.
"We also took the help of Gopal Katersaria, the owner of a marble shop at Barwaddah. He provided 100 areca palm and maire palm saplings in colourful pots," Singh said.
Kashyap visited the site on Sunday along with additional municipal commissioner Mahesh Kumar Santhalia and promised to arrange water for the upkeep of the plants.
During the beautification drive, the volunteers also whitewashed a boundary wall. Two public toilets, which were lying unused because of the trash, were cleaned up. "We will place over 100 pots at a garbage dump near Barwaddah on Monday," Singh said.
Kashyap said the society needed more such people. "Institutions, however powerful, can't do anything without the help of commoners," he said.
Katesaria, who also visited the spot with his family, said each plant with pot cost him around Rs 240. "We will provide 100 more to Samadhan."