Football asana: JFC boys in yoga mode
Jamshedpur FC players have adopted yoga to maintain their concentration and flexibility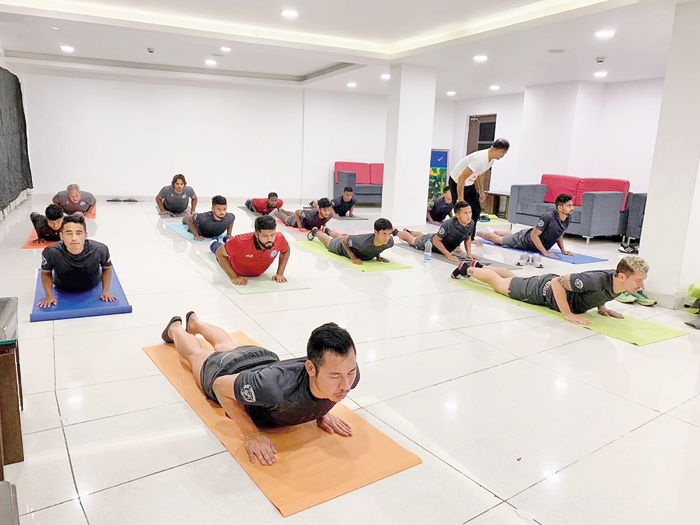 ---
---
Besides sweating it out on the greens, Jamshedpur FC players have adopted yoga to maintain their concentration and flexibility.
With the cash-rich Indian Super League (ISL) a month away, the Tata Steel-owned franchise understands the need to keep the mind cool and enhance flexibility during the high pressure encounters ahead.
Jamshedpur FC will play their first practice match against Real Kashmir at JRD Tata Sports Complex on Saturday. Entry to the venue has been kept free and the match will start at 6.30pm.
Last Tuesday, JFC's Indian and foreign players took time out to switch to yoga mode and did some asanas that included anulom vilom, trikonasan, dhanurasana and sarvangasana under the supervision of Anshu Sarkar, a national Yoga Seva awardee at JRD Tata Sports Complex.
"Yoga means unity. It maintains balance between the body, mind and spirit. We do it because we want to improve performance of players at all levels. The mind should be calm and the spirit complacent and at peace with itself," head coach Antonio Iriondo said.
"It was something different for us. We have been training hard for the past few days and yoga was a good medium to tone and relax ourselves," 22-year-old left back Karan Amin said.
Midfielder Bikash Jairu said yoga was an important way to increase their fitness. "It was great to have a session under such a reputed yoga guru. Looking forward to more such sessions," he added.
A JFC official said such yoga sessions would be conducted twice a week.
Iriondo, who replaced fellow Spaniard Cesar Ferrando as head coach, is making untiring efforts to keep his wards in fine fettle before the ISL.
JFC stood fifth on the table with 27 points in the last season and the team management is serious about not missing the chance of qualifying for the play-offs — a stepping stone to the title that has eluded the team for the past two seasons.