Flyover fuels traffic pain in Ranchi
Diversion has potholes, better road likely before rain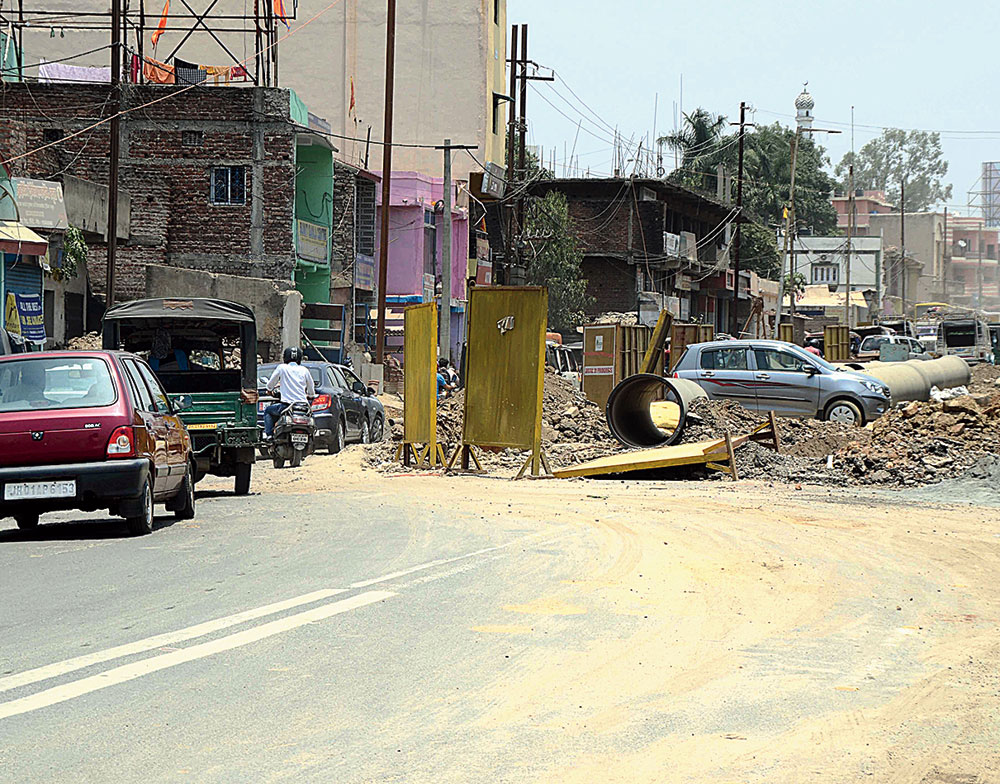 Backache: Vehicles take a diversion near the site of Kantatoli flyover in Ranchi on Monday. Construction debris and dust are giving commuters a tough time on this stretch.
Picture by Manob Chowdhary
---
Ranchi
|
Published 13.05.19, 07:31 PM
|
---
The slow construction of the 1,250-metre Kantatoli flyover from YMCA to Kokar on Old HB Road is triggering bottlenecks that the traffic cops are finding hard to ease.
President Ram Nath Kovind had laid the foundation stone for the Rs 90-crore project on November 15, 2017.
Jharkhand Urban Infrastructure Development Company Limited (Juidco) is the nodal agency for implementing the project whose tender was bagged by Modi Construction Company.
The flyover, being built on 3.9 acres of private land and 0.12 acre of government land, is supposed to be completed by the end of this year.
However, only 15 per cent work has been done so far.
"A diversion was built right after the construction of the flyover started. However, the road is narrow and riddled with potholes. Kantatoli is one of the busiest stretches of the capital and a part of NH-33. Traffic snarls are a common thing here," said Amit Kumar; a resident of Kantatoli.
Another resident Manoj said the construction company had still not built a blacktop service road.
"People are forced to risk their lives by taking bumpy rides on that road dotted with craters.. The 300-metre stretch of diversion (150 metres on both sides) of the road is in very poor shape with mud, dust and potholes all around. The construction company does not even spray water on the road to settle the dust. Once the flyover is constructed, traffic congestion will become a thing of the past," he said.
In August last year, the then Ranchi municipal commissioner Shantanu Kumar Agrahari had directed the company to construct a blacktop diversion before Durga Puja.
However, a technical problem crept in. It was found that the diversion work could only begin after shifting the underground pipelines.
Madanlal Bajaj Construction had bagged the tender to shift the pipelines, but its work was marked by delay.
On Monday, Juidco officials visited the construction site after getting complaints from commuters.
"We have directed the company to construct the blacktop diversion before monsoon," Juidco general manager Ashok Kumar said.
"Almost all pipelines have been shifted and the land acquired. The company has also been asked to fill up all potholes on a priority basis. Currently, piling work for the flyover is underway. It is one of the most difficult work because a minor error may result in a faulty structure. Half of the piling work is complete. A total of 19 piles will be erected. Once the piling and capping work is done, the construction work will be automatically expedited," he said.