A children's film featuring a brother-sister duo from Jharkhand's Daltonganj in lead roles has been selected for screening at the 24th Rainbow International Film Festival in London, beginning on May 28.
"Elham (an Arabic/Persian word meaning inspiration) is the only children's film selected for the festival," Dhruva Harsh, director of the film who also wrote the story, informed when contacted in Mumbai.
The film depicts the symbiosis between a boy and a goat, he further informed, adding Sriram Taiyo from Daltonganj played the role of Faizan, the boy, while his elder sister Tatto appeared as Fatima who is his elder sister in the film too.
"I was studying in Class II when the film was shot," 10-year-old Taiyo who has just been promoted to Class V said, adding their mother had accompanied them to the locations in Uttar Pradesh.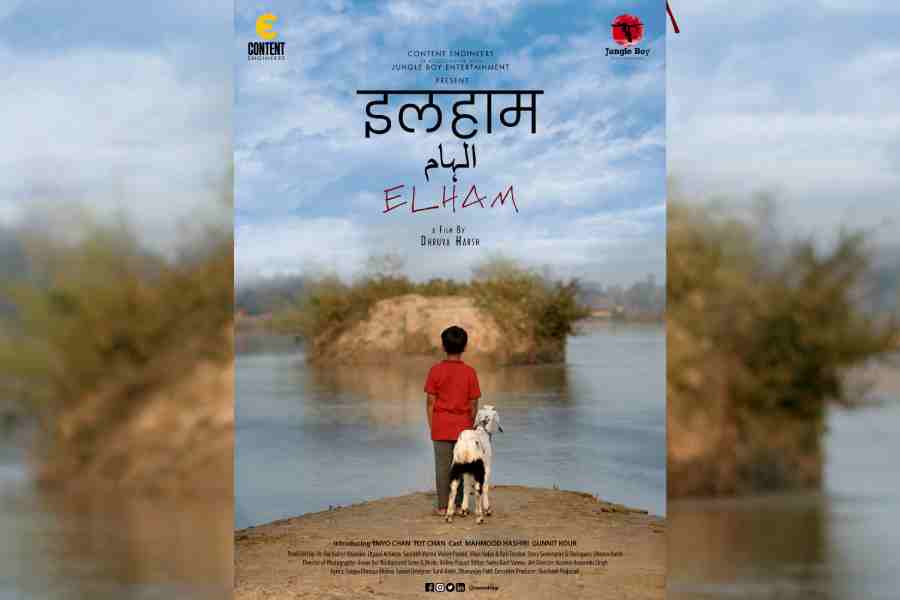 A poster of the film. The Telegraph
"The Covid-induced lockdown was imposed almost immediately after the shooting was completed in the Barabanki district of UP," Harsh informed. The post-production work could be taken up only after it was fully lifted.
Talking about the storyline, Harsh said Faizan developed a strong bond with the goat after his poor father (Rafiq) could somehow manage to buy it for making a sacrifice on the occasion of Eid-ul-Adha, popularly known as Bakrid.
Set in a UP village, the plot of the film evolved around how the boy, despite knowing that the goat was bought for the customary sacrifice, was reluctant to accept the reality and desperately wanted to save it, Harsh further informed, adding the boy's faith was finally fortified when a Sufi mystic intervened and explained a real sacrifice meant more than just slaughtering an animal.
"Though developed in the backdrop of an annual religious festival, the film has nothing to do with religion but instead focuses on the strong bond a child felt for an animal," he explained.
The children's father, Sriram Dalton, is a national award-winning documentary filmmaker while their mother Megha is a musician. Dhruva once visited them and metthe siblings in Mumbai, he said when asked how he picked them up for acting in his film.
"I was then toying with the idea of making this film and felt they would exactly fit in those roles," he said, adding the siblings did very well to portray their roles as the situations demanded.
Produced by Content Engineers and Jungle Boy Entertainment, Elham is a children's film in Hindi with a running time of 90 minutes.
According to the official website of the organisers, the film is slated for screening at Brady Art Centre in London on June 2.
"Elham premiered at the 21st Dhaka International Film Festival in January this year," added Dhruva who had also made a few more films earlier, including The Last Sketch, a docu-feature on hand-rickshaw pullers of Calcutta.