ED seizes assets of firm behind Jharkhand's biggest realty scam
First property attachment in the Sanjeevani Buildcon case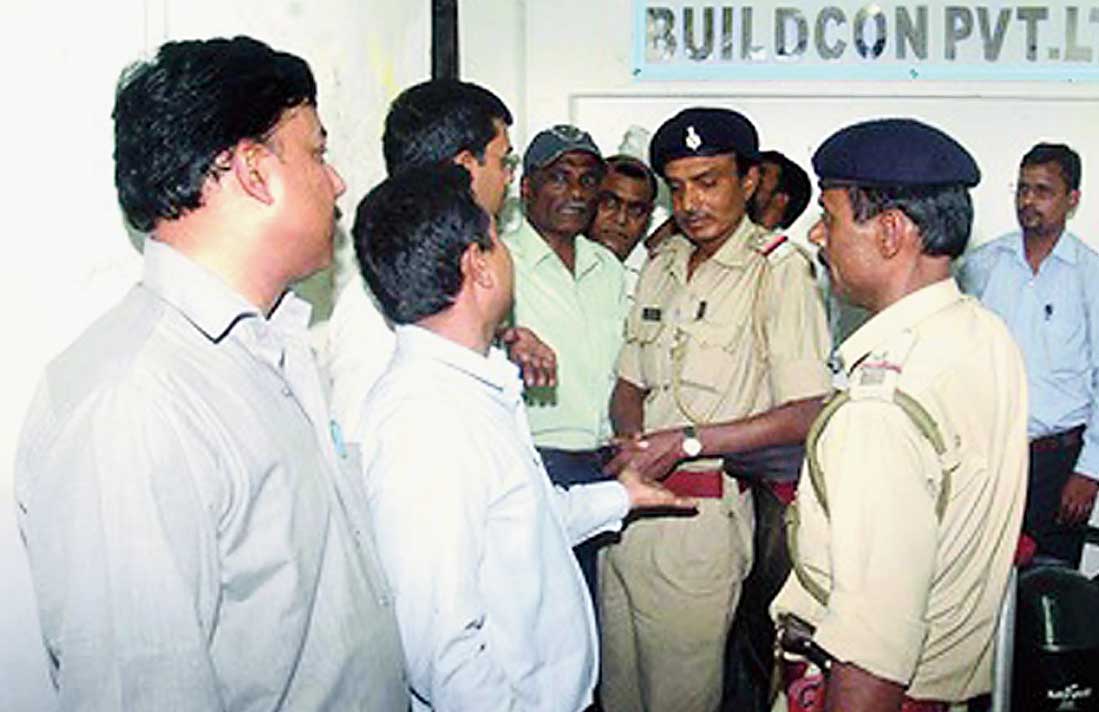 Sanjeevani office at GL Church in Ranchi
Telegraph picture
---
Ranchi
|
Published 07.02.19, 06:33 PM
|
---
The Enforcement Directorate (ED) on Thursday attached immovable and movable properties worth Rs 3.10 crore of Sanjeevani Buildcon owners behind Jharkhand's biggest and most sensational realty scam, worth over Rs 100 crore, that was exposed in 2012.
A senior ED official said this was the first property attachment in the Sanjeevani Buildcon case. Attached properties belong to Anamika Nandi and Anita Nandi, the two wives of Sanjeevani Buildcon's absconding MD and prime accused Jayant Dayal Nandi, and company board member trusted by the Nandis, Shyam Kishore Gupta.
A total of 11 plots and homes with a total deed value of Rs 1.56 crore were confiscated. Of these, 10 are in Ranchi, registered in Gupta's name, including a shop at a prime commercial area on Main Road, Narayani Building. The last housing property that the ED seized is in Raipur, Chhattisgarh, registered in Anita's name. ED also seized two bank accounts and two fixed deposits worth Rs 1.54 crore. One of the accounts belongs to Anamika where Rs 1.34 crore was deposited.
Around 300 aspiring property buyers from across Jharkhand and Bihar were swindled out of their life's savings by the realty company, when they pumped money into buying plots and homes in Ranchi and on city outskirts. The same plot was sold twice, property papers were forged and fake owners created to cheat customers. As the scam came out in the open, many buyers moved court. In 2013, the CBI took up the case following a Jharkhand High Court order. The agency registered 33 cases by clubbing cases of similar nature. Around 50 people were made accused.
While the trial of these cases is on before the special CBI court in Ranchi, Jayant remains absconding, his wives and Gupta are out on bail.
Unconfirmed reports say Anamika and Anita had come to Ranchi in a cavalcade of cars last month to inspect plots and meet land brokers. Reportedly, the wives shuttle between Mumbai and Raipur, and stay in touch with Jayant's brother in Hazaribagh and their brokers in Ranchi. A source who refused to be quoted said the two wives would possibly come to Ranchi from Mumbai on Friday.
Other cases
The ED on Thursday attached 25.54 acres of Jharkhand Ispat (JIPL) at Hesia in Ramgarh, with deed value of Rs 3.93 crore, as part of their probe in a money laundering case against JIPL, owned by R.C. Rungta. The company allegedly acquired mining rights of North Dhadu coal block in Jharkhand for a sponge iron unit through fraud.
The ED also lodged an FIR against Ranchi businessmen Amit Sarawgi and Shwati Sarawgi, their aides Vishal Khetawat, Rakesh Sharma and Mirnal Kanti, in a money laundering case. The ED lodged FIR against companies owned by Sarawgis, such as Sarawgi Builders and Promoters, Shri Badri Kedar Ydyog, Sunbeam Dealers, Sri Ram Comtrade and others. As a conservative estimate, they are accused to have laundered Rs 25 crore.
They allegedly got loans from banks by fraud and invested in shell companies. The loan was later declared a non-performing asset. The CBI had also lodged FIRs against the accused. "We have adopted the CBI FIR and are considering it a predicate offence," said an ED source. A predicate offence is a crime that is a component of a more serious criminal offence.