Dhanbad theatres unlikely to open from March 1 due to losses
Single screen cinema hall operators unwilling to resume activities, demand relaxation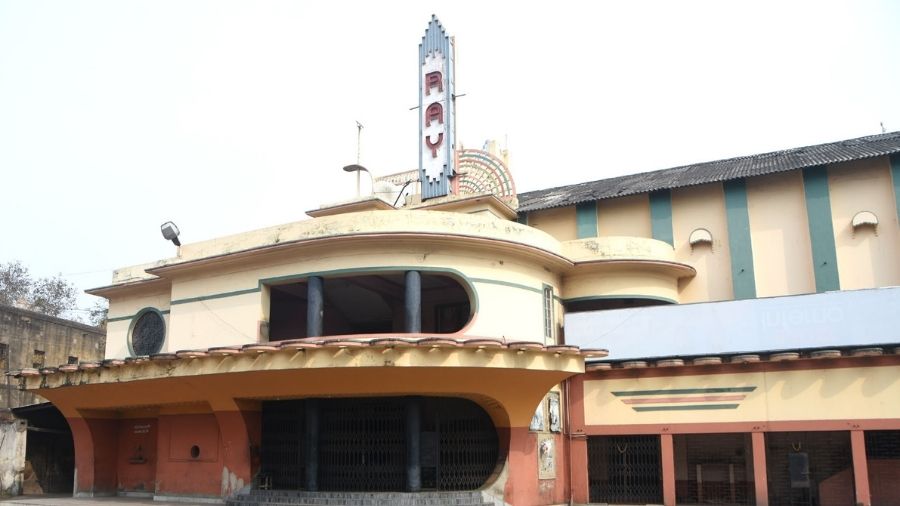 Ray Talkies, the oldest cinema hall of Dhanbad, on Friday.
Picture by Gautam Dey
---
Dhanbad
|
Published 19.02.21, 05:00 PM
|
---
Several single screen cinema hall operators of coal town are not willing to resume operations owing to acute losses suffered last year after the lockdown, despite the government's nod to open theatres from March 1.
Already facing issues like decreased occupancy and stiff competition from multiplexes, the lockdown has completely broken the backbone of these operators. 
Operators are thus demanding a 6 per cent GST relief from the state government, in line with Bengal and Uttar Pradesh.
They have also asked for a on the electricity bill for the three months of lockdown and moratorium for the remaining period of closure, as has been provided by Andhra Pradesh government.
"We have sent the authorities a copy of the notification of the Andhra Pradesh government where it has  provided a moratorium of six months on loan repayment and further decided to bear 4.5% subsidy on loan interest. We demand incentives on similar lines," Puja Talkies owner Prashant Singh told The Telegraph Online.
"The government has allowed us to operate with 50% capacity but is not providing any relaxation. On the top of that, we are also receiving daily calls from the Dhanbad Municipal Corporation to pay our holding tax," he added.
Singh further said that the situation in neighbouring Bihar is relatively better as Bhojpuri movies draw good viewers but in Jharkhand there is no traffic for such films.
"A year-long waiver of the state share of 6 per cent GST could have helped the cinema hall operators to stand on their own feet amid the stiff competition from television and multiplexes," Nitesh Shahabadi, owner of Ray Talkies said.
Dhanbad had six operational cinema halls during the pre-lockdown period, out of which Usha Talkies in Jharia is not likely to resume operation from March 1. Till early nineties there were 30 cinema halls in Dhanbad, majority of which had closed down due to losses.