Dhanbad corporation gears up for Swachh Survekshan with town beautification drive
Wall painting and slogan writing around several ponds, overbridges are in progress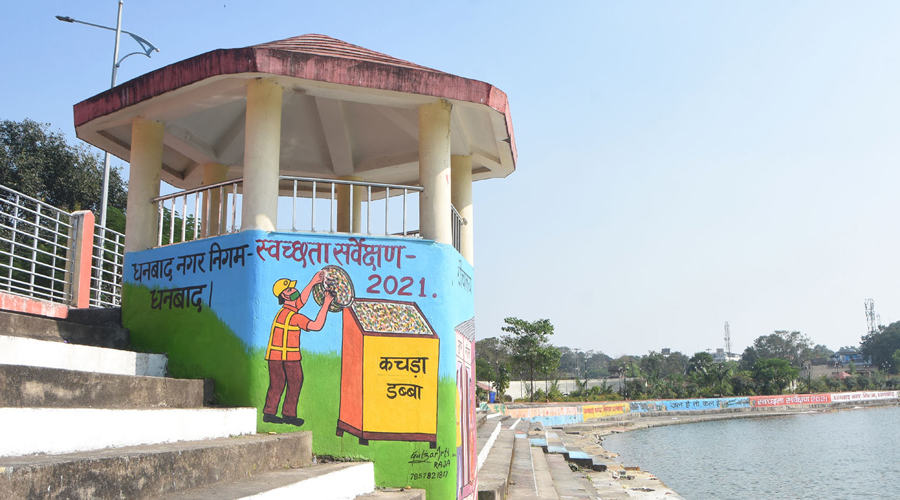 ---
|
Dhanbad
|
Published 22.11.20, 05:39 PM
---
Dhanbad Municipal Corporation (DMC) is carrying out a massive wall painting and slogan writing drive in various public places in the run-up to the Swachh Survekshan 2021. The ponds, streets, flyovers, entertainment parks in five circles of Dhanbad including Jharia, Dhanbad, Sindri, Katras, and Chhatatand are under this beautification drive.
Wall painting and slogan writing around a dozen popular ponds, including two each in Jharia, Sindri, and Chhatatand circle, and three each in Dhanbad and Katras circle has already been completed ahead of Chhath. Similar beautification drives around other ponds, in 55 wards of Dhanbad, are in progress, which is likely to be completed before January next year ahead of Swachh Survekshan.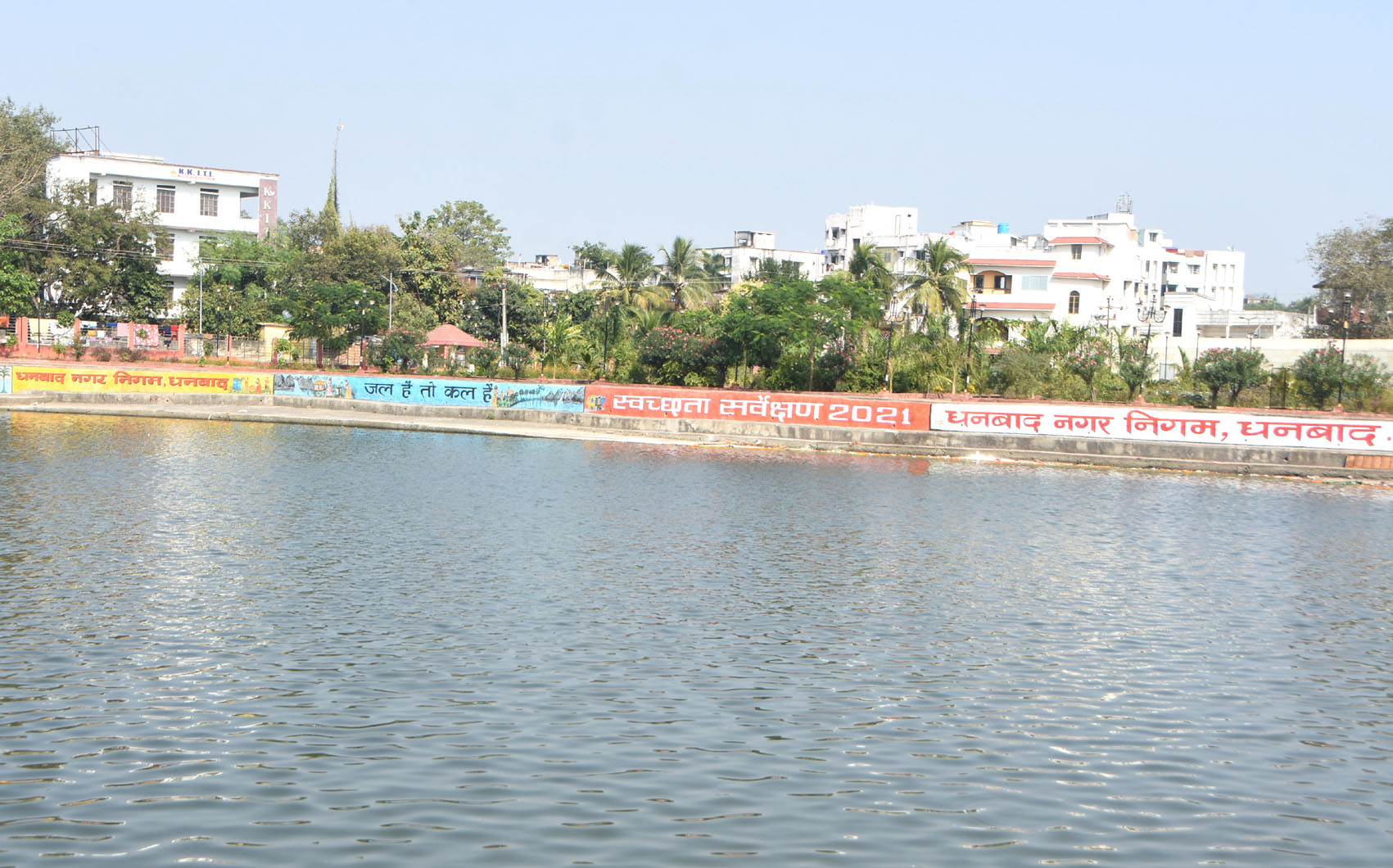 DMC meanwhile has also launched the wall painting and slogan writing drive on the railway overbridge near the Rangatand Chowk of Dhanbad as well as 824-meter bank more overbridge as part of its beautification drive.
Giving details, Prem Prakash, City Manager of Dhanbad Municipal Corporation, who is also the in-charge of Swachh Bharat Mission project of DMC said, "We had launched the wall painting and slogan writing drive during mid-October and decided to include ponds as part of our beautification drive in the last stage in view of Chhath celebration as a large number of people gather around the pond and the slogans regarding cleaning may have a better appeal there."
"We have carried out wall painting and slogan writing work on the boundary wall of Rajendra Sarovar (also known as Bekar Bandh) pond situated in the heart of Dhanbad town and similarly extensive wall painting and beautification all around the pond of Shiv Mandir in Jharia has been completed," said Prakash.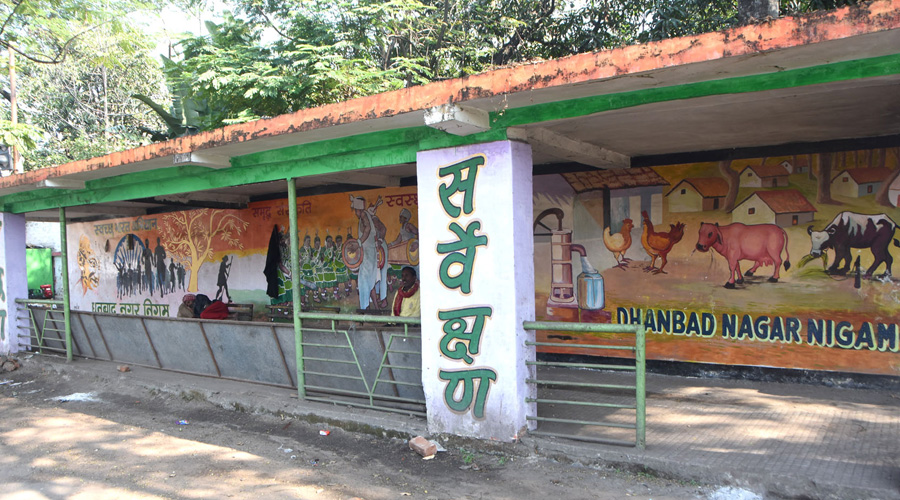 Divulging more details, Prakash said, "We will include all the streets, flyovers and squares of the district as part of our drive in order to give a better look to the town as well as spreading the message regarding cleanliness and hygiene, environment protection, etc."
The Hindi slogans painted as part of wall writing included, Swachhata hai mahaabhiyan, swachhata me dijiye apna yogdan; Swachhata apnao apne ghar ko sundar banao; Kahin bhule to nahi swachhata ka path, aayie milkar phir se karen abhyas, etc.
"Though we are also carrying out a lot of innovative work as part of the preparation for the Swachh Survekshan like decoration with the help of waste materials like used tyres and used plastic bottle regarding which we will give great details after the completion of work," said Prakash and added that they had also developed an attractive flowering zone in the Birsa Munda Park and Rajendra Sarovar during the last year using the waste tyres and also grown decorative plant in plastic bottles and they decorated them on the boundary wall of both the parks.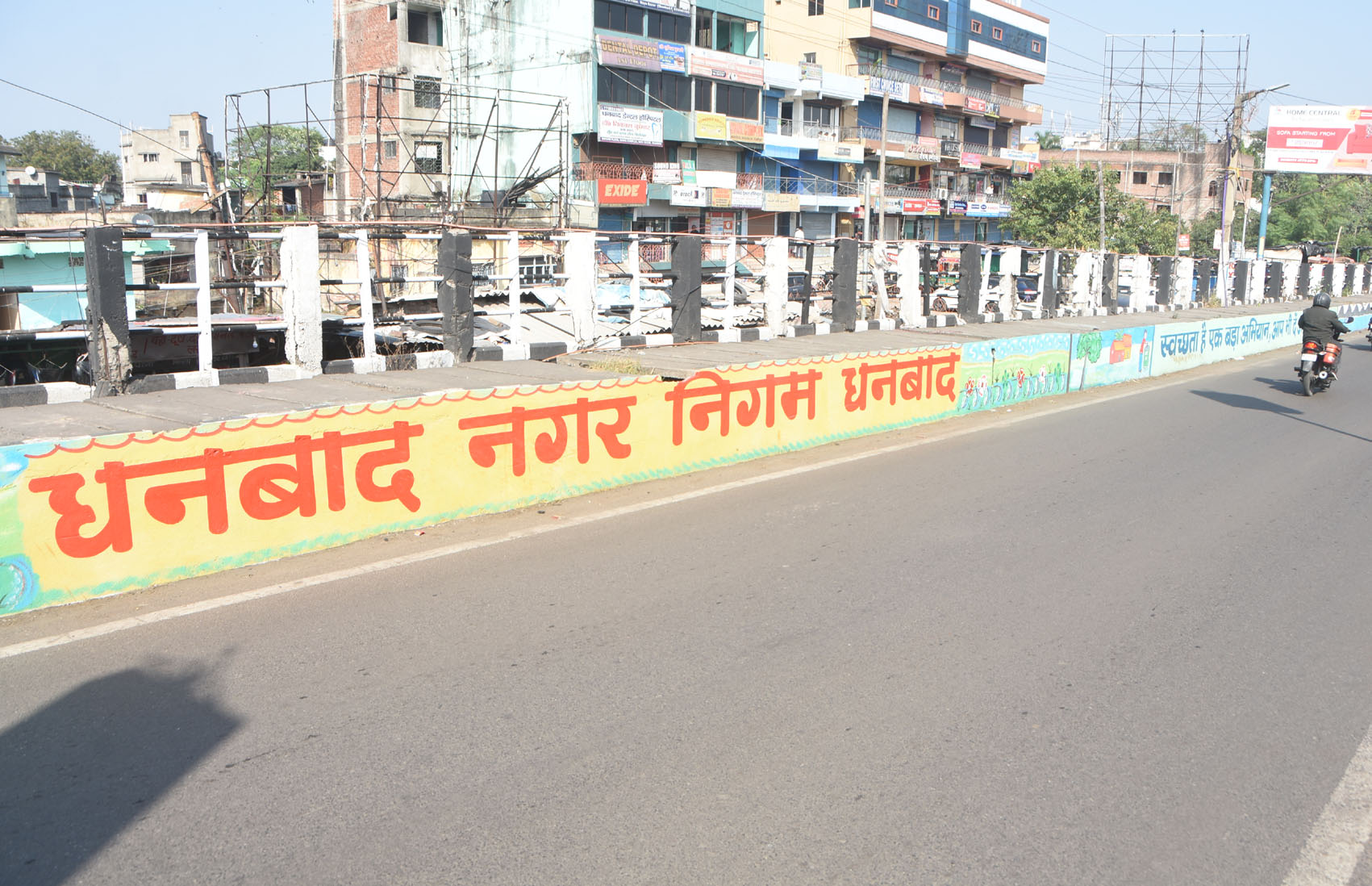 "We are also carrying out other welfare work as part of the preparation for Swachh Survekshan as a result of which we have installed an automatic sanitary pad vending machine at PMCH for patients of economically deprived section of the society who are being provided with pads at a rate of Rs 5 per piece," said Prakash.
Notably, Dhanbad secured 33 All India Ranking this year making an improvement over the last year ranking of 56.