Dhanbad coal mine workers cease work in protest against privatisation plan
Leaders of five central trade unions groups turn up to halt operations, chief managing director claims production not affected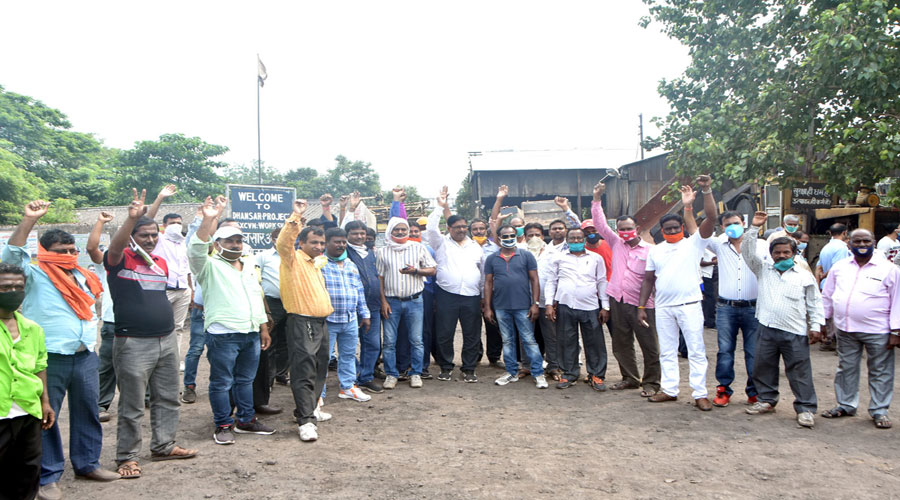 Coal workers demonstrate at Dhansar colliery in Dhanbad on Thursday
Picture by Gautam Dey
---
Dhanbad
|
Published 02.07.20, 08:38 PM
|
---
Coal production was significantly affected in over 45 active underground and open-cast mines of Bharat Coking Coal Ltd (BCCL) and Eastern Coalfields Limited (ECL), both subsidiaries of Coal India, as departmental production through regular employees came to a halt during the first shift.
Production through contractual workers of private outsourcing companies like Oriental Structural Engineers in Katras and Dhansar Engineering  Company in the Barora area of BCCL, however, continued with occasional disruptions by the arrival of trade union leaders to carry out protests in the collieries. 
Coal dispatch through railway wagons also continued with various private companies operating in railway sidings of the BCCL carrying out the loading of coal. 
The leaders of all the five central trade unions, including the Bharatiya Mazdoor Sangh (BMS), Hind Mazdoor Sabha (HMS), Indian National Trade Union Congress (Intuc), Central Industrial Trade Union (Citu) and All India Trade Union Congress (Aituc), visited BCCL mines and galvanised the permanent workers, who boycotted work and staged a protest.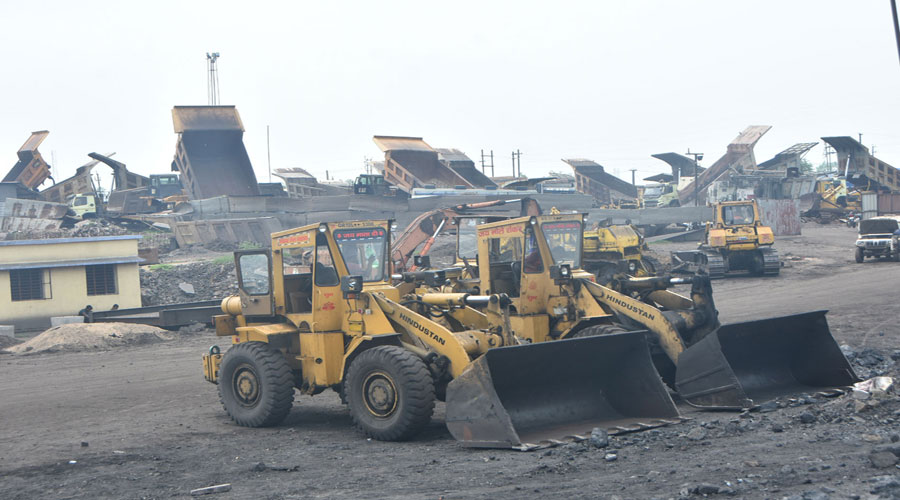 A.K. Jha, the state general secretary of the Rashtriya Colliery Mazdoor Sangh, who was also present in the meeting and demonstration held at BCCL headquarters at Koyla Bhawan on Thursday, told The Telegraph Online, "Former Prime Minister Indira Gandhi carried out nationalisation of collieries in the early 1970s to ensure safer working conditions to more than 7.5 lakh coal workers. The CIL carried out coal mining in a scientific manner in accordance with the environment norms. The decision of the current government to carry out coal mining will reverse the situation and take us back to the old days of exploitation and unscientific mining, with little care for health, safety and environment concerns."
"The privatisation of the coal sector will snatch the livelihood of lakhs of workers working in the coal sector across the country," said Rajendra Paswan, the central secretary of the Bihar Colliery Kamgar Union.
"We are totally against commercial coal mining, as it will lead to the revival of the old days when private mines violated all norms and exploited the labourers," said Paswan.
"If the policy makers in government feel that they will get the privatisation plans passed without any opposition due to the lockdown, they are living in a fool's paradise," said Paswan.
He added that they would intensify the protest if the government failed to withdraw the plan. The chief managing director of BCCL, P.M. Prasad, said, "Although departmental production was affected in the first shift due to the strike, contract workers carried out production and coal dispatch remained almost normal."
The general manager of CCL's Barka-Sayal and officiating general manager of the Argada command area, Amresh Singh, said, "Dispatch of coal has been affected due to the strike, but coal mining via outsourcing private companies remained unaffected."