Dhanbad and Ranchi fail rain test
Many areas are facing acute power cuts, flooding, network disturbances and slow garbage management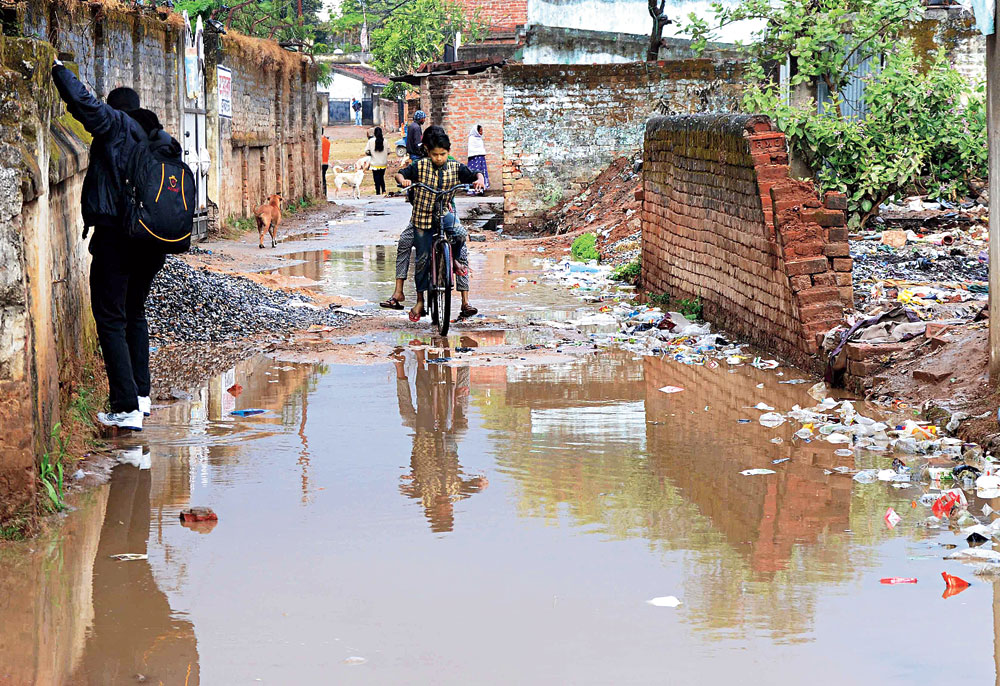 Dare to walk: A waterlogged street at Tunkitola in Ranchi on Tuesday.
Picture by Manob Chowdhary
---
Ranchi/Dhanbad
|
Published 18.12.18, 05:20 PM
|
---
Inclement weather for the past couple of days has brought normal life to a grinding halt in the state capital and coal town.
Many areas are grappling with acute power cuts, heavy showers since Monday evening has flooded isolated pockets, network is down across banks and offices, and garbage management has hit sloth mode. In short, winter is playing as nasty as peak monsoon.
Sanjay Kumar, who visited the Tharpakhna branch of Canara Bank in Ranchi on Tuesday, said transactions that normally took five minutes were taking an hour owing to link failure. "I reached the bank at 11.45am only to deposit cash. There was not much rush, but I still left the bank past 1pm," he said.
Argora resident Arun Sahu echoed Kumar and said he had a vexing time trying to transfer funds to his son's account. "My boy studies at a school in Rajasthan. It took me half an hour to transfer funds from the Ashok Nagar branch of Punjab National Bank," he said.
In Harmu, door-to-door garbage collection has remained suspended for the past four days for reasons best known to the Ranchi municipal authorities. Intermittent rainfall under the impact of Cyclone Phethai, which made landfall in Andhra Pradesh on Monday, has further ensured that trash mounds on roads remain intact as well.
"On the one hand, there is this cold and clammy weather; on the other hand, the civic authorities are making life more miserable for us. What has rain got to do with garbage collection?" asked homemaker Parwati Tripathi.
Harmu falls under Ward 26 of RMC. Local councillor Arun Kumar Jha admitted the foul situation and said workers of the agency hired for the job were on strike over non-payment of dues. "Stopgap arrangements have been made for garbage collection. Those houses that haven't been covered yet will be covered by tomorrow (Wednesday)," Jha said.
Ashok Mishra, a civil contractor and resident of Gandhi Nagar in the capital, complained of erratic power supply. "Besides frequent outage, there is the problem of voltage fluctuation. You cannot run washing machines or geysers in such a situation. And, you need both in this weather. It is a strange predicament," he said.
In Dhanbad, power cuts affected life in Jharia, Sindri and Katras. Places like Babudih, Station Road, Police Lines, DRM Chowk, Manaitand, Barmasia, Tapovan Colony, Jayprakash Nagar, Dahuatand, Joraphatak Road area, Gandhi Nagar, Dharamshala Road and Koiri Bandh were flooded in nightlong rain.
Parikshit Pathak, a sales representative for a pharmaceutical company, said a flooded DRM Chowk spawned a major traffic bottleneck and he got late for his appointments with doctors.
Sanjay Kumar, a cyber café operator in Hirapur, said there was no power through Monday night. "Supply was restored only around 2pm (on Tuesday). I had to turn away customers," he added.
Superintending engineer of Jharkhand Bijli Vitran Nigam in Dhanbad Vinay Kumar blamed a cable fault in bad weather for supply disruption in some areas. "The fault was fixed by noon. There should be no further problems," he said.