Dalma witnesses arrival of elephants from Bengal
About 80 jumbos move into the sanctuary from the neighbouring state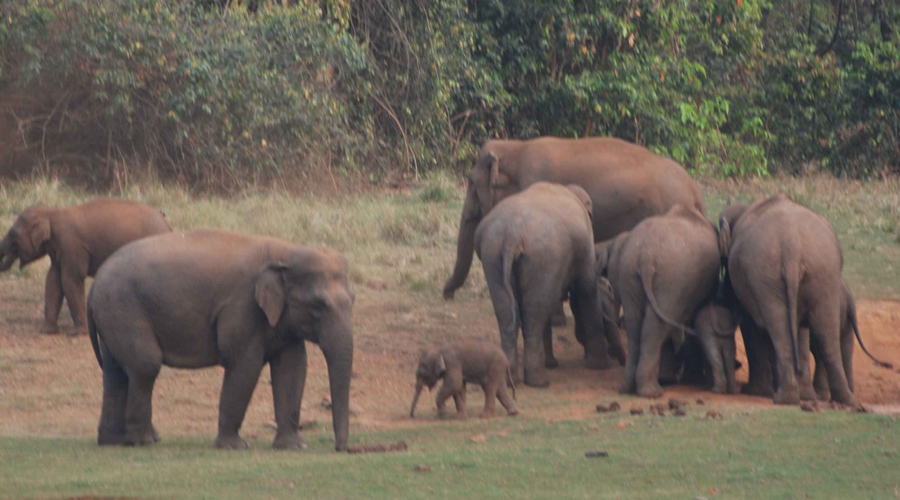 Elephants inside Dalma wildlife sanctuary.
File picture
---
Jamshedpur
|
Published 18.03.21, 07:27 PM
|
---
Herds of elephants have started their journey back to their home in Dalma Wildlife Sanctuary. The trip back to their habitat is also good news for tourists who have started visiting the Dalma Wildlife Sanctuary after the sprawling jumbo abode reopened earlier this month post-Covid pandemic.
Forest guards spotted three separate herds of about 35 elephants, including tuskers, near Bijli Ghati (watering hole) on Wednesday afternoon. Some more jumbos moved into the sprawling 192 sq km sanctuary, 30 km from Jamshedpur, in the wee hours of Thursday.
The elephants, which had migrated to the jungles of West Midnapore and Bankura in Bengal, last year, had been anchored on the fringe pockets of Dalma Wildlife Sanctuary for over two months. Their entry to the sanctuary was imminent.
Some elephants had returned home from Bengal early in December last year and owing to the cold uphill had subsequently moved downhill.
Dalma range officer (West) Dinesh Chandra confirmed the presence of elephants near Bijli Ghati. "In all, about 80 elephants have moved into the sanctuary from neighbouring Bengal. We welcome the elephants back home," he added.
According to Chandra, they had arranged drones for taking pictures of the elephants but the effort came a cropper as the jumbos did not come near the watering hole. "The elephants moved into the core area and pictures from drone were not possible," the range officer informed.
Dalma authorities have made elaborate arrangements – from mending road to trimming bushes – to ensure a hassle-free entry of jumbos into the sanctuary. Besides getting the forest better, roads had been mended at all the six beats of the sanctuary – Bhadodih, Nutandih, Dalma, Mango, Dalma and Patamda – for swift movement of forest patrol. The effort was to minimise man-animal conflict.
A forester said all the elephants should be home in a day or two. There are about 152 elephants at the scenic reserve.
The jumbos had caught the migration corridor to Bengal in August-September last year. They usually return after the harvesting season in the neighbouring state, in February-March.
Elephants follow two designated corridors – one from Jhunjka and the other from Burudih. The first one leads to Nutandih while the second passes through Narsingpur (Ghatshila range), Dalapani, Suklara and Aamdapahari. Both the corridors merge at Mirjadih from where the elephants cross Haludbani, Bhadodih, Bota and Dimna to reach Dalma.
Tourists, mostly from Bengal, flock to the sanctuary in summer and winter to spend quality time amid natural surroundings. With the watering holes and check dams brimming, they will get ample opportunity of clicking pictures of the jumbos. Elephants take bath and quench their thirst at the watering holes.