Daily wage earners block Mango Chowk to protest Covid test
STATE DIGEST: BSL and ESL celebrate Ghandhi Jayanti; Bokaro Congress Committee members burn effigies of Yogi Adityanath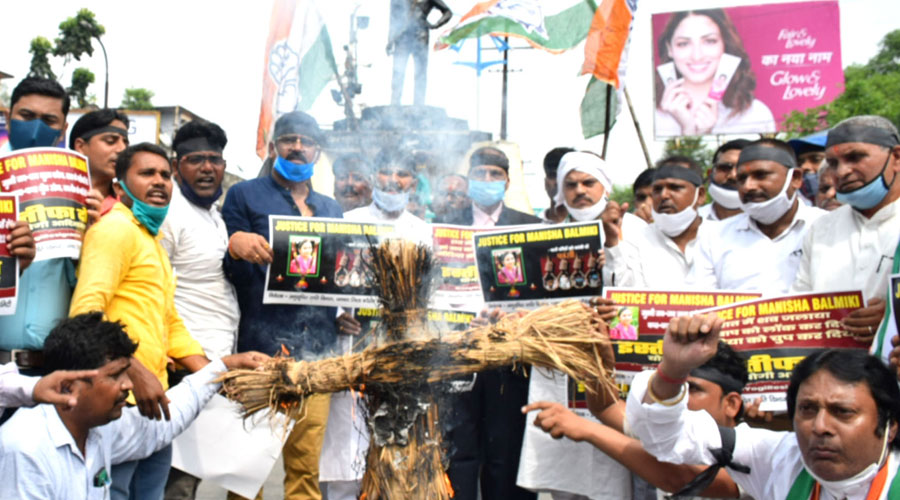 Congress activists Dhanbad burn effigies of Uttar Pradesh chief minister Adityanath Yogi at Randhir Verma Chowk in Dhanbad on October 1, 2020.
Gautam Dey
---
Published 02.10.20, 01:19 AM
|
---
Around 1000 daily wage earners set up a blockade on Thursday near Jai Prakash Narayan Setu at Mango Chowk to protest mandatory Covid rapid antigen test by the district health department.
The protesters blocked the Mango Chowk twice between 7am to 10am. 
A joint team of Integrated Disease Surveillance Programme and Mango Notified Area Committee officials started taking swab samples and had already taken samples of about 65 persons, including the workers by 6.30 am when some of the labourers refused to be subjected to any test. The workers started protesting shortly.
The workers who come mostly from rural pockets like Patamda, Turiabera, Bhilaipahadi and Baliguma were of the opinion that they were healthy and there was no need of undergoing any test for the virus.
"We are opposing any test on us for detection of Coronavirus as we are healthy and hefty. Had we been infected with any such virus we would not be able to come here for work. We are daily wagers and let us just work otherwise our family will have to starve at home," said one of the protesters.
As a result of the blockade which started at about 7am, traffic came to a standstill on either side of the bridge.
The labourers dispersed after the OC of Mango thana asked them not to block the bridge. However, two hours later a large number gathered near the bridge and put up a blockade again.
Special officer, MNAC said after the labourers opposed the Covid test drive, the IDSP team had shifted to Dimna Chow, about three kms away in Mango.
In the past 24 hours, 123 new Covid cases were detected, thus taking the total number to 13,831 in East Singhbhum district. During this period, Covid claimed three lives, making the total number of deaths in the district to 321.
BSL and ESL celebrate Ghandhi Jayanti Bokaro Steel Plant and Electrosteel Steel Plant celebrated Ghandhi Jayanti on Thursday.
A webinar on the topic "Gandhi in Action" was organised by BSL to mark the 150th year of Gandhi Jayanti being celebrated on October, 02. The webinar was attended by director incharge of BSL, Amarendu Prakash, executive director and other officers.
Biren Bhuta, a well-known speaker, gave his views on the practical aspects of assimilating Gandhiji's principles in daily lives at the webinar.
ESL, a Vedanta Group Company, launched Swachh Bharat Abhiyan and cleanliness awareness programme in Siyaljori village on the eve of Gandhi Jayanti.
Medha Kumari of ESL (Corporate Communications) said apart from spreading the message of a clean and hygienic India among the villagers, ESL team distributed bleaching powder and installed dust bins across prominent places in the village.
Bokaro Congress Committee members burn effigies of Yogi Adityanath
Bokaro Congress Committee members burnt an effigy of Uttar Pradesh chief minister Yogi Adityanath to protest the detention of party leaders Rahul Gandhi and Priyanka Gandhi Vadra while they were on their way to meet the family of the Hathras gang rape victim on Thursday.
The co-working president of state Congress, Rajesh Thakur said that the congress strongly condemns the detention of the leaders.
"Narendera Modi government should take strict action agianst the rapists and should investigate that under what circumstances Hatras rape victim's dead body was burnt by the Uttar Pradesh government in the middle of the night without her family members," said Thakur.