Cyclone disrupts several trains passing through Jharkhand
The Anand Vihar (Delhi)- Puri Express, which touches Jamshedpur in Jharkhand, has been cancelled on Saturday and Sunday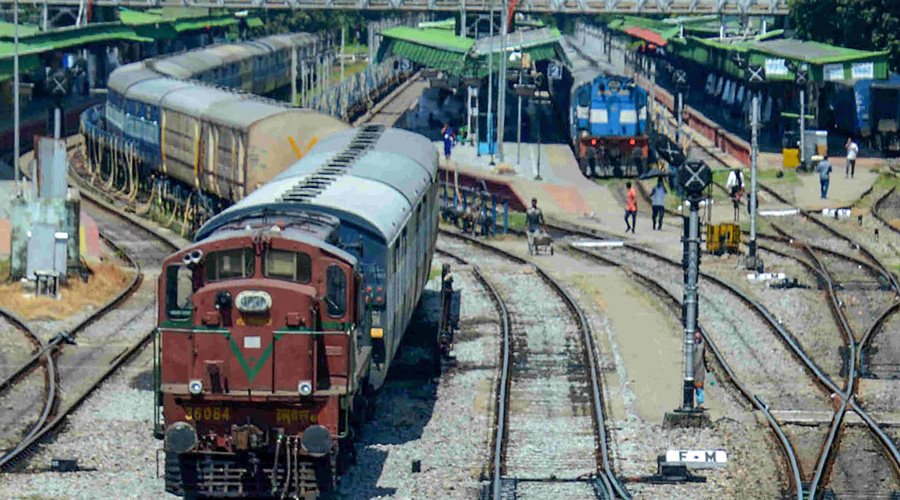 ---
Jamshedpur
|
Published 05.12.21, 12:13 AM
|
---
Several trains passing through different parts of Jharkhand and then through Odisha and Andhra Pradesh have been cancelled because of Cyclonic Jawad.
Neeraj Kumar, chief public relation officer of South Eastern Railway at Calcutta, said Hatia-Puri Express, leaving Ranchi on Saturday, has been cancelled, while Dhanbad-Alleppey train leaving Dhanbad on Saturday has also been cancelled.
The Alleppey-Dhanbad train from Alleppey is running through an altered route via Gurdur, Balharshah, Raipur and Jharsuguda before entering Jharkhand on Saturday.
The New Delhi-Puri Purushottam Express has been cancelled on Monday while the Puri-New Delhi Purushottam Express from Puri has been cancelled on Saturday.
The Anand Vihar (Delhi)- Puri Express, which touches Jamshedpur in Jharkhand, has been cancelled on Saturday and Sunday.
The Puri-Patna and Patna-Puri train, both crossing Madhupur and Jasidih in Jharkhand, have been cancelled on Sunday.
However, the cyclone will not cause much impact in Jharkhand.
Abhishek Anand, deputy director of Ranchi Meteorological Centre, said that apart from overcast conditions and light rains in a few parts of south Jharkhand (Kolhan) and northeast Jharkhand (Santhal Pargana region), the cyclone would not have much impact in other parts on Sunday.
"As on Saturday there were overcast conditions and light rains in few parts of Jharkhand and conditions will remain the same on Sunday as the cyclonic storm is likely to weaken into a deep depression moving northwards while passing Odisha coast near Puri on Sunday noon. Subsequently, it is likely to weaken further and continue to move north-northeast along Odisha coast towards Bengal coast," said Anand.
The Met scientist, however, said that the impact of the cyclone will cause a sharp fall in temperature across Jharkhand from Tuesday.
"Temperature will fall down by at least five to six degrees across Jharkhand from Tuesday night leading to chilly conditions," said Anand.