Jharkhand High Court emphasizes on coronavirus tests
'Numbers not enough to demarcate red, green and orange zones in the state'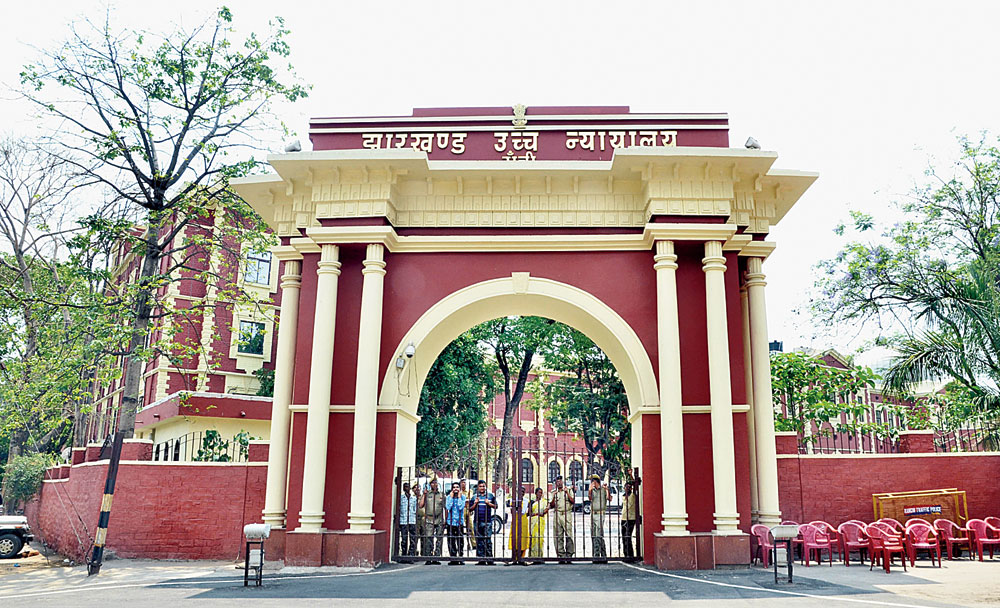 Jharkhand High Court
File picture
---
Ranchi
|
Published 12.05.20, 07:36 PM
|
---
Jharkhand High Court, taking note of the increasing novel coronavirus cases in the state, on Tuesday asked the government details of tests done across the state.

The court observed that the only way to check the virus was through extensive testing of persons across the state.
A division bench of Chief Justice Dr Ravi Ranjan and Justice S.N. Prasad was hearing a public interest litigation (PIL) filed by advocate Indrajit Sinha and Rohan Mazumdar for checking the spread of Covid-19 and on the state's preparedness.
The bench said that testing of probable cases was the only way to keep the virus at bay.
Chief Justice Ranjan observed that many districts which were placed in the green zone earlier now have positive cases. The district-wise demarcation of zones will have to be redone in the light of new cases cropping up, the CJ said.
Responding on behalf of the government, advocate-general Rajiv Ranjan said that the state has 160 positive cases as on date.
He said the government has geared up to meet the challenges after more migrant labourers arrive in the state over the next week.
He said that almost 24,000 tests have been done so far.
The bench said that the number of tests was not enough to demarcate red, green and orange zones in the state.
The bench also asked the advocate-general about the inquiry done on the death during the lockdown of unborn children of women in advanced pregnancy. The advocate general said a three-member committee had been formed which has inquired into the conditions prevailing at the time of the lockdown for which a mother had to suffer.
The committee has conducted a detailed inquiry and has opined that the unborn child of a pregnant woman in Ranchi died due to medical complications. The foetus did not record heartbeat and was in a critical stage, the advocate general informed.
Moreover, he said, the Union government has already issued guidelines and all private and government hospitals have been directed to run their outdoor patient departments on full steam.
The bench also raised concern over the reaction of the Godda District Bar Association which has expressed its reluctance in participating in video conferencing to conduct cases in the Godda District Court. The bench said that "sensitisation" of the bar was required.
"This is a problem which will remain and resorting to use of technology is the only way to fight the disease," the judges said.
The case will be heard again after a fortnight.