Cops dread workplace: Adityapur Police staion
Policewoman Pushpa Tirkey was injured when a chunk of plaster fell on her head two months ago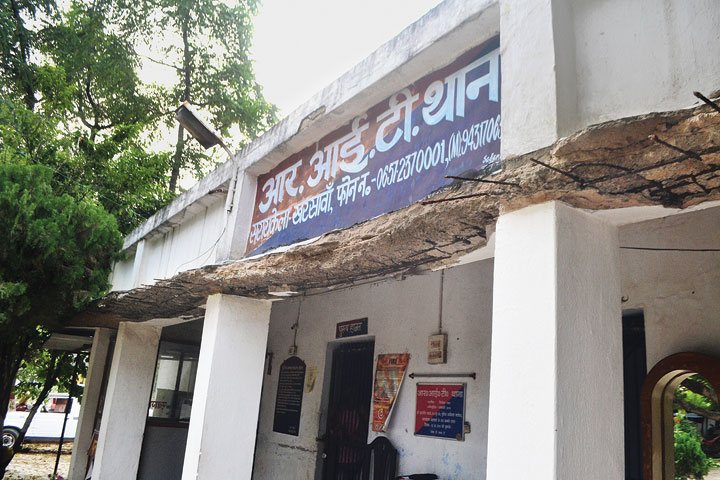 The dilapidated RIT police station in Adityapur on Saturday
Picture by Animesh Sengupta
---
Jamshedpur
|
Published 12.10.19, 08:07 PM
|
---
Cops posted at RIT police station in Adityapur have to work in fear as the police station building is so dilapidated that chunks of plaster have fallen off at several places from walls and ceilings, exposing the iron scaffolding.
Concerned with these workplace hazards, Seraikela-Kharsawan superintendent of police Karthik S. has instructed the officer-in-charge of the RIT police station, R.N. Singh, to arrange an alternative accommodation and shift personnel to the safer place at the earliest.
That, however, is easier said than done. The RIT police station is located in a private residential area with no other government building around. No alternative building has been identified so far.
OC Singh confirmed to this paper that the Seraikela-Kharsawan SP had in writing asked them to shift from the existing building.
"But we are helpless. No no one is ready to offer us accommodation. There is no other government building around where we can shift either," Singh said.
SP Karthik S. said that the state home department had decided to rebuild 43 police stations across the state, but the RIT thana was not on that list though they had sent a proposal for it. The home department is giving priority to rebuild police stations in Naxalite areas, the SP said. "But as the RIT police staff have to work under risky conditions, I have asked them to arrange an alternative place," he said.
An assistant sub-inspector posted at RIT police station, S. Hansda said he did not know when their troubles would end. "We are forced to move out when sandy cement and chunks of plaster rain on us from most of the rooms in the police station. During rain, we can neither stay in nor out."
One of their colleagues, policewoman Pushpa Tirkey was injured when a chunk of plaster fell on her head two months ago, Hansda said.
The police station has eight rooms, including the OC's chamber, which is in a better state than the others. "But the hall where documentation work is done, the rest room, the hazaat or cell for prisoners and the hall next to the OC's chamber are so dilapidated that they look like they will collapse any minute. Not only are we working in risky conditions, official records are also getting damaged due to seepage and falling plaster," said another cop.