Coloured dustbins for Dhanbad
Aim of distributing green and blue dustbins was to ensure segregation of waste at source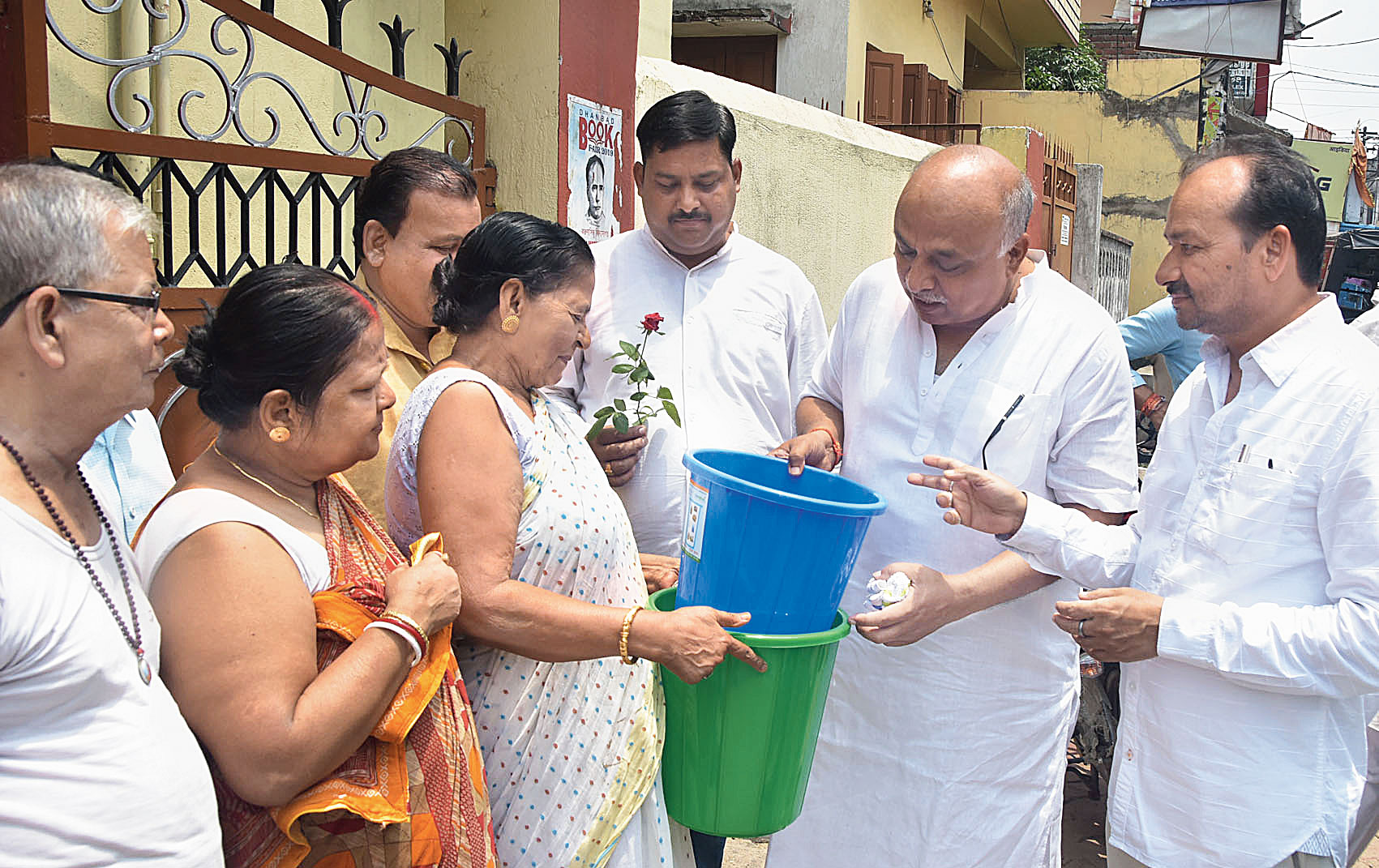 ---
|
Dhanbad
|
Published 18.07.19, 07:43 PM
---
The coal capital launched its ambitious plan for better waste management on Thursday with the mayor distributing green and blue dustbins to various households to enable residents segregate dry and wet garbage before it is handed over to collection agencies.
Mayor Chandrashekhar Agarwal, who started the distribution from J.C. Mallick Road of ward 25 of Dhanbad Municipal Corporation in the presence of municipal commissioner Chandramohan Kashyap, councillor Priyaranjan, city manager (sanitation) Bijay Kumar and project in charge of Ramky Enviro Engineers Pranab Kumar Pattnaik, said the exercise was a part of the Rs 274 crore integrated solid waste management (SWM) project of Dhanbad.
"We will be distributing green and blue dustbins to ensure source segregation of waste at each of the 2.75 lakh households of 55 wards of Dhanbad spread over five circles of Dhanbad, Jharia, Sindri, Katras and Chhatatand by the next month," Agarwal said, adding that they would soon begin work on setting up a waste-to-energy plant at Sindri as a part of SWM project.
"We will be expanding door-to-door garbage collection to various wards of Jharia circle within the end of the month. Gradually, we will cover all 55 wards of all five circles, hopefully by August," he said.
Elaborating on the land required to set up the waste-to-energy plant in Sindri, Agarwal said around 30 acres had already been provided to Ramky Enviro Engineers by Hindustan Uravarkan and Rasayan Limited. "Another 40 acres is required from the Fertilizer Corporation of India and we will be visiting Delhi soon to complete the formalities," he said.
Pattanaik of Ramky Enviro Engineers said that the basic aim of distributing green and blue dustbins was to ensure segregation of waste at source.
"Wet waste, like leftover food, vegetables and fruit peel, milk or juice, matchsticks and paper cartons, collected from the each household will go to garbage compactors, while dry waste like plastic jars, tubs and bottles, toys, make-up articles, cups, milk cartons, paint material, cane, aluminium materials, will be go for recycling," he explained.