Chamoli: 3 more bodies of Jharkhand workers recovered
Families of those missing now hope for bodies to process compensation claims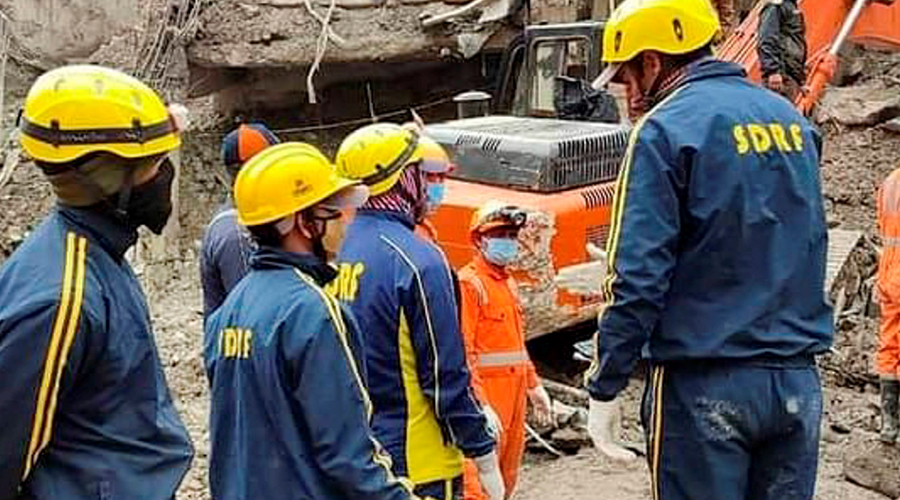 ---
Ranchi
|
Published 21.02.21, 06:26 PM
|
---
Three more workers of Jharkhand have died in flood-ravaged Chamoli in Uttrakhand, officials confirmed on Sunday, taking the death toll among the 14 people reported missing to four. 
On February 7, a glacier-break in Chamoli's Tapovan region triggered massive floods, destryoing a dam, an under-construction hydro power plant of the National Thermal Power Corporation, in addtion to many lives. So far, 62 are reported death while over 100 are still missing.
 Those missing from Jharkhand included, nine workers were from Lohardaga, four from Ramgarh and one from Bokaro district—all of whom had gone to Tapovan at different times to work at the power plant site. On February 18, the state government confirmed the first death after body of 26-year-old migrant worker Vicky Bhagat was fished out of the debris during a rescue operation in Uttrakhand.
On Sunday, officials announced recovery of three more bodies. Lohardaga's labour superintendent Dhirendranath Mahto said, "Three more bodies were recovered from the debris by rescue teams on Sunday. They havwew been identified as Jyotish Bakhla and Sunil Bakhla of Lohardaga and one Amrit from Bokaro. The family members, who are currently in Chamoli, have identified the bodies." 
Mahto is also in Chamoli to help family members of missing persons  and coordinate with the authorities of Uttrakhand government and NTPC for identification, transportation and paper work for compensation.
Mahto conceded that most families have lost hope of finding survivors among those still missing. But efforts are on to trace their bodies so that the bereaved families can get due compensation. On whether bodies will be cremated in Chamoli or will be brought back to their native place, he said, "NTPC is making arrangements for sending the bodies."