Centre dividing people for political gains: Hemant Soren
BJP is a party protecting the interest of few businessmen and waiving of crores of loans of big business houses: Jharkhand CM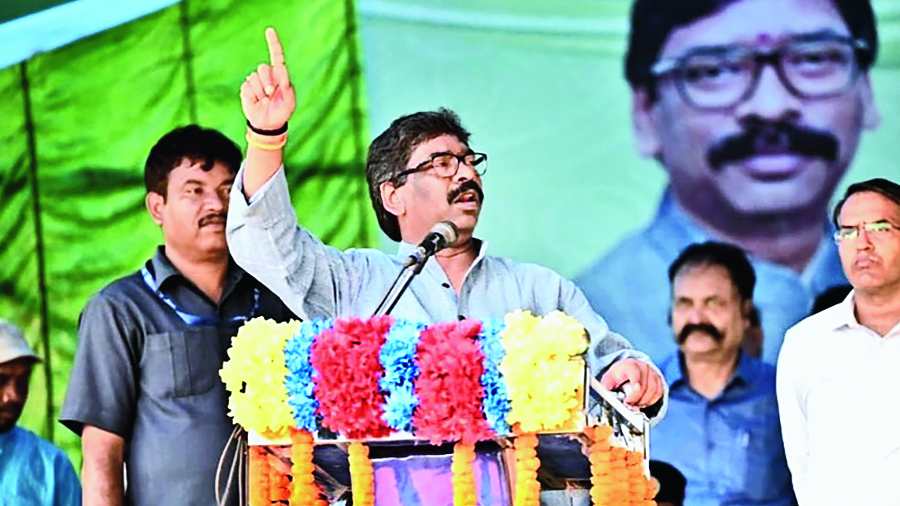 Hemant Soren addresses the rally at Barhait on Tuesday.
Picture by Shabbir Hussain
---
Jamshedpur
|
Published 22.09.22, 02:07 AM
|
---
Jharkhand chief minister Hemant Soren on Tuesday termed the BJP-led central government as a government protecting the interest of businessmen with an agenda of dividing people for political gains.
Addressing back-to-back programmes at his home constituency in Barhait (Sahebganj district) and neighbouring Godda district, Soren emboldened due to silence of the governor on his disqualification letter from the Election Commission over office of profit row and several pro-people policies initiated in a span of few weeks, dubbed the BJP government at the Centre concerned at waiving off crores of loans of businessmen but not taking pains to pay pensions of all beneficiaries.
"They (BJP) are a party protecting the interest of few businessmen and waiving of crores of loans of big business houses. But do not bother to pay pensions for the poor, disabled, widow and elderly. Despite financial constraints and after not getting any reply from the Centre, our government has been paying pensions to all senior citizens, widows, disabled since last year," alleged Soren.
Attacking further, Soren said: "Both in the Centre and in the state, the BJP has only one agenda to incite fight on religion and community lines for their political gains. But I would like to assure them that they would not succeed in Jharkhand."
Taking credit for the recent government announcement of identifying a domicile of Jharkhand based on 1932 land settlement survey record, Soren said: "BJP leaders claim that they had also done the same thing in 2002. But I would like to say that they had not made the policy with a clear intention and this led to bloodbath and deaths of innocent people and cops."
Significantly, former chief minister Babulal Marandi during the BJP government in 2002 had issued a notification making 1932 khatian as the basis for domicile which was later quashed by a five-member bench of the Jharkhand High Court calling it discriminatory. There were widespread clashes between tribals and non-tribals in 2002.
Expressing concern over the drought-like situation in Santhal Pargana and other regions, Soren said all the district officials have been directed to ensure that rural people do not migrate.
"The state is staring at a drought like situation which is a matter of great concern for a state where 80 per cent of the people depend on agriculture, discussions have been held with the officials of all the departments of the state to deal with this dreadful situation and link farmers and rural populace with jobs and livelihood to prevent migration," said Soren.
The chief minister said that surprise inspections would be carried out in districts to see if the government welfare schemes are being implemented or not and strict actions would be taken against officials found negligent in their duty and depriving people of government benefits.
Soren laid foundation stones of 155 schemes worth Rs 156 crore and inaugurated 58 projects worth Rs 109 crore at Barhait in Sahebganj district. While at Godda he inaugurated 15 projects worth Rs 273 crore and laid foundation stones of 40 schemes worth Rs 180 crore.
On this occasion, the chief minister inaugurated 15 schemes costing Rs 2,734.54 lakh. At the same time, the foundation stone of 40 schemes worth Rs 18,020.05 lakh was laid.