CAA protesters told to go home in Dhanbad
The participants refused to call off their agitations, pointing out that their demonstrations has been peaceful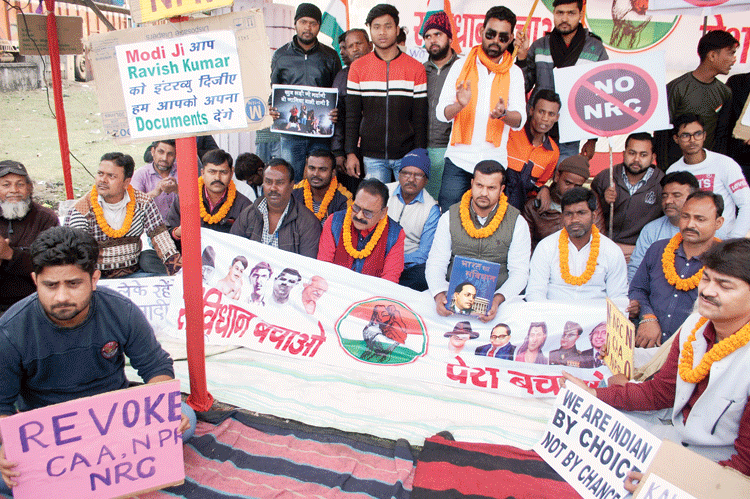 The protest against the CAA, NRC and NPR at Ara more in Wasseypur, Dhanbad.
File picture
---
Dhanbad
|
Published 02.03.20, 07:39 PM
|
---
The district administration on Monday held a meeting with the protesters who have been on two separate indefinite sit-ins against the new citizenship matrix in Dhanbad and instructed them to withdraw their agitations to avoid law and order problems in view of the upcoming Holi festival and also in the wake of the violence in Delhi.
However, participants of both the protests — one at Ara Mor in Wasseypur which has been on since January 2 and the other at Naya Bazar locality of Dhanbad that was launched on January 17 — refused to call off their agitations, pointing out that their demonstrations against the Citizenship Amendment Act (CAA), National Register of Citizens (NRC) and National Population Register (NPR) have been peaceful and law-abiding.
Dhanbad sub-divisional officer (SDO) Raj Maheshwaram at Bank Mor police station chaired the meeting. Around 20 of the protesters were present, as was deputy superintendent of police (DSP, law and order) Mukesh Kumar.
SDO Maheshwaram said: "We have held talks with the anti-CAA, NRC and NPR protesters of Naya Bazar and Wasseypur today (Monday) to end their dharna in view of the upcoming Holi Festival and also in view of the violence in Delhi."
The SDO said that on Sunday, he had met members of another protest that began a few days ago said at Shivli Bari locality of Nirsa.
He said that he had "given similar instructions — to withdraw the protest within two days".
The agitators, however, are in no mood to back down.
"Why should we withdraw our dharna when it is going on peacefully for two months without any disturbance to the traffic or any other person?" Haji Zamir Arif, one of the protesters at Wasseypur, told The Telegraph. "We have the democratic right to protest peacefully against laws that are discriminatory ."
He pointed out that the protesters at Naya Bazar had organised a blood donation camp on February 20 and also observed a daylong fast on February 16 in memory of the CRPF jawans who were killed in Pulwama last year.
Brawl at site
A group of young men tried to destroy the makeshift tent at the Naya Bazar dharna site around 11pm on Sunday. Police said two drunk youths in a group of five were fighting with each other.
Some of the protesters tried to intervene and engaged in a verbal duel with the duo. Later, the group of five fled, leaving a car behind.
DSP (law and order) Mukesh Kumar denied it was a scuffle between and pro- and anti-CAA groups and said no complaint or case had been lodged.
SDO Maheshwaram also said: "The meeting (on Monday) is not in any way related to yesterday's (Sunday's) incident as it was a spontaneous incident not linked to any tension between pro- or anti-CAA-NRC-NPR protesters."