Artisans devastated by government cap on Durga idol height
'Puja guidelines issued late, will lead to losses in an already bad year'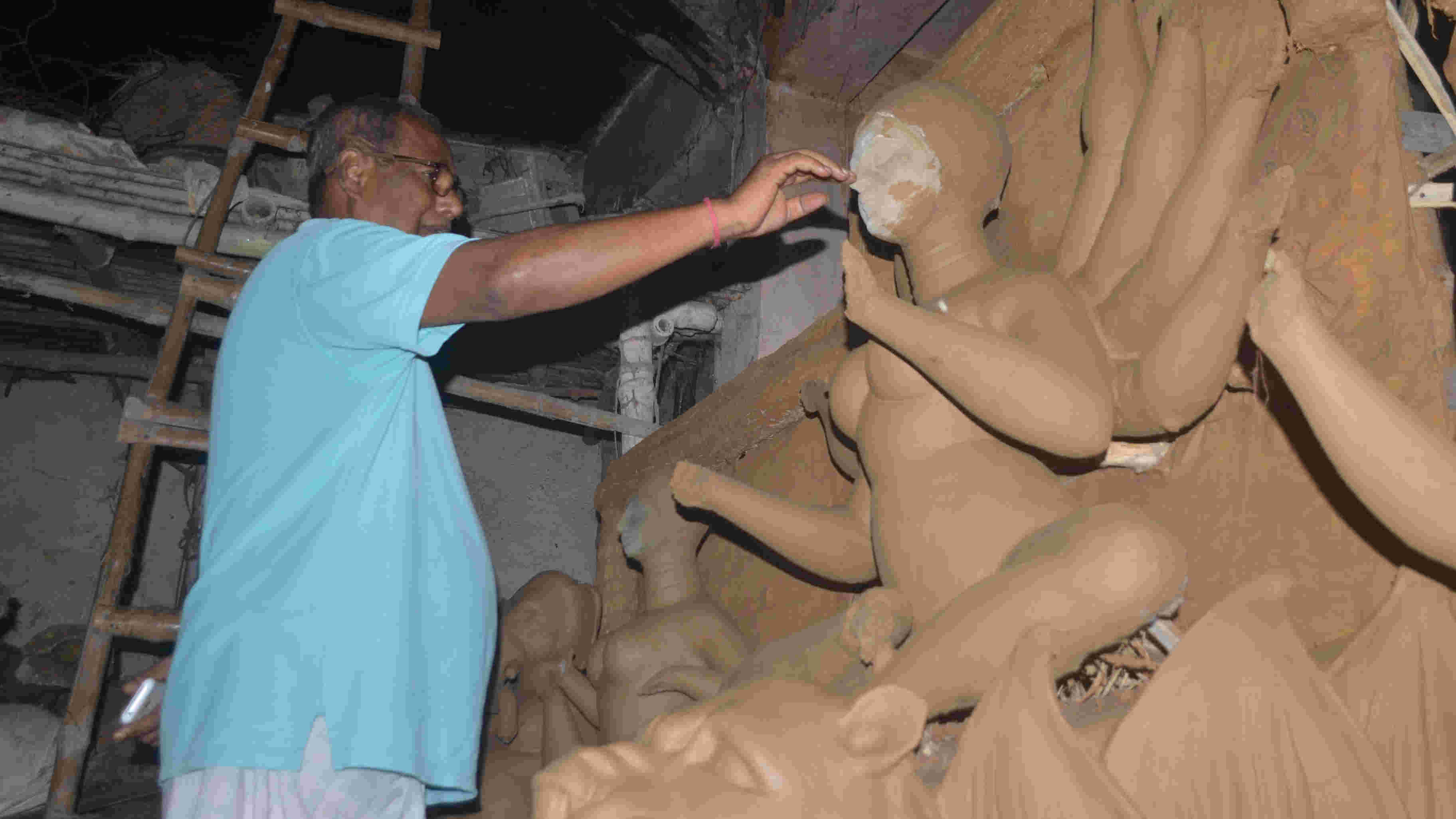 Dulal Pal working on an idol of Goddess Durga in Dhanbad on Sunday.
Shabbir Hussain
---
Dhanbad
|
Published 04.10.20, 07:27 PM
|
---
Idol makers, who are living through one of the worst times of their lives with a ban on religious functions ever since a lockdown was imposed in March, faced another jolt when the state government came out with its guidelines and capped the height of Durga idols at 4 feet.
Most of orders for idols that artisans had got for the October Pujas was of height 5 feet. Now, these are likely to go waste. Dulal Paul (65), among the most sought-after idol makers of Dhanbad, said that he had as many as 30 idols. And all of these were around 5 feet. "These can't be used and we will have to prepare fresh idols of 4 feet as per the guidelines. This means we are looking at huge losses. It will be very difficult for us to make both ends meet with the income. All our earnings will go to pay 10 artists of Bengal who are working with us," he said.
In any case, Dulal has received orders for only 30 idols this year, instead of the usual 45 idols.
"Had the guideline been issued about a fortnight ago, we would not have wasted resources on making idols of 5 feet," said Dulal, adding that there was no point in keeping the 5-feet idols for next year as if things turned better with the coronavirus, as everyone was hoping, then there would be no customers for smaller idols. Swapan Paul (67) said he had received 15 orders of which four or five were above 4 feet. "These will go waste," he rued, adding that instead of the usual Rs 30,000 they would earn for a 10 feet to 12 feet high Durga idol, this time, their earnings would be around Rs 6,000 as the idols are much smaller.
Swapan said they suffered huge losses as there was no Chaiti Navratra, Vishwarkarma Puja and Ganesh Puja this time. "We were hoping to make up for the losses to some extent during Durga Puja. But that hope was dashed after the government came out with its Puja guidelines," he said.