Army man killed in road accident in Ramgarh along NH-33
STATE DIGEST: Woman buried alive by husband in Barhi, DC inspection, two shopkeepers pulled up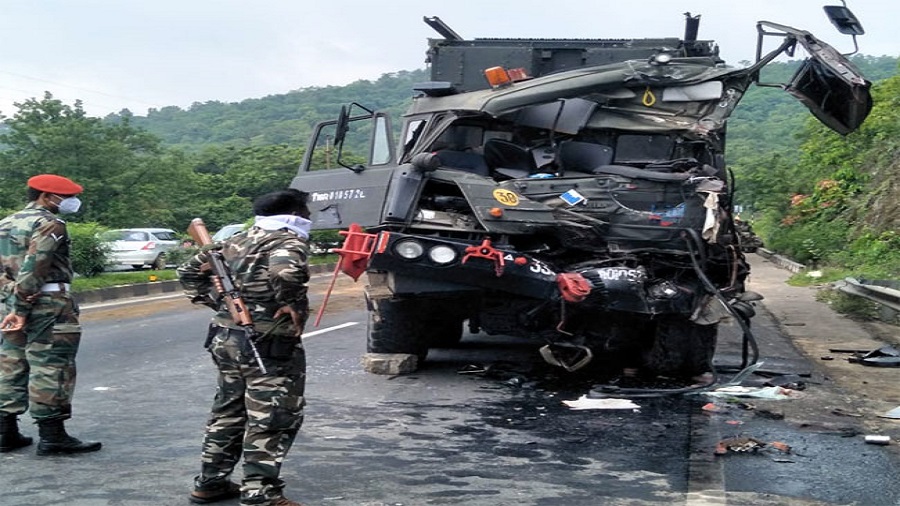 ---
---
An army truck carrying jawans and machines on their way to Ladakh from Bhubneshwar, met with an accident in Chutupalu Ghati in Ramgarh, killing the driver and injuring two others at around 7 am on Thursday.
The brakes of the truck failed, following which it hit a tractor carrying pipes which was coming in from behind.
Ramgarh police said the deceased jawan was identified as Alakh Ranjan whereas the two injured were Nayak Krishna Reddy and Nayak Subedar Krishna Reddy.
Six trucks were headed for Ladakh at the time on the Ranchi-Patna Highway (NH-33).
An NHAI team took two hours to pull out the body from the mangled truck.
Local villagers who gathered on the spot in large numbers helped police in the rescue operation.
The body was brought to the military hospital in Ramgarh, where the injured were also admitted.

Woman buried alive by husband in Barhi

Villagers rescued a woman who was buried alive by her husband in a forest in Barhi on Thursday.
The perpetrator has been identified as Gobind Yadav, a resident of Kedarut village, who was charged by neighbours, who said that the man also tried to set his wife ablaze with kerosene four days ago.

Spotting blood, a pair of slippers and excavated mud, the neighbours immediately informed local leader Binod Yadav, on whose instruction villagers dugup the land and found the woman who was still alive.
The woman, identified as Lilawati Devi (40), was rushed to the Barhi subdivisional hospital, following which doctors referred her to Hazaribagh Medical College and Hospital due to her critical condition.
Doctors found that her back was stabbed, suggest that her husband had attacked her with a sharp weapon before burying her alive.
Neighbours said the couple's relationship was strained, and Gobind beat her regularly.
Lilawati had complained to Padma police in this regard.
Officials said they will take the woman's statement once she gains consciousness.
DC inspection, two shopkeepers pulled up
The Dhanbad Deputy Commissioner carried out the inspection of different Public Distribution System shops in Bhuda on Thursday.
Anomalies were detected in the distribution of food grains.
Two shopkeepers keepers, Sanjay Kumar and Rajjak Ansari, were pulled up for not putting the list of food stock on the display board.
Kumar was warned for distributing lesser quantity of food to customers.
He also instructed the customers to maintain social distancing while standing in queue.