Anti-rabies vaccine crisis
MGM Medical College in a fix after running out of anti-rabies vaccine, asking it's patients to buy them from market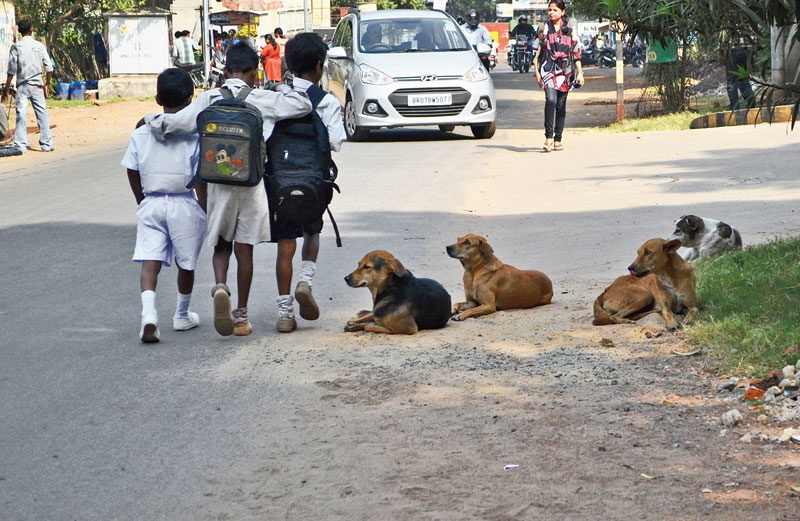 Schoolchildren walk as stray dogs look on in Sakchi, Jamshedpur, on Friday.
(Animesh Sengupta)
---
Jamshedpur
|
Published 07.02.20, 07:43 PM
|
---
State-run MGM Medical College and Hospital has run out of anti-rabies vaccine, prompting doctors on emergency duty to ask dog-bite victims to buy it from the market.
The development comes a few days after state health minister Banna Gupta inspected the over 500-bed hospital and admitted that tackling the resource crunch at the heal hub was one of his main challenges.
Anti-rabies vaccine costs Rs 300 per vial and a patient is supposed to be administered five of them, which takes the cumulative cost to Rs 1,500.
Most of the patients who come to the state-run hospital can't afford to pay the amount and the recent development has hit them the hardest.
Bijay Kumar, a newspaper vendor, was bitten by a stray dog a week ago and rushed to MGM for treatment after being advised by his neighbours.
"The doctors on emergency duty administered me an ATS (anti-tetanus serum) and handed me a prescription that asked me to take five shots of anti-rabies vaccine from the market. The doctor, who treated me, said there was no stock of the vaccine in the hospital," Kumar told The Telegraph on Friday.
Sudarshan Prasad, a vegetable vendor, was bitten by a stray dog three days ago. His family members rushed him to MGM, but returned home disappointed.
"I had no money to spend on the anti-rabies vaccine. Therefore, I applied a home-made ayurvedic paste, hoping it will work as magic," Prasad said.
According to rough estimates, two dog-bite victims come to MGM for treatment from different parts of the city and beyond everyday.
MGM Medical College and Hospital superintendent Sanjay Kumar admitted that the hospital had exhausted its stock of anti-rabies vaccine two months ago.
"We had even started the tender process for the new stock, but the model code of conduct for elections had already kicked in by then," Kumar said while explaining the delay.
The superintendent said the new stock was expected to reach the hospital within a month.