7-day lockdown in Hazaribagh
STATE DIGEST: Move aimed at stemming Covid spread; Dhanbad deputy commissioner shunted out; probe into scam; drive against speeding; industry demands restrictions; boy dies of snake bite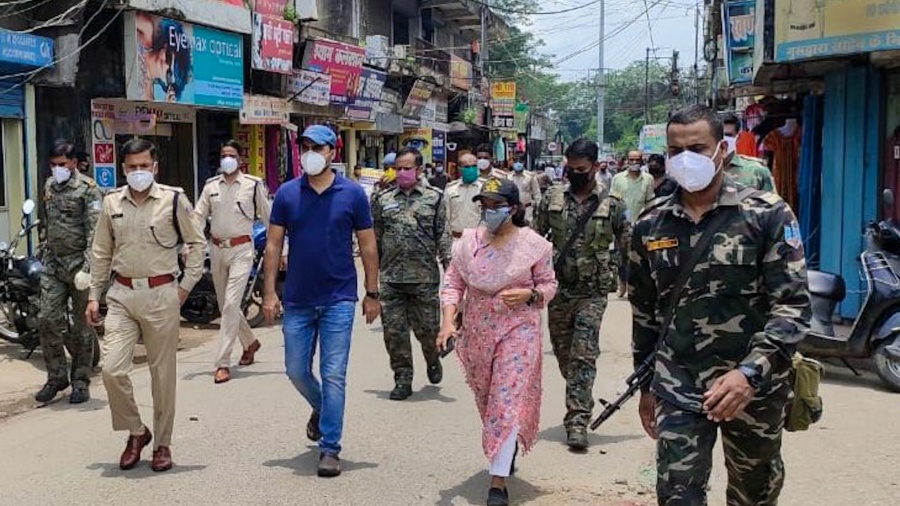 ---
---
A week-long lockdown will be imposed in Hazaribagh after 39 cases of Covid-19 were reported on Monday night, including that of the one-year-old daughter of deputy commissioner Bhuvnesh Pratap Singh.
The deputy commissioner has said essential services will be exempt from the lockdown, which will come into effect from Wednesday, and urged city residents to take precaution and follow all guidelines.
Fourteen government employees working at Singh's residence also tested positive for the coronavirus. Two days ago, Singh's 24-year-old cousin staying with him was found infected, following which the samples of 30 people, including his and those of his parents, wife and daughter, were collected. He said his daughter and 14 employees were Covid-19 positive. He announced the shutdown of the district collectorate for three days for sanitisation.
Superintendent of police Karthik S. said preparations had been done and process started for deployment of magistrates at different points of the city. He asked people as not to step out of their homes without a valid reason.
Dhanbad deputy commissioner transferred
Umashankar Singh, who was serving as project director of Jharkhand Sarva Shiksha Abhiyan in Ranchi, will be replacing Amit Kumar as Dhanbad deputy commissioner. His move to the coal town is part of the reshuffle carried out by the Jharkhand government. Amit Kumar was appointed Dhanbad deputy commissioner on June 30 last year, succeeding Anajaneyulu Dodde who was transferred to Seraikela Kharsawan.
Dhanbad civic body scam
The state government on Tuesday gave its nod to begin a preliminary enquiry in connection with the Rs 200-crore estimate scam at Dhanbad Municipal Corporation. The Dhanbad mayor and municipal commissioner have been made the main accused in the case.
31 caught for speeding
Police in Dhanbad on Tuesday carried out a special campaign under the leadership of DSP traffic Sarita Murmu, during which 31 vehicles out of the 250 checked were found violating the speed limit. Action has been initiated against the owners under the Motor Vehicles Act. The campaign was conducted near the Barwaddah police station and city centre in continuation with the similar drives conducted in the past two months.
Industry demand for lockdown
With an increase in the number of Covid-19 cases in various parts of the state, including Dhanbad, over 100 hard coke factory owners, under the banner of Industries and Commerce Association, have demanded that lockdown be imposed in the state for two weeks. President of the association B.N. Singh said: "As the cases as well as the fatalities are on the rise in the state and WHO has recently said that Covid 19 virus can remain in the air for eight hours, so only strict lockdown measures can prevent the spread of virus as people will remain inside their houses."
Snake bite death
A five-year-old boy, Rajeev Kumar, died of a snake bite in a village in Chouparan block on Tuesday evening. A resident of Selharakhurd village in Gobindpur panchayat of Chouparan block, Rajeev was drinking water at his home when he was bitten by the snake. He complained of severe pain before passing out.
He was taken to Barhi subdivisional hospital where he was declared brought dead.
The cobra was released into the forest.