26 brave and bright girls of Khunti 'conquer' English
US Consulate awards certificates for success in two-year scholarship programme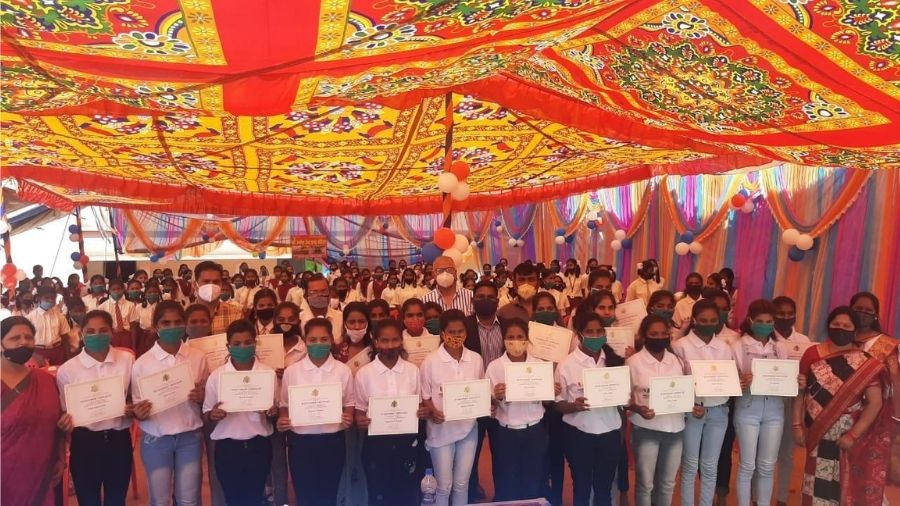 Girls who successfully completed he US Consulate's English programme pose with their certificates in Khunti on Saturday.
Telegraph Picture
---
Ranchi
|
Published 06.03.21, 07:41 PM
|
---
As many as 26 girls, most of them survivors of child marriage and human trafficking, were conferred with certificates by the US Consulate General in Khunti on Saturday for successfully completing a two-year foundation course in speaking and learing English.  
The English Access Microscholarship programme, funded by the Regional English Language Office of the U.S. Embassy New Delhi and the U.S. Consulate General Calcutta, is a two-year programme which provides a foundation of English language skills to bright, economically disadvantaged 13-20-year-old girls through after school instruction and intensive sessions. 
Monica Shie, the director of the American Center in Calcutta, extended her best to the students through video conferencing. "Today you will be joining the global Access family of more than 100,000 students across 85 countries. I feel so proud to address this all-girls Access graduation ceremony. Women's History Month this year honors women of courage, and the theme is #ChoosetoChallenge. You all are women of courage, and you have chosen to challenge limitations, challenge stereotypes, and challenge yourselves. Each of you has shown indomitable strength and resilience through the pandemic to step into leadership roles in your communities, and to commit to a better future for yourselves and your families. I congratulate each and every one of you."
Launched in November 2018, to help empower disadvantaged youth with little or no exposure to either English or the United States, the batch that graduated on Saturday was the first to do so in Jharkhand.  These girls were imparted English-speaking skills, critical thinking skills and computer knowledge after the end of their daily school hours at Kasturba Gandhi Balika Vidyalaya (KGBV) in Khunti, about 40 km from Ranchi.
Shobha Kumari, one of the 26 graduates, said that she aspired to open a free school in her village for deprived girls. "My dream is to ensure that not even one child has to give away her dreams because of poverty or other social restrictions," she said. 
Another graduate, Nisha Kumari expressed her interest in joining the Border Police Force and serving the country as a soldier. "I think we need more brave woman officers. And I want to not only join the police force but also encourage other girls of my village to do the same," she said.
KGBVs are residential schools that cater to girls from challenged backgrounds including survivors of child marriage, human trafficking, and gender-based violence. The schools are monitored by the government. Most of the students who joined the programme are first generation learners from tribal families.  
Access is much more than just a scholarship programme to learn English.  The Access program also boosts students' self-esteem, opens their minds, gives them courage, and shows them just what they are capable of, officials from the US Consulate said.