On Modi-Shah home turf, abrupt change of guard
Gujarat chief minister resigns a year before Assembly elections
He is the fourth BJP CM to be dropped in six months — after Trivendra Singh Rawat and Tirath Singh Rawat in Uttarakhand and Yeddyurappa in Karnataka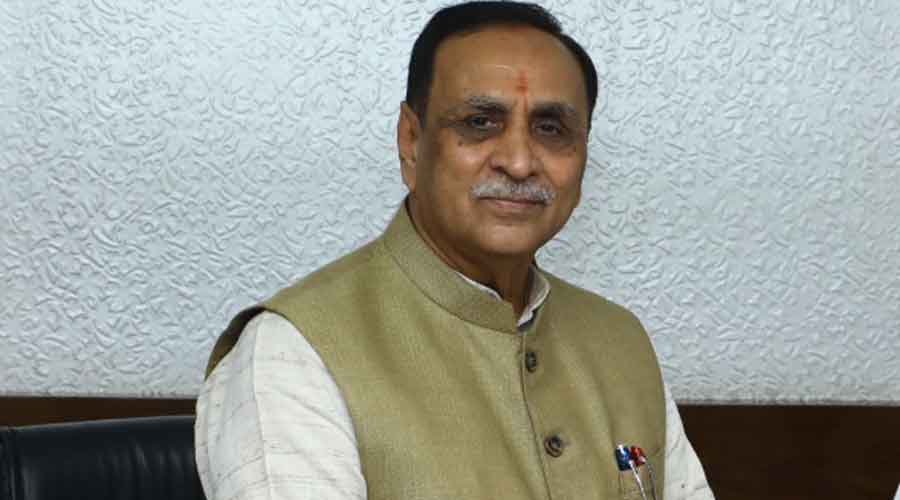 Vijay Rupani.
Twitter/@CMOGuj
---
New Delhi
|
Published 12.09.21, 02:36 AM
|
---
Gujarat chief minister Vijay Rupani resigned on Saturday in an abrupt development that betrayed the BJP's unease in the home state of Prime Minister Narendra Modi where Assembly elections are due next year.
Rupani is the fourth BJP chief minister to be dropped in six months — after Trivendra Singh Rawat and Tirath Singh Rawat in poll-bound Uttarakhand and B.S. Yeddyurappa in Karnataka.
Public anger against the party has been on the rise in Gujarat, ruled by the BJP since 1995 barring a brief interlude, and has been exacerbated by the mishandling of the Covid crisis.
Sources said Rupani, said to be home minister Amit Shah's choice, was also facing an internal rebellion.
Shah had recently been on a three-day Gujarat visit and is expected back in the state to preside over the change of guard, likely on Sunday. Both Modi and Shah are known to keep a watchful eye on the state government.
After handing over his resignation to the governor, Rupani tweeted: "I believe the journey of Gujarat should go ahead under a new leadership…. Keeping this in mind, I have resigned as chief minister."
Rupani denied any differences with state BJP president C.R. Patil, who was appointed last year and is seen as close to Modi.
Gujarat is expected to go to the polls in end-2022 and a change of guard, the party sources said, was needed. BJP leaders said Rupani's government was seen as "lacklustre, lacking dynamism and an underperformer".
Like in Uttar Pradesh, Gujarat had witnessed overflowing crematoriums and burial grounds during the second Covid wave. The local media, relying on publicly available data, had reported how the Gujarat government was suppressing the ballooning death figures.
The soul-stirring poem, Shav Vahini Ganga, that captured the horrors  of Covid mismanagement  was written by a Gujarati poet.
 In May last year, Dhaval Patel, editor of a local web portal, had been arrested on sedition charges for writing that Rupani would be removed as chief minister for mishandling the Covid crisis and that Union minister Mansukh Mandaviya was likely to replace him.
Mandaviya, 49, reached Gandhinagar on Saturday amid speculation that he could replace Rupani.
Another name doing the rounds is that of controversial Lakshadweep lieutenant governor Praful Patel, who is believed to be close to Modi.  Another probable is Gujarat deputy chief minister Nitin Patel.
The BJP sources said a Patel was likely to be chosen as the next chief minister to woo the numerically, politically and economically powerful Patidar community that is unhappy with the BJP for several years. All three names doing the rounds are of Patidar leaders.
Hardik Patel, a popular Patidar leader who has led protests against the BJP government, is the state chief of the Congress. He tweeted that the reason for Rupani's exit was a BJP-RSS survey in August that predicted a clear win for the Congress in elections.
मुख्यमंत्री रूपानी को बदलने का प्रमुख कारण!!
अगस्त में आरएसएस और भाजपा का गुप्त सर्वे चौंकाने वाला था। कांग्रेस को 43% वोट और 96-100 सीट, भाजपा को 38% वोट और 80-84 सीट, आप को 3% वोट और 0 सीट, मीम को 1% वोट और 0 सीट और सभी निर्दलीय को 15% वोट और 4 सीट मिल रही थी।

— Hardik Patel (@HardikPatel_) September 11, 2021
Rupani was picked as chief minister in August 2016 after the sudden resignation of Anandiben Patel, who is now the governor of Uttar Pradesh. Anandiben had taken over after Modi moved to Delhi as Prime Minister in 2014. It was believed that she didn't share a rapport with Shah.
Rupani continued as chief minister despite the BJP's narrow win in 2017 because of Shah's support, party sources said.