'Love jihad': Gujarat governor gives assent to amendment bill curbing inter-faith unions
BJP-ruled Madhya Pradesh and UP had also enacted similar laws banning what they term fraudulent or forcible conversions through marriage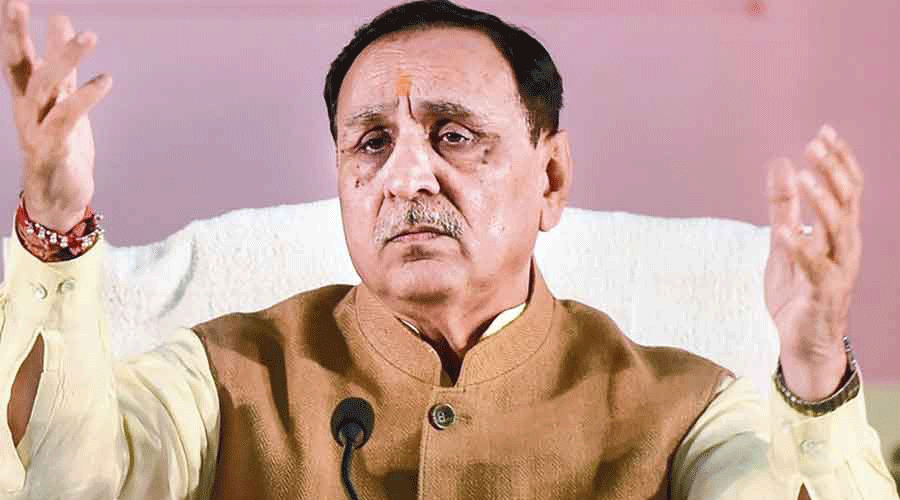 Gujarat chief minister Vijay Rupani.
File photo
---
Ahmedabad
|
Published 23.05.21, 01:42 AM
|
---
The governor of BJP-ruled Gujarat has given his assent to an amendment bill that provides for prison sentences ranging from three to 10 years for fraudulent or forcible conversion through marriage, making good on the chief minister's promise of curbing "love jihad".
The BJP and the Sangh parivar have often been inclined to call inter-faith unions "love jihad", or a conspiracy by Muslim men to forcibly convert and indoctrinate Hindu women through marriage, and several party-ruled states have enacted or are in the process of enacting laws against the practice.
The Gujarat Freedom of Religion (Amendment) Bill, 2021, which was passed by the Assembly on April 1, has been approved by governor Acharya Devvrat along with seven other bills, legislative and parliamentary affairs minister Bhupendrasinh Chudasama said in a statement.
As per the amended Freedom of Religion Bill, a forcible "conversion by marriage, or by getting a person married, or by aiding a person to get married" shall invite imprisonment of three to five years and a fine of up to Rs 2 lakh.
If the person is a minor, woman, Dalit or tribal, the offender may be punished with a jail term of four to seven years and a fine of not less than Rs 3 lakh. If an organisation violates the law, the person in charge can be sentenced to a minimum of three years and a maximum of 10 years in jail.
During an election rally in Vadodara on February 14 — or Valentine's Day — Gujarat chief minister Vijay Rupani had said his government would introduce a strict law against "love jihad".
"We are going to bring a law against love jihad in the Assembly. Such activities being done in the name of love jihad will not be tolerated.… The BJP government will introduce strict laws against love jihad in the coming days," he had announced.
Before Gujarat, BJP-ruled Madhya Pradesh and Uttar Pradesh had enacted similar laws banning what they term fraudulent or forcible conversions through marriage.