VHP plea, in Gandhi's name
VHP general secretary Milind Parande issued the appeal after the AIMPLB said it would seek a review of the Ayodhya verdict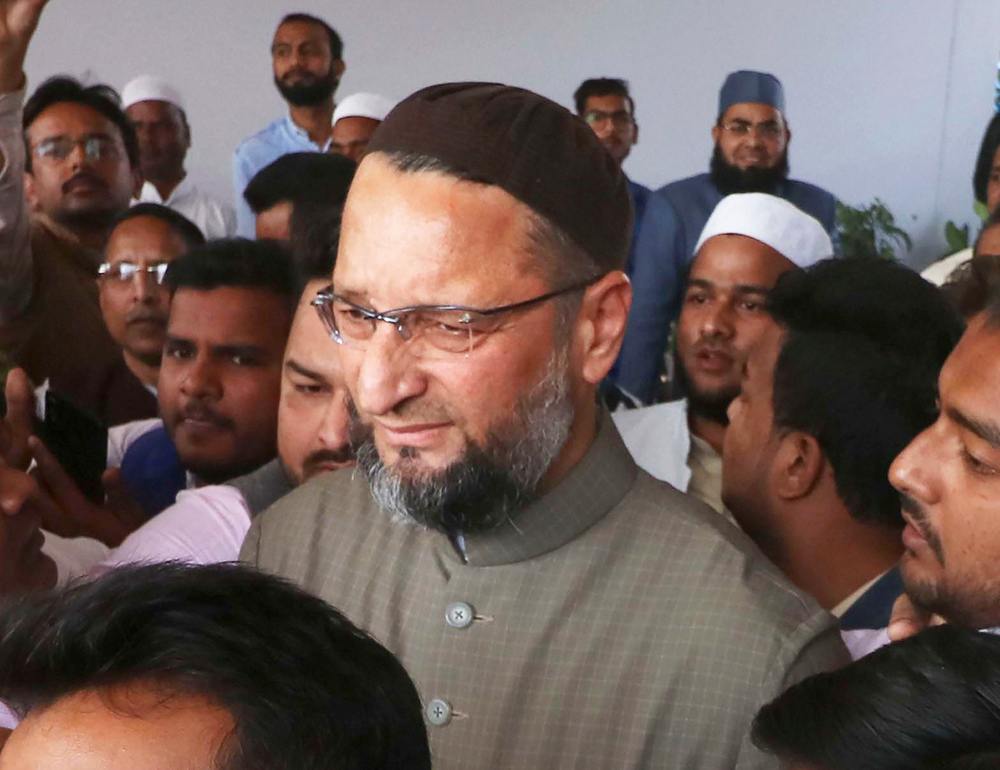 All India Muslim Personal Law Board senior member MP Asaduddin Owaisi after the meeting of boards working committee on the Supreme Court verdict on Ayodhya dispute, in Lucknow, Sunday, November 17, 2019.
(PTI)
---
Mumbai
|
Published 17.11.19, 10:49 PM
|
---
The Vishwa Hindu Parishad on Sunday said the Muslim community should accept the Supreme Court's Ayodhya verdict and claimed that Mahatma Gandhi had made a similar appeal in the context of the reconstruction of the Somnath temple in Gujarat.
VHP general secretary Milind Parande issued the appeal after the All India Muslim Personal Law Board said it would seek a review of the verdict and that the Muslims would not accept any alternative plot outside the disputed site where the Babri Masjid stood.
Parande added that similar disputes about religious sites in Varanasi and Mathura were not on the VHP's agenda.
"Mahatma Gandhi had made a similar appeal to Muslims, urging them to accept the decision of the then Union government (immediately after Independence) to reconstruct the Somnath temple (destroyed in past centuries)," Parande said.
The Somnath temple was to be reconstructed at its old site while the Ram temple in Ayodhya would have to be built at a place where a mosque had been pulled down by a mob.
"As the court's decision on the Ramjanmabhoomi is unanimous, I think there is no need for a review petition," Parande said.
However, on Wednesday, the VHP had not shown similar deference for the judgment, declaring that it would not allow the alternative mosque that the Supreme Court has provided for to come up within "the cultural boundary" of Ayodhya.
Also, wherever the new mosque is built in India, it cannot be named after Babar, VHP international patron and RSS pracharak Dinesh Chandra had said in Ayodhya.
The apex court verdict, which allows Hindus to build a Ram temple on the disputed 2.77 acres, also asks the government to hand the Sunni Central Wakf Board a five-acre plot in Ayodhya where it can build a mosque.
This plot can be given from the 67 acres the Centre acquired around the disputed plot in 1993, or it can be allotted at some other "suitable prominent place in Ayodhya", the judgment says.
Chandra claimed the "cultural boundary of Ayodhya" sprawled an area of 42 square koses. One kos (Sanskrit: krosh), a traditional unit of length, is usually taken to be equivalent to 2 miles or 3.2km in these parts. An area of 42 square koses would therefore equal 42x3.2x3.2 or 430.08sqkm.
"Since the Supreme Court has asked the central and Uttar Pradesh governments to give an alternative plot to the Muslims (for a mosque), we suggest the two governments select a plot from outside this area," Chandra said.