Veil off J&K hobnobbing with Centre
The leaders chose Mufti Mohammad Sayeed's death anniversary to break the 'political logjam' in Jammu and Kashmir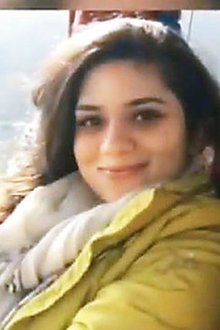 Iltija said that she suffered "bruises" after she was allegedly manhandled by the forces as she tried to step out of her home in Srinagar to visit Mufti's grave in Bijbehara.
Telegraph file picture
---
Srinagar
|
Published 07.01.20, 09:02 PM
|
---
The veil is off Kashmiri politicians who have been hobnobbing with New Delhi after Article 370 was scrapped.
The once-trusted lieutenants of People's Democratic Party founder and former chief minister Mufti Mohammad Sayeed on Tuesday met lieutenant-governor G.C. Murmu in Jammu to present a memorandum of demands for Jammu and Kashmir.
The gesture is being seen as a formal offer to conduct business with the Centre in the absence of the political leadership that is languishing in jail and a virtual acquiescence to the decision to scrap the erstwhile state's special status.
Official sources said the politicians who had been holding consultations with the government for months came out in the open on Tuesday.
Ironically, the leaders chose Mufti's death anniversary to break the "political logjam" in Jammu and Kashmir. Mufti's daughter Mehbooba Mufti is in jail and her daughter Iltija Mufti was allegedly manhandled by security forces in order to prevent her from visiting her grandfather's grave on Tuesday.
Iltija told The Telegraph that she suffered "bruises" after she was allegedly manhandled by the forces as she tried to step out of her home in Srinagar to visit Mufti's grave in Bijbehara.
"The chair on which Amit Shah is sitting, my grandfather sat on that chair much before he (Shah) joined politics…. Is it a crime to visit my grandfather's grave to offer prayers?" she asked, blaming Shah for such curbs. Mufti had served as the country's home minister.
A police officer denied her charge of manhandling.
As the ruckus at Iltija's home was on, several former and current leaders of the PDP met the lieutenant-governor. They included Altaf Bukhari, Ghulam Hassan Mir and Dilawar Mir, who had served in Mufti's cabinet.
The five other politicians are Zaffar Iqbal, Javed Beig, Noor Mohammad Sheikh, Choudhary Ghulam Hussain and Raja Manzoor Ahmad, all former legislators.
Among them, Sheikh is the only politician who was arrested in the government crackdown ahead of the August 5 decision to scrap the special status. He was later released. Some of them were, however, under house arrest.
The memorandum said that the majority of residents of Jammu and Kashmir "are yet to reconcile" with the August 5 decisions.
It criticised the decisions but made no demand to restore Article 370, instead calling for the return of statehood and domicile rights for permanent residents.
"Fact of the matter is that a majority of people in Jammu and Kashmir feel hurt and there are vocal concerns wherein they feel their decades-long privileges were unceremoniously curtailed," the memorandum reads.
"To win over the confidence of the people of Jammu and Kashmiri, the Centre will have to re-examine its decades old policies vis-à-vis Kashmir. Depending solely on security measures and dealing with people's political aspirations through the law and order prism will always have its old tested repercussions."
Calling for restoration of statehood, the memorandum says it "holds more emotional importance than legal".
"Statehood for the inhabitants of the erstwhile princely state is something they genuinely relate to as a reference to their glorious past, a place which has been a mosaic of various religions, cultures, languages and regions. So statehood for these people is solidification of the idea of pluralism and respectful coexistence," it reads.
The leaders called for safeguarding rights of permanent residents over rights over land and jobs.