'Catch cow': Catchword for Yogi officials
Stray cattle have been causing road accidents and damaging crops, prompting angry farmers to lock them up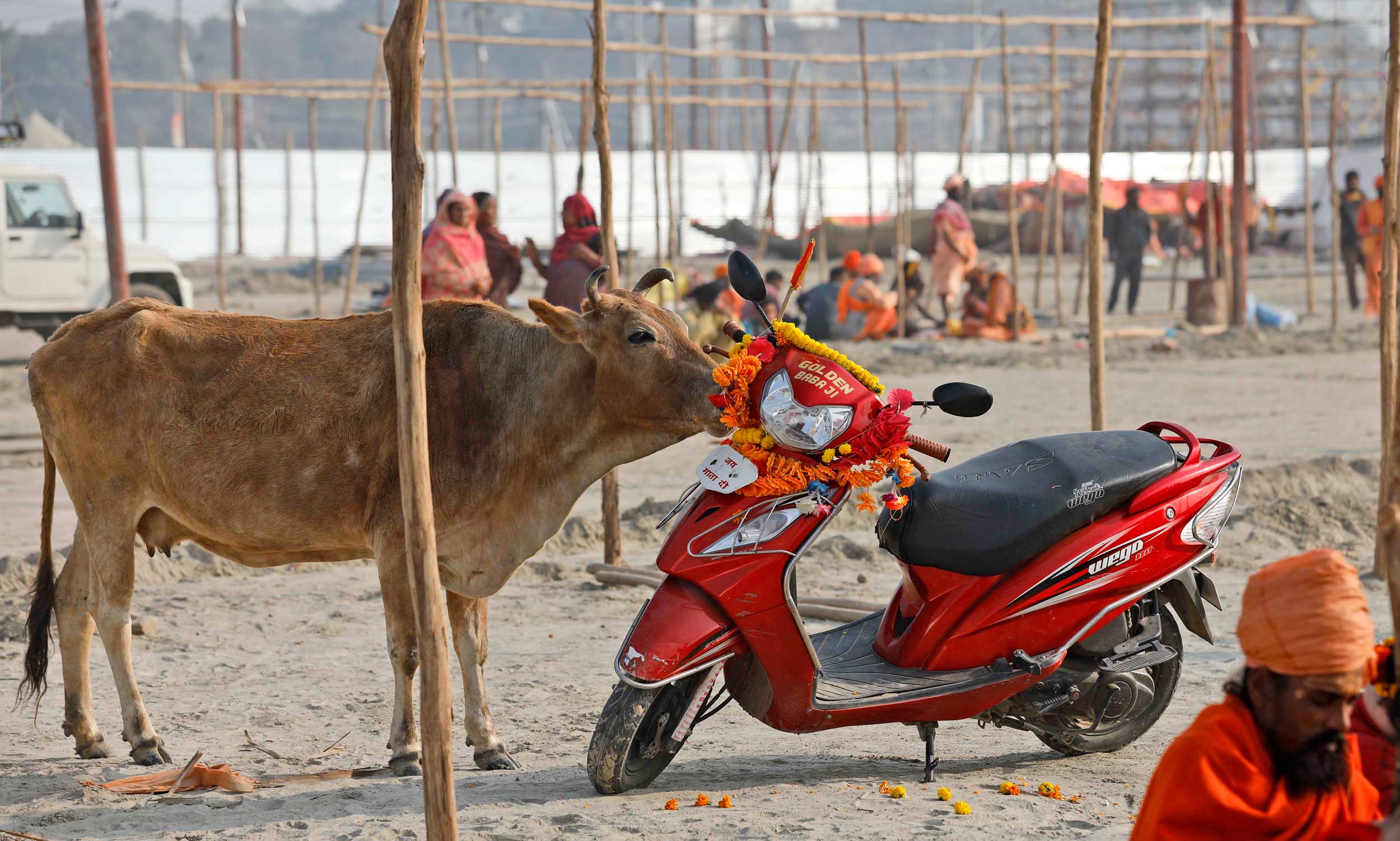 ---
Lucknow
|
Published 03.01.19, 08:54 PM
|
---
Government officials in Uttar Pradesh may have to spend the next one week running after stray cows.
Chief minister Yogi Adityanath's remedy for the public anger over the stray cattle menace has been to order district and civic officials to catch and herd these animals into cow shelters by January 10 and fine the owners when they reclaim them.
At a videoconference on Wednesday night, Adityanath "asked all the district magistrates to rid farmers and people in general of the stray cattle problem," Awanish Awasthi, principal secretary (information), said on Thursday.
Stray cows were always a problem in Uttar Pradesh, where farmers stop feeding their cows for the six months a year they run dry, letting them wander around for pastures during the daytime.
To these have now been added — thanks to BJP government's policies — old cows and bulls that people no longer sell or buy for fear of being accused of engaging in or facilitating cow slaughter or smuggling.
Stray cattle have been causing road accidents and damaging crops, prompting angry farmers in districts such as Aligarh, Mathura and Agra to lock them up in school and government premises in the hundreds.
While the farmers are unhappy with the government over the menace, the locked-up cows are dying of hunger, thirst and the cold by the dozens, making a mockery of Adityanath's avowed cow protection policies.
At the videoconference, Adityanath accused "anti-social elements" of locking the stray cattle and ordered "stern action" against them.
He asked that these cattle be taken to "kanji houses" —Mughal-era cattle pounds —and the scores of public and private cow shelters sprouting across the state under his rule, with hefty government funds provided to both kinds.
"Kanji ghars" — fended-in open fields — were set up across the state during Mughal rule. There was a standing order from the qazi of every town for stray cattle to be impounded there, with the owners free to reclaim them against a fine.
The system continued till the early 1980s, when the state government shut the kanji houses and began using the plots for other purposes. Adityanath recently ordered these renovated and reconverted into cattle pounds.
Awasthi said Adityanath had asked that the kanji houses be renamed "gau sanrakshan kendras" (cow conservation centres). According to some, kanji houses drew their name from the word qazi —and Adityanath is known for ridding places of their "Muslim" names.
"The chief minister has said there should be arrangements for fodder, water and security for the animals. Make fencing if there is no boundary wall and appoint caretakers," an information department statement said.
Officials quoted Adityanath as saying "ensure the help of people, their representatives and businessmen in running the centres" — indicating he expected donations from local businessmen for the purpose.
The state government recently imposed a 0.5 per cent "cow welfare cess" on excise duty, certain public-sector undertakings and on the toll on some expressways, among other things, to help build and maintain more cow shelters.
The state has over 100 kanji houses, and the government is planning to build 68 more. The state has another 59 government cow shelters, where veterinary care is provided too, as well as cow shelters run by 120 NGOs with government aid.
"The NGOs will be authorised to collect fines from the owners when they claim their stray cattle," a veterinary department official said.
He said that each of the state's 75 districts was believed to be home to "30,000 to 50,000 stray cattle", with the number probably "slightly higher in the Bundelkhand region".
Recently, the state government sanctioned Rs 10 crore for every municipal corporation to build cattle shelters and Rs 1.2 crore for each district administration to help protect cattle.