Religion glare over cow deaths
Scores of cows starve and die in cow shelters and elsewhere, but no arrests yet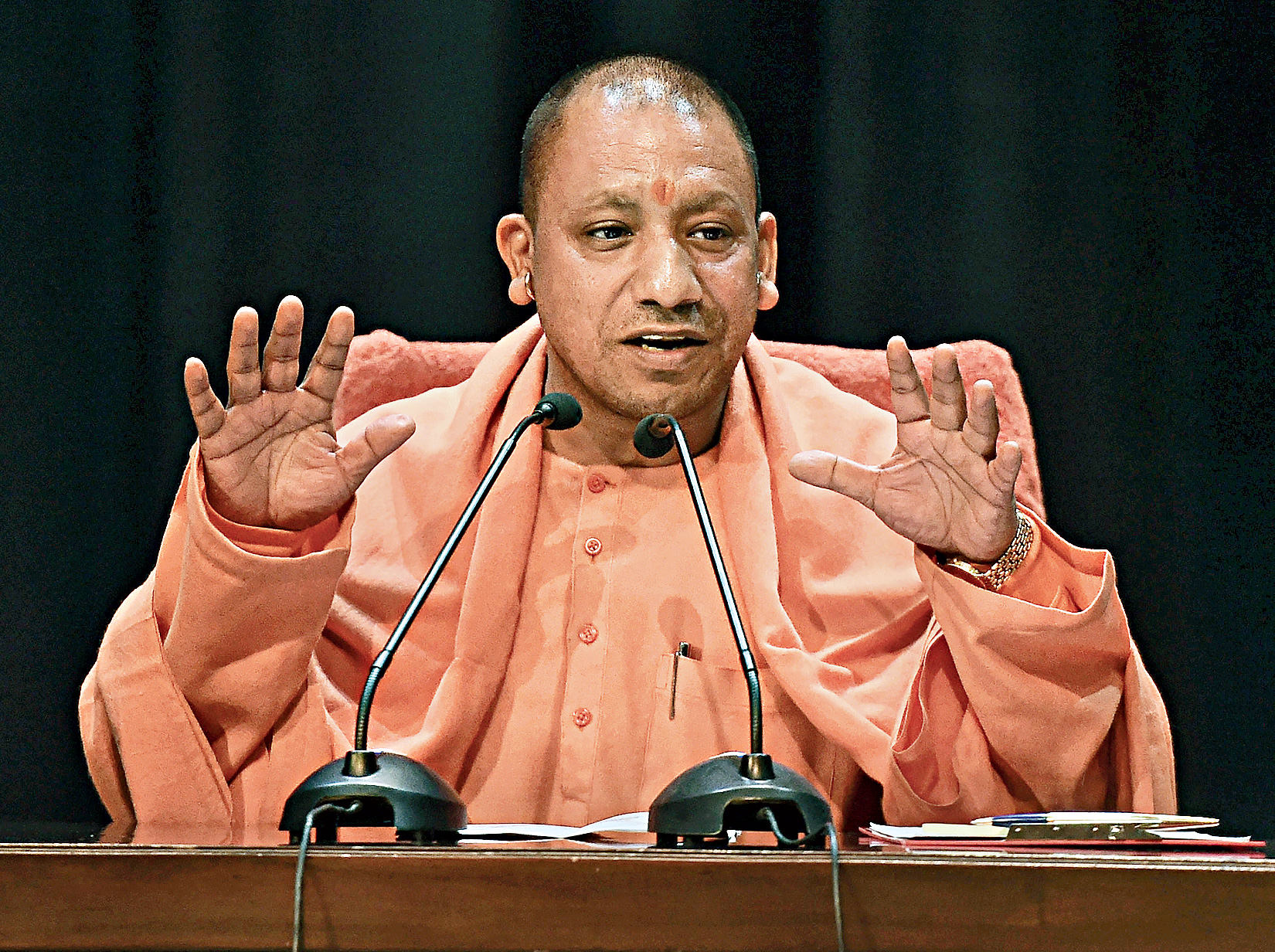 ---
Lucknow
|
Published 31.12.18, 10:33 PM
|
---
A string of cowshed casualties in Uttar Pradesh has lent credence to allegations that whether cow deaths by human agency lead to criminal cases and arrests in the state hinges on the religious identities of the possible suspects.
Six among 150-odd stray cows that farmers in a Mathura village had locked up on a school's premises on December 24 died on Saturday, with the tehsil revenue officer and panchayat chief admitting they were given neither food nor water.
At least 78 stray cows too died between Wednesday and Sunday at an NGO-run cattle shelter in Aligarh that had last week received Rs 2.5 lakh from the district administration to tend to its 600-700 cows.
In neither instance has any criminal case been lodged, although chief minister Yogi Adityanath's recent reported comments implied that punishing those involved "directly or indirectly in cow slaughter" was a greater priority than finding the killers of a police officer.
A day after 25 beheaded cows were found in a Bulandshahr village on December 3, Adityanath had alleged a "conspiracy", prompting a dozen Muslims to be rounded up.
He, however, remained silent on the deaths of a police officer and a student in the mob violence that followed the discovery of the cow carcasses —before claiming three days later that the double murder was an "accident" rather than "lynching".
Police sources and rights activists, however, suspect that it was Sangh parivar activists who hatched the "conspiracy" — to slaughter cows and use the carcasses to incite mob violence locally and elsewhere.
Asked why cases were not lodged over the latest cow deaths, local OC Sanjay Pandey in Tappal, Aligarh, and tehsildar Pawan Pathak in Karab, Mathura, pleaded that there were "no criminal complaints".
Neither explained why the police or the tehsil administration didn't themselves lodge a complaint. Nor has Adityanath reacted to the latest cow deaths. The Mathura villagers and the Aligarh cow shelter managers are all of them Hindu.
A complaint had indeed been launched in Bulandshahr — by district Bajrang Dal convener Yogesh Raj, the prime accused in the double murder who is at large amid allegations the BJP government is protecting him and fellow parivar activists.
However, all four Muslims he had named were discharged after arrest, with the police saying they had cast-iron alibis. Eight more Muslims have subsequently been arrested, though, without being named in any prior complaint.
Officers have said they are looking to arrest 316 suspects named in past cow slaughter cases despite having no evidence to link them to these old cases or the one in Bulandshahr. Asked why, an officer said the chief minister had asked the police to round up all "potential cow slaughterers".
The latest cow deaths come at a time villagers in Agra, Mathura and Aligarh districts have been locking up stray cows en masse in schools and government buildings, saying they are destroying crops.
Shiv Dutt Sharma, secretary of the Shyam Purushottam Gaushala in Jattari, Aligarh, said the 78 cows that died had already been "unwell" when they were recently brought to the shelter "and died because of the cold wave".
Aligarh district magistrate Chandra Bhushan Singh said his officials had brought the stray cows to the shelter after rescuing them from several villages where residents had locked them up.
"The administration had arranged everything for the cows and given Rs 2.5 lakh to the cow shelter. We are looking into why so many cows died in a single cow shelter," he told reporters.
The menace of stray cows has worsened in the state after Adityanath became chief minister 21 months ago and made farmers afraid even to think of selling or buying old, non-milch cows lest they be accused of facilitating cow smuggling or slaughter.
"The farmers of Karab village (in Mathura) had caught over 150 stray cows and locked them on the grounds of a primary school. They were given nothing to eat or drink," tehsildar Pathak confirmed. "We haven't registered a case because we didn't receive any complaint."
Karab panchayat chief Chhatarpal Singh claimed he had had no inkling during the five days the cows had been locked up, although he acknowledged: "The teachers and students stopped coming to the primary school for fear the cows would harm them."
He added: "There was none to feed the cows. After six cows died, we set the remaining 140-odd free."
Adityanath on Sunday alleged that Samajwadi Party workers were behind the spurt in villagers locking up stray cows, accusing the Opposition party of "playing politics" over the issue and being "in cahoots with cattle smugglers".
The chief minister had last week sanctioned Rs 10 crore to each of the state's municipal corporations to build sheds for stray cattle, and Rs 1.2 crore for each district administration to help protect these animals.