Covid: UGC asks universities to manage situation themselves
The commission has offered no financial or medical help at a time campuses are witnessing death and illness among teachers and other staff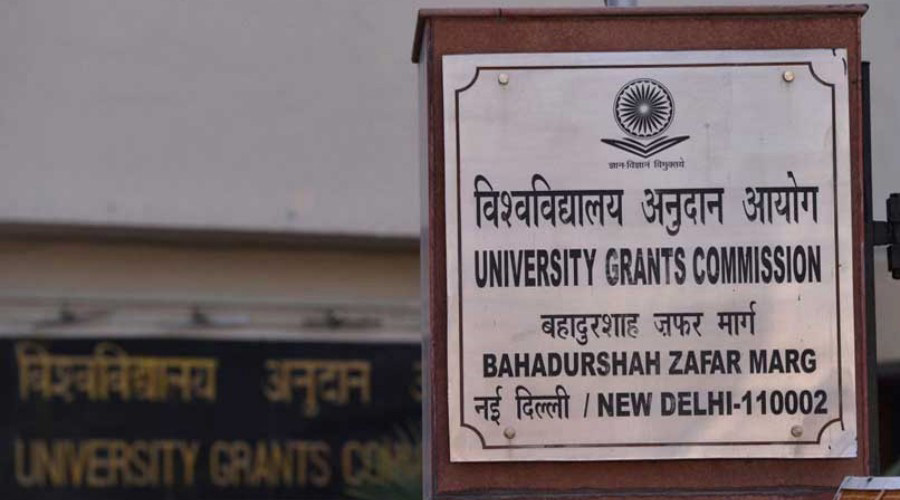 ---
New Delhi
|
Published 13.05.21, 02:11 AM
|
---
The University Grants Commission (UGC) has asked universities to manage the Covid situation themselves, offering no financial or medical help at a time campuses are witnessing death and illness among teachers and other staff.
The UGC's letter comes just when teachers and students have appealed to authorities to help the universities set up and run isolation and Covid care centres on their campuses.
However, the letter mentions no such assistance and leaves the varsities to fend for themselves while mouthing pious generalities such as:
‣ Set up a Covid task force and a helpline; create teams of trained volunteers.
‣ Promote Covid-appropriate behaviour on the campus.
‣ Arrange mental health counsellors.
‣ Motivate everyone to engage in activities that boost mental and physical fitness.
‣ Encourage people on the campus to get vaccinated.
‣ Take suitable welfare measures for "stakeholders".
‣ Let the initiatives reach those at the greatest risk.
"I urge upon vice-chancellors of all universities and principals of all the colleges to continue their concerted efforts and reinforce their support to students, teachers, staff, officers and other stakeholders to keep the people in good health, safe and informed during these difficult times," said the letter, signed by UGC chairman D.P. Singh.
"We must come forward and stand united against Covid-19 pandemic with a strong sense of responsibility and collectively help the people in distress."
Several dismayed teachers and students described the letter as "eyewash". Many teachers and other staff are staying on campuses amid the Covid resurgence while most students are away.
Former Delhi University executive council member Abha Dev Habib said universities needed to set up their own Covid care and isolation facilities.
For setting up such facilities, the universities needed funds and medical aid, Habib added.
"The UGC is asking the university community to help each other and not expect any help from the government. This letter is meaningless. The university community is (already) helping each other," Habib said.
Delhi University's existing health centre is not equipped to treat Covid patients. The DU teachers' association had last week written to the education ministry to help the university set up Covid care facilities but no reply has come.
An email from this newspaper to UGC chairman Singh seeking his reaction to the demand from students and teachers for financial assistance to campuses has remained unanswered.
A UGC official said, requesting anonymity, that the letter had been written to reinforce the safety protocols, which are key to preventing the spread of the infection.
Bahujan Samaj Party MP Danish Ali has written to Prime Minister Narendra Modi seeking help for Aligarh Muslim University, where about 50 former and serving teachers and other staff have died of Covid.
"AMU needs an immediate visit by a central team to assess the situation and take actions," Ali wrote.
He also pleaded for financial help and equipment like an oxygen plant at the campus medical college.
HC raps JNU
Delhi High Court on Tuesday censured JNU for its lack of "swiftness and alacrity" in responding to requests from students and teachers to set up Covid care centres and oxygen production facilities on the campus.
JNU's teacher and student bodies had requested the university authorities and Delhi government to convert the campus guesthouses into isolation centres and Covid care facilities and start an oxygen plant on the campus.
"Considering the rigour of the current Covid-19 pandemic wave and the correspondence which has been placed on record, there is no doubt that the JNU administration ought to have reacted with swiftness and alacrity," Justice Pratibha M Singh's order says.
"The university is bound to take care of the health of the students and teachers, and make available the facilities, to the extent possible, within the university campus, especially considering the prevalent shortages for hospital beds etc," the order said.
The matter has been listed for Thursday, when JNU authorities will have to say what action they have taken.
N. Sai Balaji, a PhD student at JNU, said neither the UGC nor the university was concerned about the well-being of students and staff.
"Many students have lost their family members, including earning members, and are in no position to support their education," he said.
"The UGC should come up with a scheme (so that) students with genuine concerns are provided help in terms of scholarship, counselling and vaccination."