Tripura CM says syndicate raj at new heights under Mamata
BJP's Biplab Deb likens Bengal Chief minister to Dhritarashtra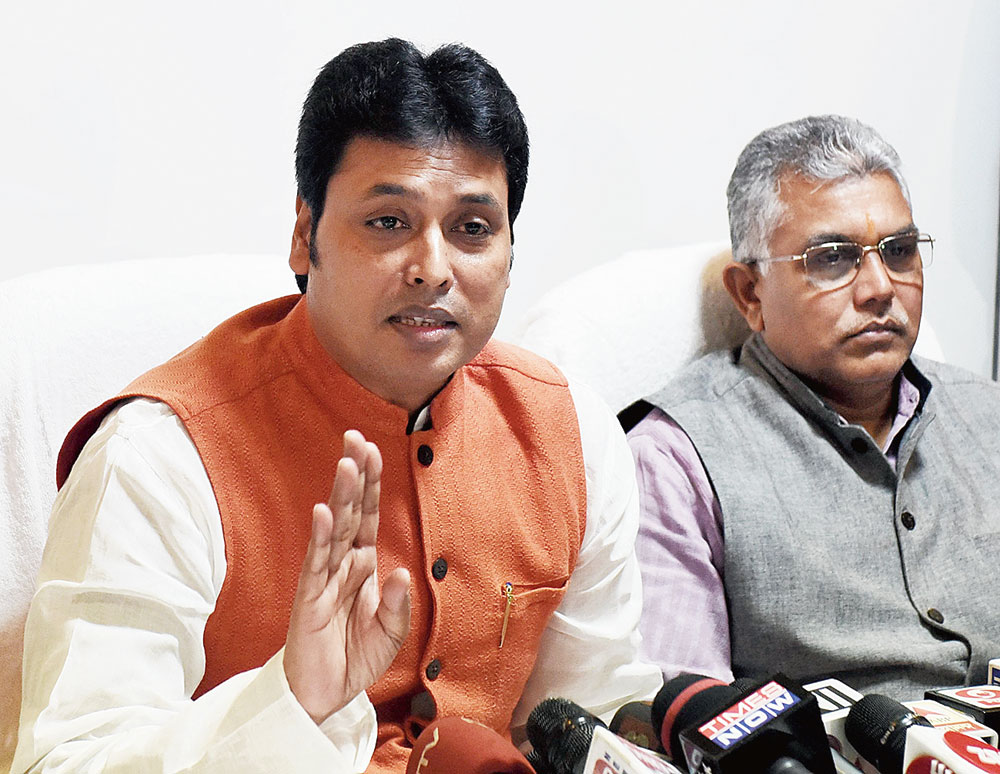 ---
|
Calcutta
|
Published 30.01.19, 10:02 PM
---
Tripura chief minister Biplab Kumar Deb on Wednesday criticised his Bengal counterpart Mamata Banerjee for allegedly taking the "syndicate raj" in the state to new heights and forecast that the forthcoming Lok Sabha polls would bring the end of the Trinamul misrule.
"Mamatadi had promised to demolish the 34-year-old syndicate raj established by the erstwhile Left Front before assuming power…. But she has taken the menace to a new height leaving lives of common people in a real trouble," said Deb, who is in Bengal to address political meetings the BJP has organised as part of its "save democracy" campaign in the state in the run-up to the Lok Sabha polls.
On Tuesday, the 47-year-old chief minister of Tripura had addressed a meeting in Arambagh in Hooghly while he was in Mathurapur in South 24-Parganas on Wednesday afternoon.
At a news conference on Wednesday morning, he said that the problem of syndicates — groups that control the supply of construction materials and engage in illegal sand and coal mining with political blessings — had taken a critical shape in Bengal during the Trinamul tenure as the chief minister chose to overlook the issue.
"The Bengal chief minister is behaving like Dhritarashtra (father of the Kauravas, who never objected to the wrong-doings of his sons). She should have acted like a proper ruler, particularly when the people of Bengal are being tortured by syndicates run by Trinamul cadres," Deb added.
Deb said many in the BJP, including former Prime Minister Atal Bihari Vajpayee and L.K. Advani, used to like the Bengal chief minister for her fight against the communists, but the feeling had gone since she assumed power.
"You did not live up to the expectations and became a Xerox of the communists who introduced the cadre raj and the syndicate raj in Bengal," he added.
Trinamul insiders said that the Tripura chief minister had touched a raw nerve as Mamata always wanted to keep her party leaders away from syndicate-related affairs.
"Despite repeated warnings from Mamata at public meetings, the chief minister's office continues to receive complaints against our leaders from various districts for their involvement in syndicates. The remarks of the Tripura chief minister are definitely uncomfortable for us," said a Trinamul leader.
But sources in Nabanna said that after warnings issued by the chief minister during the district review meetings in the past two to three months, complaints related to illegal sand or coal mining syndicates have come down. "But it has not stopped completely," said a source.
Deb also criticised Mamata over law and order in Bengal since the panchayat polls in May last year.
"Since the BJP took over in Tripura 10 months ago, no political murder has been reported. But during the panchayat polls in Bengal, 70 people were killed in election-related violence," Deb said.