'Trees were cut for Delhi Metro too'
Prakash Javadekar backs felling of trees in Aarey Colony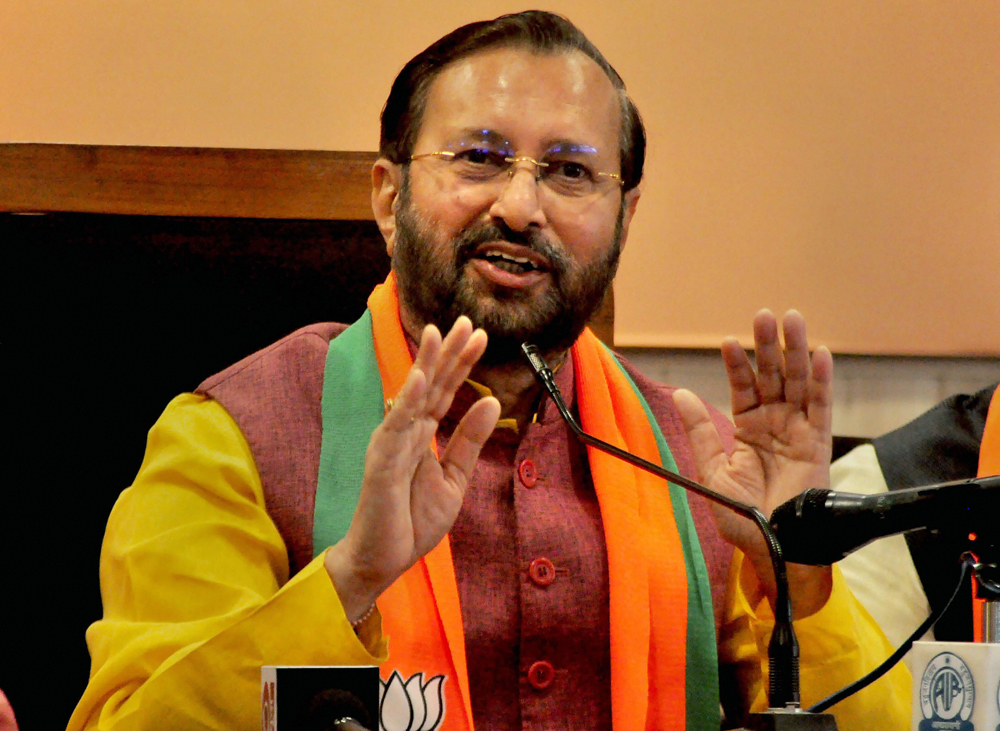 Prakash Javadekar in Lucknow on Saturday
(PTI photo)
---
Lucknow
|
Published 05.10.19, 10:21 AM
|
---
Union environment minister Prakash Javadekar on Saturday backed the felling of trees at Aarey Colony in north Mumbai, saying that according to Bombay High Court's ruling, it is "not a forest area".
"The greens (environmentalists) have failed," Bombay High Court had said on Friday while refusing to declare Aarey Colony a forest and also declining to quash the Brihanmumbai Municipal Corporation (BMC) tree authority's decision allowing the felling of over 2,600 trees in the green zone to set up a Metro car shed.
"The high court has ruled yesterday that it is not a forest. You can't fell anything that is a forest," he said at a news conference here, stating that people had also protested felling of trees in case of the Delhi Metro.
"There was a need to fell 20 to 25 trees for setting up the first Metro station in Delhi and then also people had similarly opposed it. But for each tree that was cut, five saplings were planted," he said.
Javadekar said the forest cover in the national capital had increased since then and the public transport system had also improved.
"This is the mantra of 'vikas bhi, paryavaran ki suraksha bhi' (development with environment protection)," the BJP leader said.
The minister was asked about Mumbai Metro Rail Corporation Ltd's hacking of trees late on Friday night to make way for a car shed, hours after the high court dismissed four petitions filed by NGOs and activists challenging the decision to allow the felling of trees.
On Saturday, police imposed Section 144 of the Criminal Procedure Code in Aarey Colony and neighbouring areas, banning unlawful assembly, following protests by activists against the felling of trees in the green zone for a Metro car shed.
'Metro officials should be sent to PoK'
Shiv Sena leader Aaditya Thackeray on Saturday called the felling of trees "shameful and disgusting" and said Mumbai Metro officials should be sent to Pakistan-occupied Kashmir to destroy terror camps in a manner similar to their cutting of trees.
Bollywood celebrities, including Farhan Akhtar, Dia Mirza, Pooja Bhatt and Onir, raised their voices in protest of the felling of trees in Aarey Colony.
Another court jolt to activists
Activists suffered a second jolt on consecutive days when on Saturday, Bombay High Court refused to stay the ongoing felling of trees at Aarey Colony. 
A few of the activists had moved a fresh application on Saturday seeking a one-week stay on the Mumbai Metro Rail Corporation's action of chopping 2,656 trees in the area. The activists sought the stay so that they could approach the Supreme Court. 
The application was taken up for urgent hearing by Justices S.C. Dharmadhikari and A.K. Menon in their chamber in the high court. The bench, after a brief hearing, said it would not interfere with Friday's order.