Tamil Nadu polls 2021: Superstar Vijay cycles to cast his vote
Was he sending a political message against the AIADMK-BJP combine over the steep fuel price hike?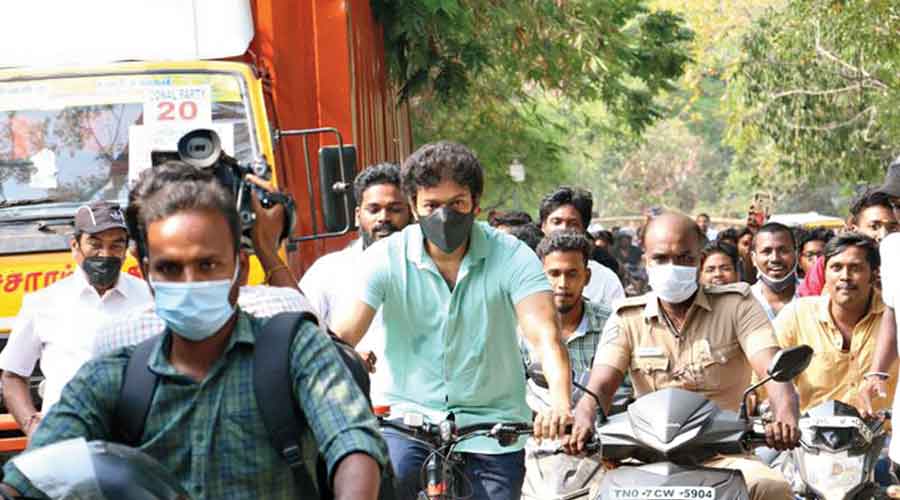 Vijay's bicycle ride to the polling booth on Tuesday
Telegraph picture
---
Chennai
|
Published 07.04.21, 01:39 AM
|
---
Tamil superstar Vijay has thrown his countless fans into delirium through his grand entrances on screen. On election day in Tamil Nadu on Tuesday, he threw political parties into a tizzy by riding a bicycle to the polling booth.
Was he sending a political message against the AIADMK-BJP combine over the steep fuel price hike?
No, he was not, insisted the PRO of Vijay who has so far let only his characters do the political talking.
But the political attention stayed focused on Thalapathy (commander or chief), as the hugely popular 46-year-old-actor is known.
Vijay's choice of transport appeared significant since some of his movie dialogues — on issues such as temple-building or the GST — had angered state BJP leaders enough to dog-whistle about his Christian faith although the actor has so far not shown any overt political ambitions or publicly backed any party.
To many, the actor's ride was proof that the recent income-tax raids on him — ahead of the release of his latest film Master, whose shooting had witnessed BJP protests — had not dampened his spirit.
While Vijay's silent gesture lacked the apocalyptic ring of superstar Rajinikanth's assault on the AIADMK ahead of the 1996 Assembly polls, when he said "even God cannot save Tamil Nadu if Jayalalithaa returns to power", his millions of fans were thrilled. Social media was agog.
As is the wont during elections in Tamil Nadu, which braved scorching heat and the fears of a Covid resurgence to vote to elect a 234-member Assembly on Tuesday, an expectant posse of fans had gathered outside Vijay's Chennai home from morning.
A collective gasp went up as Vijay pedalled out on a high-end bicycle, sporting a pair of jeans, a light blue shirt and a mask. He zoomed through a narrow stretch of road leading to the booth, located in a south Chennai suburb that is part of the Sholinganallur constituency.
Hundreds of his fans, their astonishment turned to exhilaration at what many described as their hero's "inspirational act", followed him in motorbikes and scooters.
"It's simplicity that makes him powerful," a Vijay fan posted on Twitter where the actor has 30 lakh followers.
What appeared to lend his act a further political tinge was that the two-wheeler was in black and red, the colours of the Opposition DMK flag.
DMK politicians such as Central Chennai MP Dayanidhi Maran were quick to take to cyberspace and claim the bicycle ride was Vijay's protest against the high petrol and diesel prices.
Actor #Vijay comes to Neelangarai polling station riding a cycle. Probably taking a jibe at the #PetrolDieselPriceHike ?

Whatever be the reason, he sure has grabbed attention.

Read all updates on #TNAssemblyElection2021 here:
https://t.co/ad0qGmEJQ5#TNElection2021 pic.twitter.com/Od6uMz6uhO

— Smitha T K (@smitha_tk) April 6, 2021
"Will the central government wake up at least now?" a tweeter asked.
"#Thalapathy makes a strong statement. Never afraid to take a dig at the rulers (AIADMK) and (ally) BJP. Like it or not, he is bold," Vijay fan Dev Shak tweeted.
As the "political significance" of Vijay's bicycle ride began to dominate social media and television, his PRO issued a statement clarifying the actor had cycled to the booth as it was "very close to his house".
The road too was quite narrow and Vijay driving out in his car would have inconvenienced the other voters travelling to the booth, the PRO added.
Vijay has generally played down any perception of being politically ambitious despite widespread talk about him as the next big political entrant from Tamil filmdom.
Vijay has, however, never shied away from speaking his mind on political controversies, having adopted pro-Tamil stands when the state was forcibly brought under the ambit of the all-India medical entrance exam, the NEET, or when its traditional game of Jallikattu was banned.
On Tuesday, as Vijay stepped out of the booth after voting and held up his left index finger with the ink mark, he was mobbed amid cries of "Thalapathy the brave".
Eventually, the actor had to leave his bicycle behind and hop onto the pillion of a fan's scooter for a ride home.
Cash finger at BJP
Celebrated actor and Makkal Neethi Maiyam founder-president Kamal Haasan has alleged he has information that the BJP is "intensely involved" in bribing voters in his constituency of Coimbatore South.
"BJP men issued tokens to lure voters," he told reporters, adding that these were to be later exchanged for cash or gifts.