Supreme Court plea for boards for rape abortions
The court posted the matter for further hearing after two weeks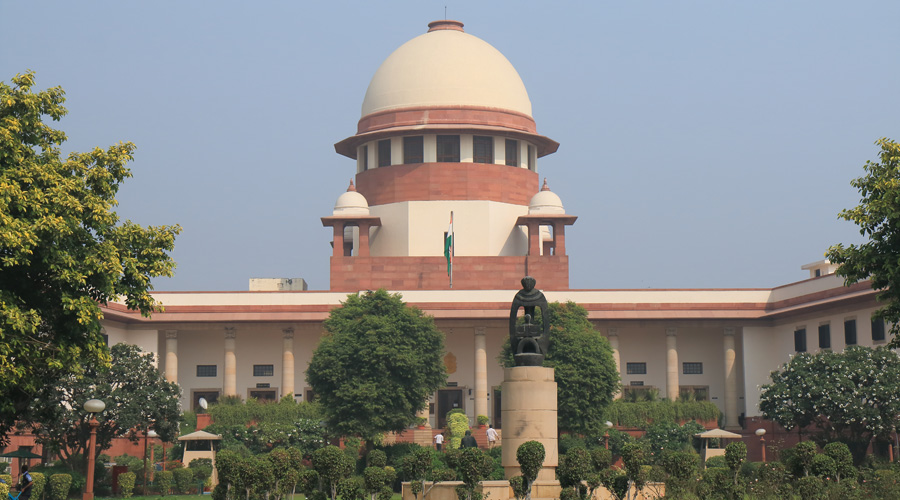 Supreme Court of India
File picture
---
New Delhi
|
Published 13.03.21, 01:04 AM
|
---
The Supreme Court on Friday sought the Centre's response on setting up special medical boards in all district headquarters to deal with cases relating to abortion on rape victims.
A bench of Chief Justice of India S.A. Bobde and Justice A.S. Bopanna said: "A girl who has been impregnated because of rape, she should know her legal rights and the options that she has. There should be some mechanism for that. We will issue notice."
The court posted the matter for further hearing after two weeks.
The bench passed the directions after advocate V.K. Biju, appearing for a 14-year-old rape victim from Haryana, urged the court to form medical boards for dealing with pleas for abortion from rape victims in view of the restrictions imposed by the Pre-natal Diagnostic Techniques (PNDT) Act, 1971.
During the hearing the counsel sought permission to withdraw the petition filed by the minor as the report submitted in the court by a medical board of the central government had disapproved the plea for abortion of the 26-week foetus. The girl had been raped allegedly by one of her father's cousins.
Biju pleaded that in view of the rising number of such instances being brought before the court, it was necessary that the apex court direct the government to constitute district-level boards with gynaecologists and paediatricians.
In September 2017 the top court had permitted two minor rape victims, both aged around 15, to undergo abortion of their 26-week-old foetus, which had crossed the statutory ceiling of 20 weeks, as it posed a grave threat to the victims' lives.
The law prohibits medical termination of pregnancy beyond 20 weeks as per Section 3 of the PNDT Act, 1971.
Section 5 of the Act provides for an exception to the 20-week cut-off if there is a danger to the mother's life.
However, doctors in India are reluctant to take risks, fearing legal hassles, prompting victims to move court.
Additional solicitor-general Aishwarya Bhati, appearing for the Centre, told the court that she intends to place before the bench an affidavit to explain the amendment carried out to the Medical Termination of Pregnancy (Amendment) Bill, 2020, under which the 20-week period has been enhanced to 25 weeks.
The bill has been passed by the Lok Sabha and is awaiting the assent of the Rajya Sabha, she said.