Student at swearing-in: 'Yogi hates Muslims'
He is trying to hide the sacrifices of Muslims in the making of India: AMU student president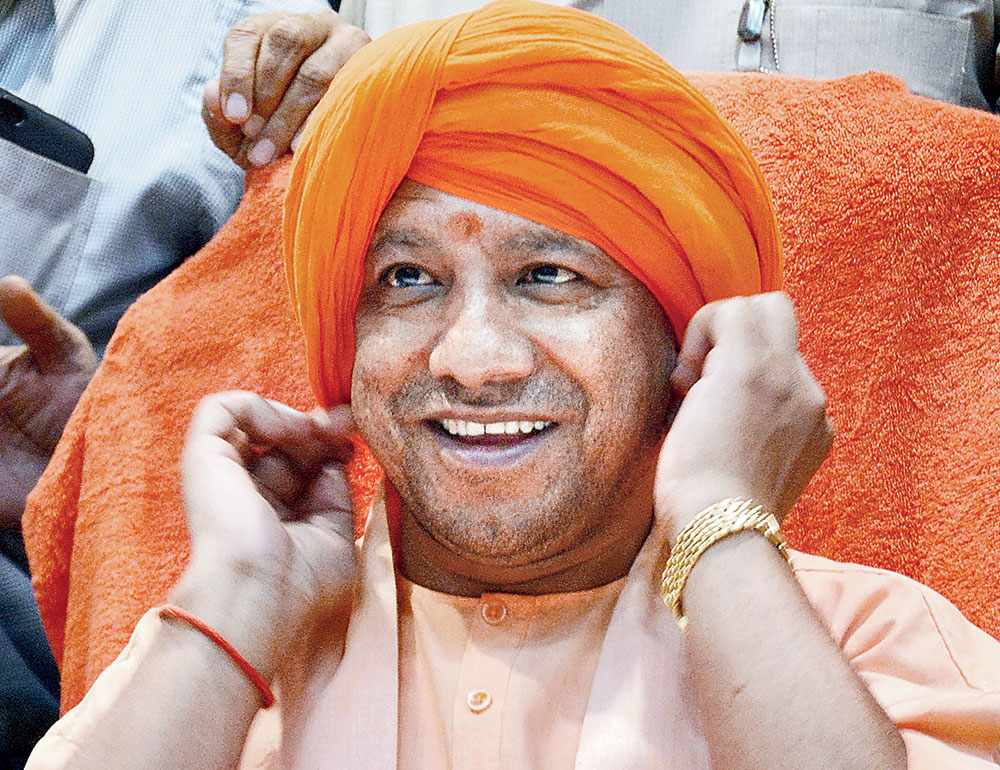 Yogi Adityanath who happens to be the mahant of the Gorakhnath temple has earlier been accused of instigating Hindus against Muslims
Telegraph file picture
---
Lucknow
|
Published 14.11.18, 10:14 PM
|
---
An Uttar Pradesh college student has accused chief minister Yogi Adityanath of being full of hatred against Muslims in what is possibly the first such direct public allegation against the BJP leader's political views.
"Adityanath hates Muslims," Afreen Fatima, the newly elected president of the Women's College students' union of Aligarh Muslim University, said on Tuesday.
The BA third-year student had been elected on November 4 and was speaking at the union's swearing-in.
"He is trying to hide the sacrifices of Muslims in the making of India. But we are a democratic nation and those who try to change history will soon vanish from the minds of the people."
The saffron-robed Adityanath, who happens to be the mahant of the Gorakhnath temple, has earlier been accused of instigating Hindus against Muslims.
He had also tried — unsuccessfully — to get the names of two local markets in Gorakhpur changed from Urdu Bazaar and Miyan Bazaar to Hindi Bazaar and Maya Bazaar when he was a member of Parliament from Gorakhpur between 1998 and 2017.
But this is the first time that someone has spoken so directly about the chief minister's politics from a public platform.
Calls to Adityanath's office went unanswered. But a BJP spokesperson said: "We are used to such allegations and don't feel like reacting against those who make such comments."
Afreen's allegation comes at a time the Adityanath cabinet has renamed Allahabad and Faizabad as Prayagraj and Ayodhya, while Mughalsarai town has been named after RSS ideologue Deendayal Upadhyay.
Afreen, who comes from the Kareli area of Allahabad, said the chief minister was trying to destroy her city's inclusive tradition. "The CM had unfortunately changed the name of my city because of its Muslim name. He should know the tradition and history of this country. Akbar, who had founded Ilahabad (Allahabad), was born in the house of a Rajput king. The CM is trying to destroy the unique inclusive history of my city."
Akbar, the third Mughal emperor who ruled from 1556 to 1605, was born in the fort of the Hindu ruler of Umerkot in Sindh in 1542. His parents, Humayun and Hamida Banu Begum, had taken refuge there after his father's defeat at the hands of Sher Shah Suri.
Adityanath had said two days ago that those who didn't know the country's history were opposing him, while responding to the criticism of his cabinet's decision to change the names of places founded by Muslim rulers.
BJP leaders claim that the government has merely restored the ancient names of these places.
Historians, however, say Mughal rulers had founded new cities away from Hindu religious sites like Prayag and Ayodhya.
AMU vice-chancellor Tariq Mansoor, who presided over Tuesday's swearing-in ceremony, asked the students to nurture "democratic aspirations".