Month-long prayers and condolence meetings for Stan Swamy
A public meeting is expected at Bagaicha, a workspace for activists on the outskirts of Ranchi, where the Jesuit priest and tribal rights activist lived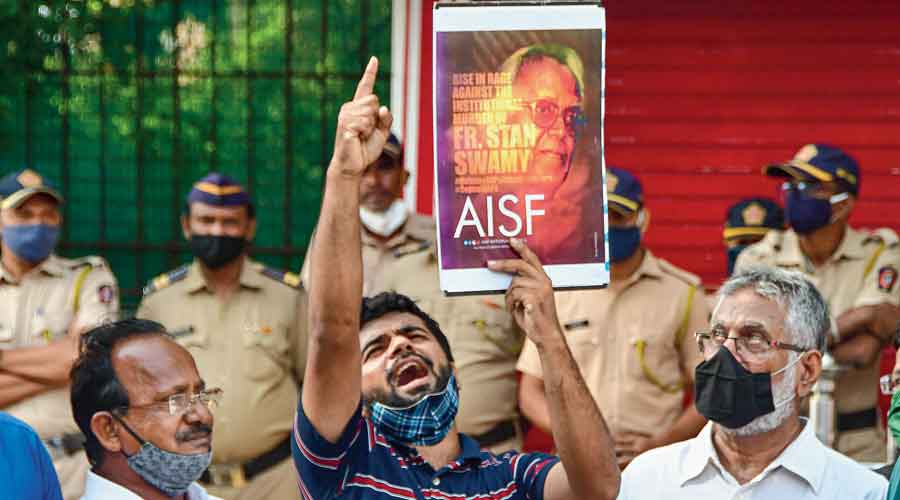 AISF members protest at Shivaji park in Mumbai on Wednesday against the death in custody of Father Stan Swamy
PTI
---
New Delhi
|
Published 08.07.21, 01:13 AM
|
---
A month-long series of prayer and condolence meetings will be held in memory of Father Stan Swamy, the 84-year-old undertrial in a terrorism case who died in judicial custody in Mumbai on Monday, after his ashes reach Ranchi on Thursday.
A public meeting is expected on Thursday in Bagaicha, a workspace for activists on the outskirts of the Jharkhand capital where the Jesuit priest and tribal rights activist lived.
Jerome Cutinha, Provincial of the Jamshedpur Jesuit Province that Fr Stan was part of, told The Telegraph that the large community of Stan's friends would be given the space to grieve through events to be held over the next one month.
"For a month, there would be prayer and condolence meetings that people have voluntarily come forward to organise. These are not specific to any religion, and vigils are already being held in several places," he said.
Condolence meetings have been held in several towns in Jharkhand and other parts of the country, such as Mangalore (Karnataka) which has a large Catholic population.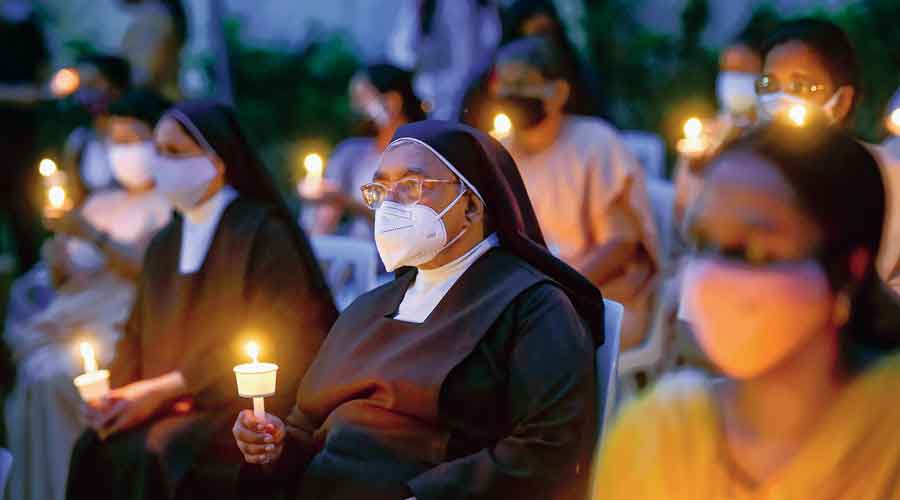 "Villagers around Bagaicha have said they would be coming to pay their respects tomorrow (Thursday), probably around 11am. We are told that many political leaders would also come to pay their respects," Cutinha said.
"Fr Stan's ashes may be taken to some of these meetings as well as his hometown (Tiruchirapalli) in Tamil Nadu. Nothing is finalised but there is a proposal for a memorial. According to tribal customs, a large stone may be placed over his ashes, (to be) interred at Bagaicha. The ashes may also be buried in our cemetery in Jamshedpur."
More than 24,000 people had on Tuesday viewed online Fr Stan's funeral mass, during which Cutinha described him as a "martyr". The Jesuits condemned the ill-treatment the ailing activist faced in Navi Mumbai's Taloja Central Prison, where he had been held since last October on what they dubbed "fabricated charges".
While the Jesuits have not formally requested Pope Francis, who too was a Jesuit, for Fr Stan to be given the "decree of martyrdom" — an accelerated path to sainthood in the Catholic Church — they are determined to promote his legacy.
Stanislaus D'Souza, president of the Jesuit Conference of South Asia, told this newspaper: "Choice has been the defining factor in the life of Stan. He chose Jesus and the poor and completely identified himself with them. Of course, when one makes a choice — and especially a choice for the poor — one is harassed, humiliated and hounded. And that is what exactly happened.
"He was charged with crimes which he had never dreamt of. He was imprisoned and, finally, his death was hastened by the rough and brutal treatment he received while in the custody of the State."
He added: "As for the 'martyr', we are certainly happy that we are able to produce a great witness to Christian faith and life. He is an example for us to emulate and to make our lives and works more effective.... It is time for us to pray for holy boldness to recommit ourselves to the mission of Jesus: reconciliation and justice.
"We know that there are some individual attempts to garner support to make him a 'martyr'. However, the priority of the Society of Jesus (Jesuits) now is to mourn the death of our dear brother and explore possibilities to continue his legacy to work among the poor, especially the indigenous people and Dalits, and their rights."
Fr Stan, whose given name was Stanislaus Lourduswamy, was among 16 people arrested in the Elgar Parishad case, an investigation into alleged Maoist links to an Ambedkarite event on December 31, 2017, that was followed by caste clashes the following day that claimed one life.
The case expanded into a purge of "urban Naxals", a term coined by Right-wing commentators to describe academics, lawyers, litterateurs and activists like Fr Stan who are accused of clandestinely working for the banned CPI (Maoist). The case was transferred from Maharashtra police to the National Investigation Agency soon after the BJP lost power in the western state.