Six coronavirus patients in Ladakh
Hundreds of pilgrims from Ladakh are stuck in Iran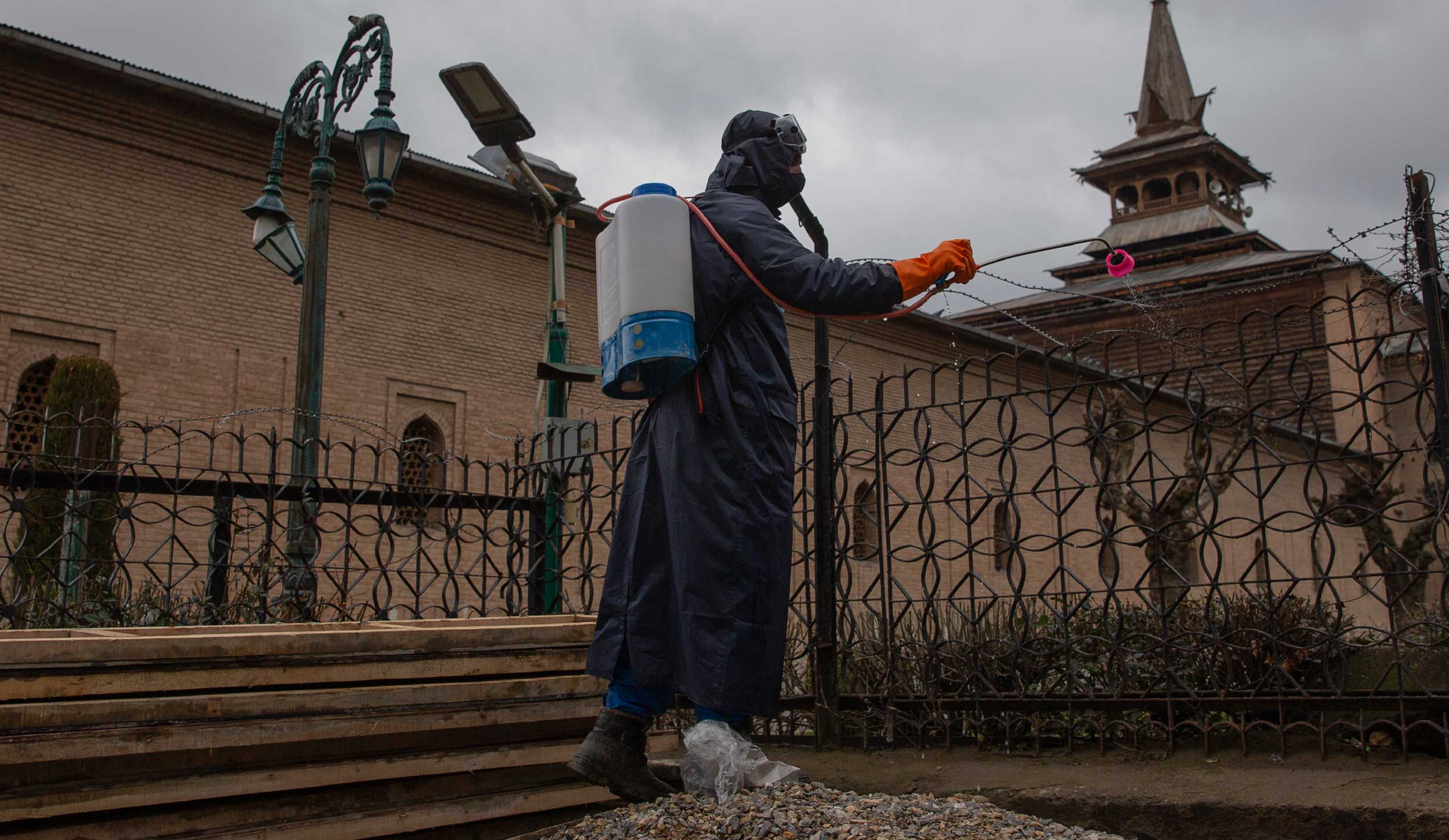 A Srinagar Municipal Corporation staff sprays disinfectant outside Jamia Masjid in Srinagar on Friday.
(AP)
---
Srinagar
|
Published 17.03.20, 09:10 PM
|
---
The sparsely populated cold desert of Ladakh seems to be bearing the brunt of the novel coronavirus in the north of the country as three more persons tested positive on Monday night, taking the number of Covid-19 cases in the fledgling Union Territory to six.
The swelling numbers have triggered panic in the twin districts of Leh and Kargil in Ladakh, which has a population of 2.5 lakh people.
Although the number of infected persons — 39 — is six and a half times more in Maharashtra, so far the worst affected state, the population of Maharashtra — around 12 crore — is 500 times that of Ladakh.
The number of positive cases in the neighbouring Union Territory of Jammu and Kashmir has risen to three, all in Jammu. Two of them are reportedly from Ladakh but currently living in Jammu. No case has been detected in Kashmir so far.
Official sources said eight of the nine infected persons in Ladakh and Jammu had a history of travel to Iran, one of the worst-affected countries, or had come in contact with those who had travelled to Iran. The ninth person had travelled to Saudi Arabia, where too cases of coronavirus have been reported.
Hundreds of pilgrims from Ladakh are stuck in Iran.
The commissioner secretary of Ladakh, Rigzin Samphel, said a medical official was among the three new patients who have tested positive. "Among the three new cases, two are from Leh and one from Kargil." This is the first case in Kargil, according to Samphel.
Sources said the medical official had contracted the virus while attending to an infected patient.
The test results for the three latest cases came late on Monday, officials said.
The officials said prohibitory orders under CrPC Section 144 had been issued in Kargil district and a similar arrangement would be made in Leh district as well.
"Ladakh is a big area with a very small population. Naturally, people are worried as the number of cases are rising," an official said.
Prominent Shia leader Asgar Kargbalai, a former Kargil MLA, said around 840 pilgrims from Leh and Kargil were stuck in Iran, mostly in the religious centres of Qom, the country's outbreak epicentre, and Mashaad.
Karbalai said a delegation from Ladakh met external affairs minister S. Jaishankar on Monday and returned with the promise that the pilgrims would be evacuated at the earliest.
Karbalai said the pilgrims were facing extreme difficulties in Iran and were running short of money.
"We met the external affairs minister and he agreed to evacuate them. He gave clear directions to his joint secretary, who is coordinating (the operation). A group of 58 have already returned and they are presently in quarantine in Ghaziabad," Karbalai said.
Samphel said nine persons showing symptoms of coronavirus infection had been quarantined in health facilities in Leh district and 21 in Kargil district.
Additionally, 208 people have been home quarantined, of which 150 have completed their 14-day mandatory stay but have been requested to extend it by another fortnight.