Abe visit deferred in view of NE turbulence
The decision comes on the heels of Bangladesh's foreign minister and home minister cancelling their scheduled trips to India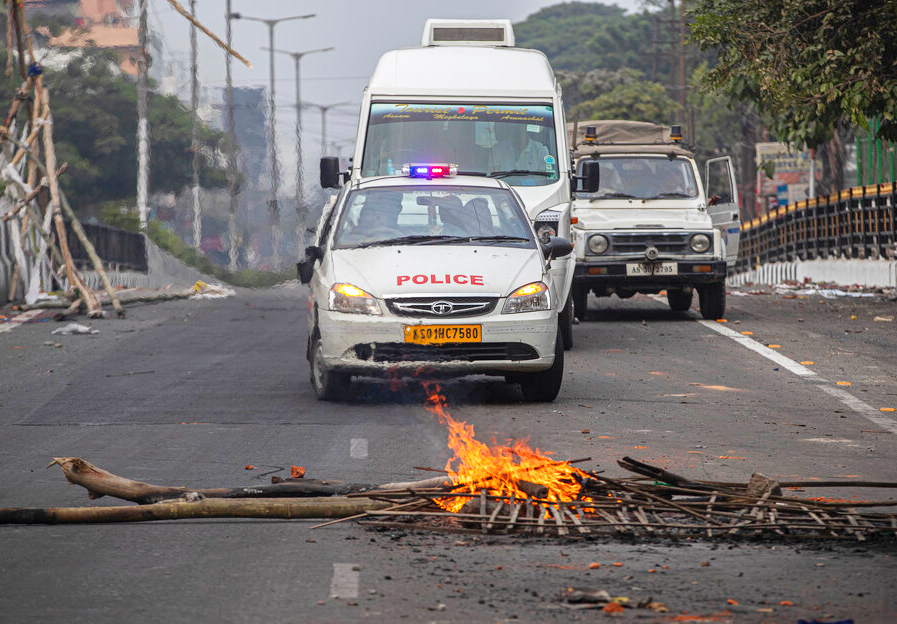 Police escort a team of Japanese security officials as protestors set fire to block traffic in Guwahati, Thursday, December 12, 2019.
(AP)
---
New Delhi
|
Published 13.12.19, 06:09 PM
|
---
The India-Japan summit scheduled to be held in Guwahati from Sunday has been postponed in view of the ongoing protests in Assam over the Citizenship (Amendment) Act, putting paid to Prime Minister Narendra Modi's high-on-optics plan to showcase his "Act East" policy to Japanese Premier Shinzo Abe.
The decision comes on the heels of Bangladesh's foreign minister and home minister cancelling their scheduled trips to India in the coming days. The Indian external affairs ministry did not give any reason while announcing on Friday afternoon the postponement of the India-Japan summit. "Both sides have decided to defer the visit to a mutually convenient date in the near future," official spokesperson Raveesh Kumar said.
In a related briefing in Tokyo, chief cabinet secretary Yoshihide Suga was quoted by Jiji Press as stating: "We decided to postpone the Prime Minister's visit after holding talks with the Indian government based on a local security situation report from the Indian side. Japan and India will discuss rescheduling the Prime Minister's visit for an appropriate time for both countries." Since it was an annual summit, it will be held though maybe not in this calendar year itself as it is unlikely to be rescheduled over the next weekend. As the Japanese advance team got caught up in Guwahati and faced an Internet blockade besides difficulty in accessing their hotels earlier this week, Tokyo began airing concerns about having the summit in Assam under the circumstances.
Alternative venues were considered, including Delhi, which has the wherewithal for hosting such events, but the Japanese side was apparently not comfortable with making last-minute arrangements since there was very little time left for recce as per their protocol. The cancellation drew immediate international attention going by the traction the news got on the websites of global media houses, causing considerable embarrassment to the Modi government. More so because the protests in Assam should have been anticipated by the government since the state had erupted similarly in January when an earlier edition of the Citizenship (Amendment) Bill was brought to the 16th Lok Sabha.
As the cancellation is for reasons of its own making, the Modi government on Friday had no one to blame for the change of plan, which included a visit of the two Prime Ministers to Imphal, Manipur.
Reacting to the cancellation of the summit because of the protests, the Congress took a jibe at the BJP's all-is-well-in-India refrain. "Japanese Prime Minister Shinzo Abe has cancelled his visit to India amidst the heated protests in Assam & other North Eastern states. But according to BJP nothing is wrong, because as Amit Shah says, 'all 130 cr Indians support CAB'," the Opposition party tweeted.