Scientists stand with students
The Breakthrough Science Society has called on "people in general and the academic community" in particular to unite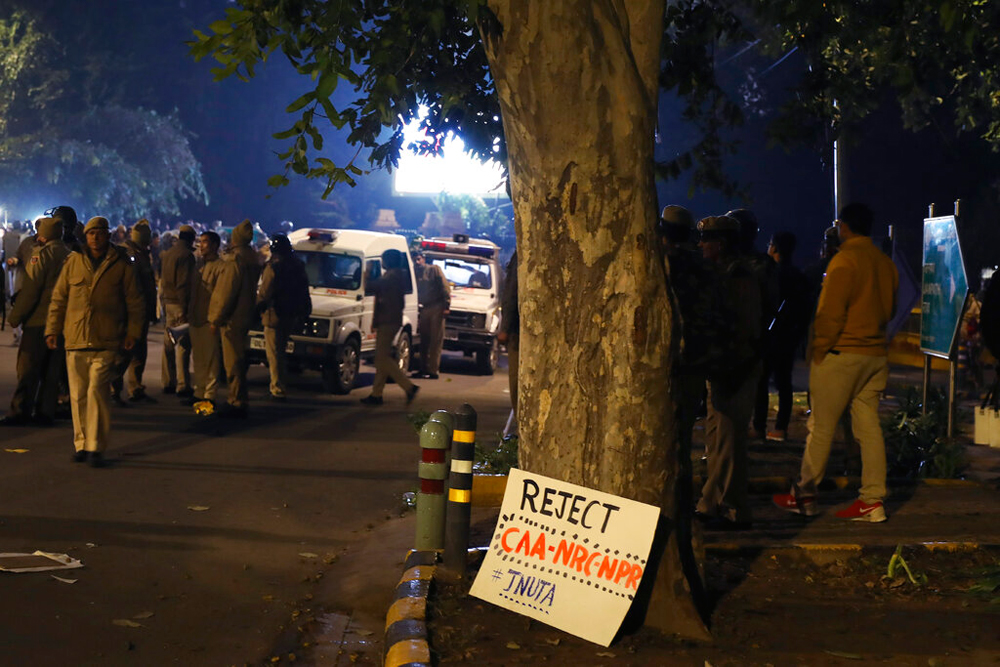 A placard rests against the trunk of a tree after police caned protesting students in New Delhi on Thursday
(AP photo)
---
New Delhi
|
Published 09.01.20, 09:18 PM
|
---
A nationwide network of scientists on Thursday expressed solidarity with students and teachers at Jawaharhal Nehru University and elsewhere saying India is witnessing a "systematic attempt to forcefully suppress" democratic movements by students on campuses.
The Breakthrough Science Society (BSS), a network of around 5,000 scientists and faculty members from colleges and universities across India, has called on "people in general and the academic community" in particular to unite and ensure that students' voices are not suppressed by force.
"The right to dissent is the lifeblood of democracy. We are now witnessing a planned attempt to curb this democratic right," the BSS said in a statement. "It is absolutely essential to maintain, at all costs, a free democratic space for debates and dissent without which education, research, science and scientific temper cannot flourish."
The network referred to the Sunday evening attacks on JNU students and faculty and the police action at Jamia Millia Islamia and Aligarh Muslim University campuses last month.
"We appeal to all and in particular to the academic and scientific community to stand by students and teachers," it said.
The statement said that students had played decisive roles in several progressive movements around the world, including the French uprising in the 1960s, the anti-apartheid movement in Africa and the Arab spring uprisings across several Islamic countries during the early-2010s.
"Students have an active role to play in the progress of society. We shall not allow their voice to be suppressed by force," the BSS said, calling for stern action against those responsible for the attack on the JNU students and faculty. "We demand that the government should ensure a real democratic atmosphere in all academic institutions."
Masked persons armed with rods and sticks had entered the JNU campus on Sunday evening attacking students and faculty and even an ambulance that had arrived to offer help to victims of the attacks.
Students at the JNU have protested for several weeks against a fee hike while the police action at Jamia and Aligarh was against students there who, like other student groups and citizens across the country, were protesting against the Citizenship Amendment Act.